No parking lot bash is complete without a tasty beverage. And these two awesome recipes, courtesy of NYC bartenders Erik Trickett & Joseph Donohue, will have you covered no matter what team you're rooting for. The best part? Both concoctions are perfect for batches, meaning the kind of quantities needed to keep the party going into the 4th quarter and beyond.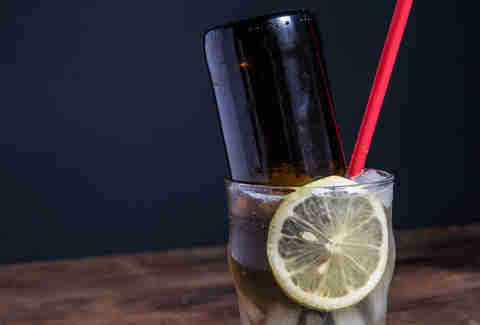 Ingredients:
2 btls Bulleit Rye
1 btl fresh lemon juice (after juicing, use the empty Bulleit bottle to measure)
2/3 btl black tea syrup* (again, use the empty Bulleit bottle to measure)
Cheap beer of your choosing
Directions:
The day before, juice the lemons (pro tip, if you buy produce at Whole Foods, they will juice it for you).
To make the tea syrup, over steep 1 quart of hot water with your favorite black tea. I like a nice earl grey for this. Then combine the tea with equal parts sugar and stir until dissolved.
Combine all the ingredients except the beer in a 5 gallon Home Depot bucket (believe it or not a lot of fancy party cocktails start their life in these buckets).
The tricky part now is that you have to get that stuff cold. So if it's snowing, just seal it up and throw it on the porch over night, otherwise, make some room in the cooler.
Now you have your bucket and your beer, you arrive at the game, you have 2 options. 1, throw some ice in the bucket sink 3-4 cold beers in, give it a stir and serve into plastic cups. 2, pour from the bucket into cups with ice and then top with the beer. I like the first one better, but the second one will keep your punch from diluting too quickly.
Ingredients:
40oz Bulleit Rye
15oz Becherovka
5oz Benedictine
15 dashes Angostura
12oz cold water
Directions:
Just add all those ingredients together and get yourself a huge block of ice.
When you are ready to leave for the game, plop that large ice cube into the cooler and give a couple stirs.