There's really only one drink by which you can judge a great NYC brunch, and that drink is a mango Bellini. But since I don't spend pretty much all of my weekends drinking those (as the founder of BrunchCritic.com), I decided to instead put together this definitive guide to the 14 best Bloody Marys in the city right now.
Upper West Side
The Bloody Mary at Jacob's Pickles is a piece of art, assuming your idea of art involves topping things with eggs and bacon (which really, it should). It's served in a Mason jar, garnished with a fresh stalk of romaine lettuce, that strip of bacon we talked about, and half a hard-boiled egg with salt and pepper. And since this is a place named after pickles, you'll want to at least have some on-hand to add to the cocktail -- order a tray, and they'll hook you up with addable beets, cucumbers, carrots, and pickles.
Williamsburg
Seafood-up your Bloody game with MP's BM served with an oyster and a shrimp. And if you're on anything resembling a date (or a prolonged morning-after), make sure to grab a seat in the back garden.

Fort Greene
Created by one of its longtime servers (Marissa Kay Stephens), Marissa's Bloody Mary (now don't be scared, but... ) uses her "vegan steak sauce" as the base of a drink that also includes raisin purée, orange peels, and apple cider vinegar. Feel free to not have vegan anything else, including the excellent lamb hash.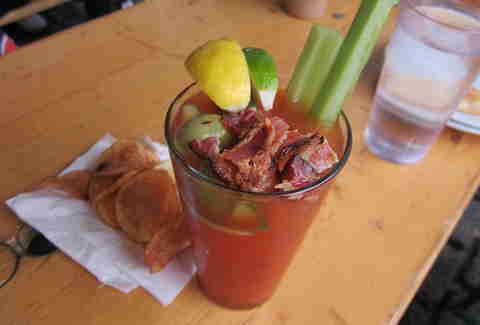 Financial District
You knew there had to be an unlimited option on here, right? Well, this is it: The Growler offers an unlimited, do-it-yourself Bloody Mary bar. You'll receive a glass with vodka, and then get to choose between classic, Cajun, or chipotle habanero house mixes to combine. There're also more than 18 sauces, spices, and garnishes to add to your creation -- remember, it's unlimited! Just be careful walking on the Stone St cobblestones afterwards.
Astoria
You knew there had to be two unlimited options on here, RIGHT? Well, here's the second: MexiBBQ's breakfast booze is made with Sacramento tomato juice, Tabasco, horseradish, celery salt, Worcestershire, and lots of cracked pepper, all strained to give it a less viscous texture. The rim is a secret blend of the chef's secret spices, which're also used in a lot of the eats, as well.

SoHo
Hundred Acres offers five types of Bloody Marys, including the Hampton Shore with Meyer lemon vodka, clam juice, and a shucked oyster, or the Royal with gin, cipollini onion, and a cucumber spear. The move, though, is the Creole Bloody made with mustard seed and garnished with a pickle -- it's full of flavor, and you can order it by the pitcher.
East Village
At DBGB, you're served a glass with vodka in it, along with a carafe of DBGB house Bloody Mary mix. The garnishes are also served on the side, and you'll enjoy adding thick-cut bacon chunks, tall stalks of celery, pork rinds, and big green olives to your drink (assuming you haven't already eaten them all).

Greenwich Village
Jane's Bloody Mary wins points for being the spiciest in town, which is achieved by mixing it up with house-made vinegar that's been infused with habaneros to give it that extra kick.
Midtown East
Pair one of the best classic burgers in New York with one of the best Bloodys! Fine, it's made with beef broth making it actually a Bloody Bull, but it's still perfect with that burger!

Midtown East
Another customizable pour, but instead of having to get up off your ass (which you should never have to do if you don't want to), they give you a card that has checkable boxes with all the ingredients and garnishes you can score, like kaffir lime chili salt, Franks, Worcestershire, pickled okra, cornichons, and "premium flair" like jumbo shrimp, prosciutto, oysters, bacon, and buttons that say "hand over the coffee and no one gets hurt".
East Village
For those of you that hate when things come to you fully assembled (we're looking at you, salad bar and buffet enthusiasts), Saxon + Parole provides a huge, DIY Bloody Mary station that's rocking more than 35 ingredients and garnishes, including all kinds of Mary uppers like pickle juice, olive brine, hot sauce galore, three (three!) types of peppercorns, horseradish, and a ton of other stuff we challenge you to put into your cocktail.

East Village
The 10 Bloodys to choose from is partially why there's a perpetual hour-long wait (or more) to get seated. You can't really go wrong here, but focus your first sips on the Green Lake. It's made with classic Mary mix, spiced with wasabi, and garnished with a beef jerky swizzler. And as a bonus, Prune also serves its Bloodys with a beer chaser. ALSO, if you're really hungry/crazy, you can order a plate of all the house garnishes by themselves.
Crown Heights
This spiced-up (yet relatively simple) Bloody is a double shot with a special blend of Creole sauce, that's then topped with shrimp and crab meat.
Red Hook
The Good Fork makes a top-notch variation of a classic Bloody with its mixture of V8, Worcestershire, horseradish, Sriracha, Tobasco, ground pepper, and a rim that's coated with Old Bay. Bonus: each Bloody is made individually in a shaker, so you know it's fresh.
Sign up here for our daily NYC email and be the first to get all the food/drink/fun New York has to offer.
Andrea Pappas lives in lower Manhattan, and is a professional brunch enthusiast who has never turned down a celery garnish. She grew up competitively Greek dancing in California and eating pancakes every single morning. Follow her on Facebook and Twitter.