New York State may not have invented the phrase "go big or go home," but we sure as hell own up to up it. That's probably why a state with some of the most storied beer tradition is constantly exploding with new breweries (while continuing to support some long-time players). The list can be daunting, so we've asked 10 beer experts to rank their favorite Empire State breweries and explain why. Here are the results.
Recommended Video
Drink This Winter Bourbon Smash and Conquer Cold Weather Forever

Brooklyn
Sixpoint has seen a lot of change in the beer industry since it opened its doors in 2004, both across the country and down the block. But even as its canned mainstays begin to venture throughout the country and across the globe, Sixpoint never ceases to release innovative styles, like the single-hopped Spice of Life series and Mad Scientist special releases. These solid contributions helped put New York City on the brewing map and promise a future of even more impressive releases.

Experts say: "A member of NYC's old guard, Sixpoint continues to impress lucky locals with its Red Hook-brewed lineup of Mad Scientist one-offs and seasonal crushers. These guys know beer, and it shows." -- Meredith Heil, writer and events producer, BeerdedLadies.com

Key beers: 4Beans, Resin, Global Warmer


New Paltz
If there's an indicator of how explosive the beer scene can be in New York, it's this tiny brewpub in New Paltz. Bacchus has ascended in popularity so quickly since opening its doors in 2012 that its production can barely keep the pace -- it's become a coveted producer sought after by beer lovers across the state. Bacchus' small output can make it hard to find, but ask anyone who has sampled its innovative brews and they'll tell you the hunt is well worth it.

Experts say: "At Tørst, we tend to love beers that are creative and unique, and sour beers of all stripes are a house favorite. Bacchus is a small brewpub in New Paltz putting out some incredible sour beers. Very small amounts occasionally make it to NYC. I'd recommend searching them out!" -- Mike Amidei, beverage manager, Tørst

Key beers: Ad Infinitum Double IPA, Good Old Neon, Valerie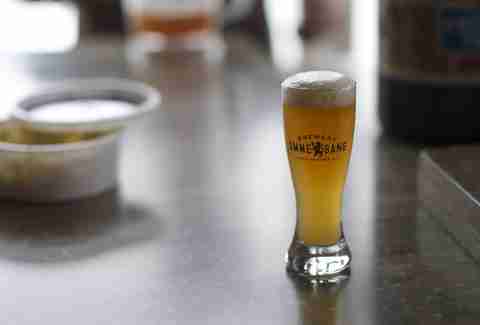 Cooperstown
Ommegang's position as "America's take on Belgian styles" has propelled its reputation past New York's borders to a national level of adoration (which also happens to be the name of one of its winter seasonals). You could look to its awards cabinet as proof of this; most of its year-round productions have won national and international medals. Given today's hop-obsessed tendencies, its consistent smash-hit Belgian styles are tent poles of American brewing, no matter which state you're looking at.

Experts say: "Probably the brewery most responsible for introducing New York beer drinkers to Belgian-style beer. And they do it better than anyone else in the States." -- Chris O'Leary, founder, BrewYorkNewYork.com

Key beers: Three Philosophers, Abbey Ale, Hennepin, Fleur de Houblon
Elmsford
It's hard to say where New York's beer scene would be today without the influence of Captain Lawrence. Scott Vaccaro has been brewing since before he was legally able to drink, and his devotion to the craft shows. One decade and one brewery expansion later, his beers are as relevant and innovative as they were when he opened his doors.

Experts say: "Captain Lawrence is New York's version of Sierra Nevada, which isn't surprising since Scott Vaccaro trained there. Everything he does is well thought out, beautifully made, and his quality control is second to none -- and his barrel program is right there with Garrett's [Oliver, of Brooklyn Brewery]." -- David Brodrick, founder, Blind Tiger Ale House

Key beers: Hops N' Roses, Smoked Porter, St. Vincent's Dubbel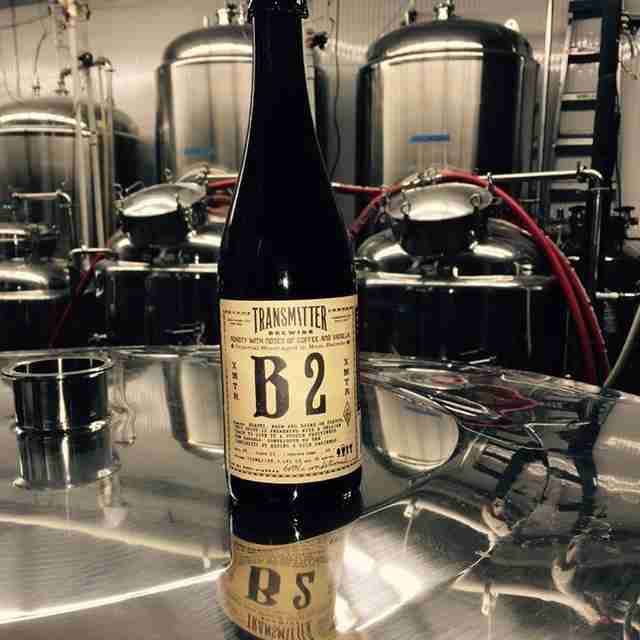 Queens
If you're ever out walking in Long Island City, you might confuse Transmitter Brewing for an auto repair garage directly underneath the bustle of the Pulaski Bridge. But founders Rob Kolb and Anthony Accardi have been hard at work there, bringing something to the beer scene from a geekier emphasis area: yeast. To get an idea of just how serious they are, consider that they "have secured over 20 isolated strains of Brettanomyces, Lactobacillus, and Pediococcus, as well as a brewhouse library of traditional Belgian, French, English, and American yeasts." The result? A portfolio of distinctive, complex, bottle-conditioned ales whose reputation has propelled the brewery into serious notoriety.

Experts say: "Rob Kolb and Anthony Accardi are utilizing a tiny brewhouse, and big library of yeasts, to work their zymurgy magic. Farmhouse beers are the focus here, along with barrel aging and local ingredients. The NY Series is notable, as it uses all NY State ingredients." -- Steven Baird, partner, The Owl Farm

Key beers: G4 Lightly Soured Golden Ale, S7 Brett Saison, F4 Brett Farmhouse Ale, W1 Wit Ale


Brooklyn
There's a lot that could be said about Threes Brewing. You could talk about its state of the art brewing facility, tucked into an impressive community space in Gowanus (boasting a Ninth Street Espresso outpost and a rotating restaurant that has already hosted the likes of Roberta's). Or, you could talk about how in less than one year of operation, head brewer Greg Doroski and his team are already topping critic's picks lists with some of the best beers being made in the state.

Experts say: "Threes has not been on the scene for long, but already deserves a place on this list. Threes' beers have a refined quality that sets them apart. Their beers aren't the hoppiest, the highest in alcohol, or the most extreme, they're just really well-crafted beers! They tend to concentrate on farmhouse styles, but have also shown a talent with hops. Beers like Hereyago and Superf*ckingyawn show a great balance between a malty backbone, blended hop character, and finishing bitterness." -- Mike Amidei, Beverage Manager, Tørst

Key beers: Everything Was Forever, Until It Was No More, Superf*ckingyawn, Hereyago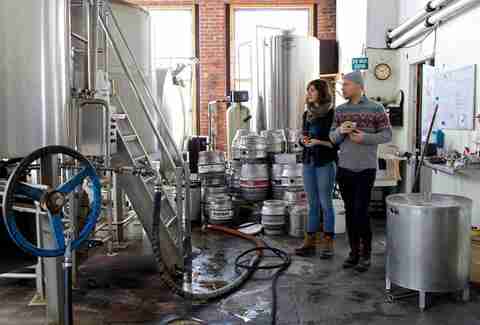 5. Grimm Artisanal Ales, 49 points*
Multiple locations
It didn't take too long for Joe and Lauren Grimm to become local beer celebrities when they started releasing beers in 2013. The nomadic brewing couple have quickly made a name for themselves for their attention to high-quality ingredients and to even the smallest details when crafting recipes (including their gorgeous label art). Since each beer they make is considered to be a one-off, a sort of mad dash for bottles or draft pours tends to follow each release… and makes getting your hands on one vital to understanding the valid hype behind them.
Experts say: "Gypsy brewers Joe and Lauren keep killing it with their Brooklyn-based brewing outfit, Grimm Artisanal. Each beer is unique and extremely well-executed, from the GABF award-winning Double Negative Imperial Stout to the smoky, tart Lichtenhainer Weisse, and the refreshingly delicate Still Life Saison." -- Meredith Heil, writer and events producer, BeerdedLadies.com
Key beers: Double Negative Imperial Stout, Tesseract Double IPA, Afterimage Double IPA
*Editor's Note: Grimm is part of the increasingly popular itinerant brewery movement. This means they have no physical brewery of their own, instead traveling to other breweries to use their equipment. Joe and Lauren do brew batches in New York, but also brew large amounts of their beer outside the state. However, their recipes are all handcrafted in their Brooklyn kitchen and they base their business in New York City, where they have become an indispensable fixture at local beer events. This caveat is important to understanding why they were included in this list.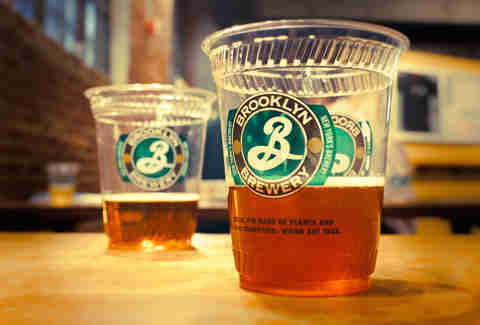 Brooklyn
At this point, it might be impossible to find someone who lives in New York who hasn't tried a Brooklyn Brewery beer. And for good reason: this brewery has been an unsung hero of sorts for decades, thanks in no small part to the innovative direction of brewmaster Garrett Oliver. Very few other breweries have the power to shift trends and discussions with releases like Brooklyn, which not only explains its strong staying power, but its surge in growth during the past few years. If its continued dedication to its small-batch releases is any indication of what's to come, Brooklyn Brewery won't be going away anytime soon.

Experts say: "We may take Brooklyn for granted, but anytime I go out to the West Coast, I ask people what brewery from New York they want to distribute there, and their answer is almost always Brooklyn. And being the largest exporter of craft beer in the nation, they're global ambassadors for New York's beer scene." -- Chris O'Leary, founder and editor, BrewYorkNewYork.com

Key beers: Brooklyn Black Ops, Brooklyn Sorachi Ace, Brooklyn Local 1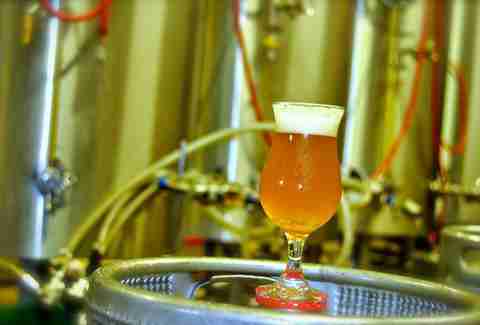 Oceanside
In an era when breweries tend to streamline themselves into one style they do well, Barrier is a true outlier. You can expect anything from this workhorse brewery, where velvety stouts and hoppy lagers are as commonplace as nutty brown ales and citrusy IPAs. If you need an idea of just how loved Barrier is in the New York beer community, look no further than the support given to them after being destroyed in Superstorm Sandy: their underdog success story in the face of tragedy proves these guys are determined to pump out some of the Empire State's best beer.

Experts say: "Barrier was destroyed in Superstorm Sandy, but they're back in a big way. Their small size (only five barrels) lets them experiment extensively. They've brewed everything from palate-wrecking IPAs and monster imperial stouts to delicate farmhouse ales and refreshing lagers. Seek out their new Rotationer Pilsner series (which highlights a different hop each batch) and Non-Cents (a low-ABV version of Money IPA)." -- Steven Baird, partner, The Owl Farm

Key beers: Money IPA, Non-Cents, Rembrandt Porter, Morticia Russian Imperial Stout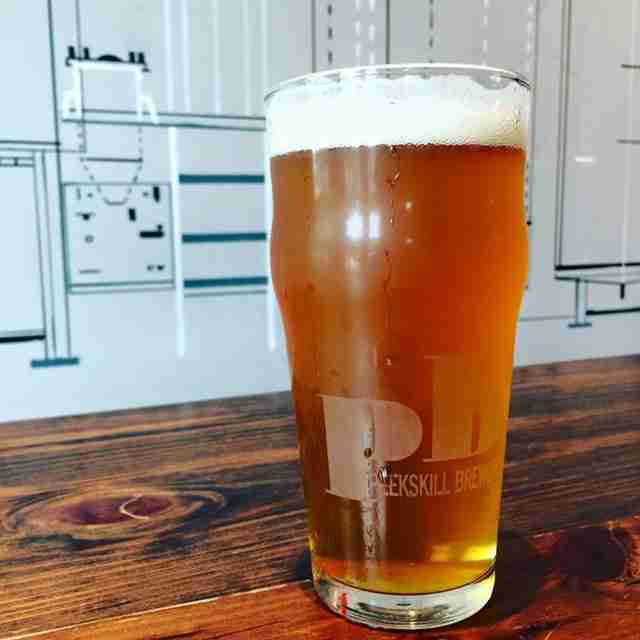 Peekskill
Jeff O'Neill sent ripples throughout the New York beer scene when he took over Peekskill Brewing in 2011 after leaving his post as brewmaster at Ithaca Beer Company. Two years into his tenure, O'Neill (or "Chief," as he is widely known) took home the Governor's Cup for his Higher Standard Imperial IPA and earned himself praise in the New York Times for his Simple Sour, solidly positioning Peekskill as one of the most explosively popular breweries in the state.

That's why it was a bit of a surprise when O'Neill made headlines once again in early 2015 after announcing he would be leaving to launch his own hotly anticipated brewery. Buzz surrounding Peekskill remains solid, though: at the ripe age of 24, newly promoted brewmaster Matt Levy already boasts an impressive resume of brewing experience at respected breweries like Captain Lawrence and Jolly Pumpkin -- not to mention the confident support of Chief himself.

Experts say: "Jeff O'Neill has been one of the best brewers on the East Coast for a long time, and he put Peekskill Brewing on the map the moment he walked through their doors. Now that Jeff left to start his own brewery, Matt Levy has stepped into his boots, and is burnishing the legacy Chief left behind. Matt is one of the best of the young guns, and it won't be long before he's making a name for himself." -- David Brodrick, Founder, Blind Tiger Ale House

Key beers: Eastern Standard IPA, Simple Sour, Amazeballs, Share the Rainbow
Brooklyn
It was only a few short years ago when the idea of the state's best beer being brewed in the five boroughs was on par with a Little League team beating the Yankees. But since Sam Richardson and Matt Monahan opened Other Half's Brooklyn doors in 2014, their buzz has begun to reach national levels. Although known for their hop-forward beers, never put it past these guys to throw any style out there, including complex saisons and impressive stouts. Even if you're not looking to brave the already epic lineups during one of their can release days, the taproom is an indispensable addition to the New York City beer tourism scene.

Experts say: "They're only 1.5 years old, but Other Half have quickly set the standard for NY State IPAs. But that's not all: they also make mean farmhouse ales, stouts, and Belgian-inspired beers. Plus, with a strong barrel aging program and the recent addition of foudres, they're setting up for a long and fascinating future." -- Steven Baird, The Owl Farm

Key beers: All Green Everything, Green Diamonds Double IPA, Superfun!, Indian Ladder Farms Stout

Sign up here for our daily NYC email and be the first to get all the food/drink/fun New York has to offer.

Zach Mack is Thrillist's contributing beer writer, the owner of Alphabet City Beer Co. in NYC, a newly minted cicerone, and nothing else. Follow him: @zmack.