Thanks to the fact that New York City essentially kick-started the modern cocktail renaissance, it's not especially difficult to find a great cocktail here. What is difficult, though, is finding a great cocktail you can actually afford. Unless you literally sprint from the office to catch the last precious minutes of happy hour, you're likely going to be doling out somewhere between $11-$17 for a drink.
But there are a select few places in New York City where you can have your booze and more money in your wallet, too. We searched across the city to find the best cocktails for less than $10 -- none of which require rushing to happy hour.
Carroll Gardens
Singapore Sling, $7
The Tiki-kitsch cocktails at this Smith St institution may not involve any "mixology" -- we'll leave that and the $17 price tag to the city's other cocktail dens -- but you are guaranteed something that's delicious, refreshing, and, best of all, affordable. Go for the Singapore Sling, a gin-based cocktail for the gin-averse: Rich cherry brandy and pineapple mix with the gin's strong aromatics to yield a drink that's delightfully Tiki (notice the ridiculous garnishes) and a little sweet. If you want to try something else on the cheap, most of Zombie Hut's options go for less than $10.
Sunnyside
Blackberry Fence Hopper, $9
At first glance, the Blackberry Fence Hopper at Sunnyside's Maggie Mae's may look like your standard vodka Collins, but the use of honey and fresh blackberries is what makes this drink so unique. It's somewhat floral from the honey and tart from the berries, and it's a total steal, considering it's hard to find well-made cocktails with fresh fruits that are priced in the single digits. Enjoy yours in the rustic, pub-like atmosphere that's ideal for post-work drinking.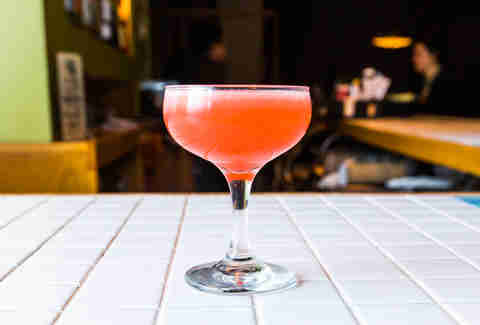 Bushwick
El Presidente, $9
For lovers of agave spirits and the all-too-trendy Negroni, there's the El Presidente, made with tequila, Campari, lime, and salt, at this offshoot of beloved LES dive Welcome to the Johnson's. It's bitter, it's refreshing, it's a little bit savory -- all in all, it's a proper cocktail, and you might even like it more than the $2 PBRs at the sister bar's Rivington St location.
Bushwick
Transmit the Box, $9
Many of the drinks at this hard-to-find cocktail laboratory run -- literally, they're all on tap -- for less than a tenner, but the Transmit the Box edges out the others: Smoky, spicy chipotle-infused mezcal and rich chocolate bitters blend surprisingly well with bright, citrusy Aperol, making it almost too easy to drink. It's a beautifully balanced cocktail that'd cost you twice as much at practically any bar in Manhattan, but it's a literal steal on this stretch of Wilson Ave.
Bushwick
Sundowner, $9
The Sundowner at this new Bushwick Caribbean spot is deadly. Made from guava, orange, and pineapple, "all the rums" (it literally says that on the menu), and coconut cream, the frozen drink is bracingly citrusy yet smooth and creamy, making it a cinch to suck down -- and all too easy to set yourself up for a brain freeze. And it becomes even more dangerous when combined with the bar's other $9 frozen cocktail, a strawberry margarita called the Casa Loco. Have your bartender layer the two for a new-school take on the Miami Vice, a piña colada and strawberry marg concoction.
East Village
Short Long Island, $7
The Short Long Island at the rebooted Holiday Cocktail Lounge ain't your standard too-sweet concoction of garbage booze. The pros here balance out their version of a Long Island iced tea with plenty of citrus, making it a take on the much-derided classic that's actually (yes, really) enjoyable. Sure, it's a baby cocktail -- it comes in a short high-ball glass with crushed ice -- but how much Long Island iced tea do you really need?
Bed-Stuy
American Ruse, $9
The American Ruse at Bed-Stuy's Captain Dan's Good Time Tavern is basically an old-fashioned, with the substitution of orange bitters for Angostura and brown sugar cube instead of white. But those changes do make a difference: The Demerara brings more richness than your standard white sugar, while the orange bitters lend the drink brightness. It's a less-baking-spicy take on the classic cocktail, and very much suits the eclectically decorated (framed tropical-bird photos, velvet paintings) dad bar.
South Slope
Sea Shandy, $7
Beer cocktails are more than just micheladas and your standard lemonade shandy. The Sea Shandy from Quarter Bar, a cozy South Slope neighborhood bar (with a whimsical back patio in the warmer months), mixes pilsner, lime, and Cel-Ray (celery) soda, with a salt rim. The effect is like that of a gose: It's salty, vegetal, and crisp -- a solid brunch cocktail or end-of-workday drink.
Williamsburg
Uncle Willie's Frozen Coffee, $7
If there's anything you should know about drinking cheaply in New York, it's that wonderful things come out of slushie machines, and one of the best is the Uncle Willie's Frozen Coffee, aka "that coffee drink," at Williamsburg's honky tonk dive Skinny Dennis. In it, you'll find brandy, bourbon, coffee, and coffee liqueur, frozen, served in a Greek coffee cup, and topped with coffee grounds. It's a little like dessert with a caffeinated kick, but that shouldn't stop you from having a second, or third, or fourth.
Sign up here for our daily Thrillist email, and get your fix of the best in food/drink/fun.