The Refresco at The Drift

| @chasedoerflinger
The Refresco at The Drift

| @chasedoerflinger
Like everything else in New York City, cocktails only get more expensive with each passing year. It seems like only yesterday that folks would balk at $15 cocktails. They still balk, and seem to have to do so with greater frequency. As anyone with an active nightlife can tell you, it's expensive to be a bon vivant in this city. Hustling to make happy-hour isn't always realistic, and if you're a cocktail drinker unwilling to spend an arm-and-a-leg every round, you're in a tight spot.
Sure, cocktail culture skews more precious than its divier kin, but you don't actually need a seated-service-only speakeasy tended by a suspendered molecular gastronomist to find suitably intricate and delicious adult-beverages. Plenty of bars have inexpensive, though intricate intoxicants on their menu just for you, the particular-cum-thrifty.
We took a careful look (and sip) and rounded-up the best cocktails a Hamilton can buy. So raise a toast to your hardworking bartender (and, y'know, tip appropriately) and enjoy the best cocktails $10 or less can buy -- no happy-hour required.
Crown Heights
Galangal Daiquiri, $10
This tiki bar has a more grown-up aesthetic than most of its ilk, with a drink menu to match. Its whimsical yet deliberate concoctions may make you smile, but they're no joke. $10 buys a Galangal Daiquiri, a zingier riff on the classic. White rum, galangal cordial, and lime juice are served up -- this is not the sludgy, syrupy affair the 'daiquiri' name unfairly conjures. With its fresh ingredients, this is a grown-up's drink.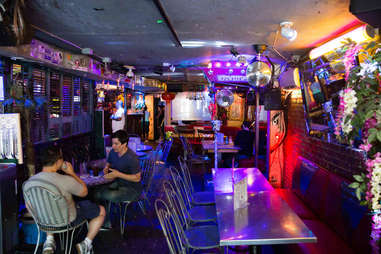 Chinatown
Sangria, $10
Seems like every New Yorker has a story set in 169 -- it's been a destination dive since 1916. The leopard-print pool table, cheap drinks, and New Orleans-centric food menu attract a bustling weekend crowd. This hefty glass of house-made Sangria bobs with brandy-soaked apple morsels. It's tart and fruity and goes down easy, so text your bartender from your seat (yes, really) for another.
Bed Stuy
That Coffee Thing, $7
Do or Dive's menu, much like its '90s-rock-ephemera décor, is inviting to anyone trying to get some good drinking done. Beside one of the best $5 shot/beer combos around, it's got $9 Bloodies and Sours -- but the budget winner is its $7 slushified mélange of coffee, sugar, milk, and either whiskey or brandy. Not only a delicious bargain, this drink is a welcome pick-me-up for anyone in it for the long-haul.
South Park Slope
Salty Studebaker, $9
Basil-infused vodka, fresh-squeezed grapefruit juice, rocks, and a salted rim round out this take on the Salty Dog. It's as perfect a summer drink as you can get, ticking fruity, salty, tangy, and herbal boxes without hitting you over the head or soaking you in booze. Enjoy your libation over a round of pinball, at a banquette amid the lulling grandma's-living-room décor, or posted-up at the corner-location's 5th-ave-facing outdoor seating -- a prime people-watching location.
Nolita
Ginger Yum Yum, $10
This subterranean spot is dark and moody in the best way. If not for its glowing neon sign, most passersby probably wouldn't notice it, and the feeling of having found a downtown hideaway adds to its boho mystique. The Ginger Yum Yum is a lipsmackingly bright, acidic alternative to a Moscow Mule, mixing rosemary-infused vodka, fresh minced ginger, Rose's lime cordial, and ginger beer in a hefty glass mug over ice.
Ridgewood
House Punch, $10
BOD is a neighborhood bar with stacks of games, rows of books, knickknacks, nightly special events, and a laid-back atmosphere that invites you to stay awhile. Get a hefty goblet of tasty, boozy punch for $10. What's in it? That's part of the fun. Each bartender concocts their own signature punch using house-infused syrups and tinctures. When one runs out, trying the next and chatting with its creator is part of the fun.
Greenpoint
The Refresco, $9
This dive bar/southern restaurant's ski-lodge vibes set it endearingly apart from its location below the BQE. The Drift's star feature (no, not the taxidermized bear) is its back yard. The Refresco, which combines tequila with fresh watermelon, agave, lime, and chili flake over ice with a salt-rim, is a close second. A well-balanced, refreshing pink drink, it's sweet, salty, acidic, spicy, and tart with a pleasingly boozy undertone.
Bushwick
Devil Lock, $10
Just your typical neighborhood yoga studio/community-center/coffee shop/venue/punk bar. This omnibus establishment espouses a supportive outlook, writing on its site that the proprietors philosophically "reject the idea that in order to live full and happy lives we must abstain from all vices, detach from the world and become saint-like." Its Misfits-themed drink menu includes the Devil Lock, a fresher, juicier, spicier Margarita made from jalapeño-infused tequila, lime, fresh orange juice, agave, and a hit of tabasco.
Sign up here for our daily NYC email and be the first to get all the food/drink/fun New York has to offer.
Julien Levy is a writer and native to downtown Manhattan. He now lives in Brooklyn.