Whether or not your mother would view it this way (she wouldn't), spending an entire day strategically racing from happy hour to happy hour, inexpensively drinking your way up and down the isle of Manhattan, is definitely an accomplishment.
An accomplishment that we want to help you... accomplish. So, here's how to get your weekday happy hour on in Manhattan for TWENTY HOURS STRAIGHT.
Downtown
In the earliest hour you can legally purchase booze in New York, when the rats yawn and stretch their disease-riddled paws on the subway rails, and the pigeons bathe in puddles of spilled oil, a 32oz styrofoam cup of crisp light beer will set you back just $1.75 at Jeremy's Ale House (Mon-Fri, 8-10am). Every blessed day of the week, Jeremy offers this unholy "breakfast" special dubbed "The Eye Opener."
Lower East Side
Mezetto offers a week-long bottomless brunch deal that runs from 10am-4pm. You're allotted a 1.5hr block to tipple as many Champagne-and-fruit-juice cocktails as possible (options include the classic mimosa, as well as bellinis). Also, just for the record (someone's keeping a record, right?), this joint offers a bottomless sangria with dinner Sunday through Thursday, should you have the inclination to return.
 
Upper East Side
This UES sports bar special actually lasts from 11:30am-7pm (every day except Sunday when they start at 12pm), grab a bunch of beers for $2.50 and move on, or hang here for most of the day. Either way: success.
 
Chelsea
From 12-3pm, this low-atmosphere dive offers a "buy two, get one free" deal, which makes its cocktail offerings just like the used video games at GameSpot, only, you know, WITH MORE BOOZE.
 
Midtown East
From 2-6pm, Monday-Friday, rail drinks and beer are offered two-for-one, which means you you can snag a set of drafts for $5.50 and a duplet of whiskey sodas for $7: a cruel, evil, brilliant, savant, idiot, genius idea if ever there was.
Hell's Kitchen
At some point, you're going to need to hit up a happy hour that serves proper beer actually worth drinking for the taste. For just one hour every day, you can sample from a rotating selection of American craft brews for $2 off the standard price (bringing Pony Bar's excellent selections to an average of just $5 a pop).
East Village
Another two-for-one special to ensure doubled-drinking, this happy hour actually lasts from 12-8pm every day of the week and includes wine, beer, and cocktails. You won't be relegated to just the cheap stuff here, either: a pair of premium vodka moscow mules, for instance, will set you back just $11 total, but the BOGO extends all the way up to bottles of Dom, should you be feeling like a super-cheap, super-high roller.
 
Alphabet City
A great selection of craft beers on tap and a ton of good whiskey make this is one of the best happy hours in the city. 'Til 8pm they've got $3 imperial pint (20oz) drafts.
 
Midtown East
This place looks and feels exactly like what you'd expect for a joint that offers impossibly cut-rate drink specials every single day of the week, all of which run until at least 9pm. Tuesdays are $2 PBR, $1 beers are available on Wednesdays, (!!!) $20 open bar on Thursdays (!!!)... you get the drift.
Flatiron
Okay, at this point, if you haven't eaten yet, you will probably die of rickets or SARS or whatever (we, uh, didn't go to med school). Grab a snack off the bar menu and take advantage of the stupid-good reverse happy hour: anytime from 9pm-1am, you can, among other deals, do two-for-one PBRs, $5 margaritas, or a $5 PBR and a shot.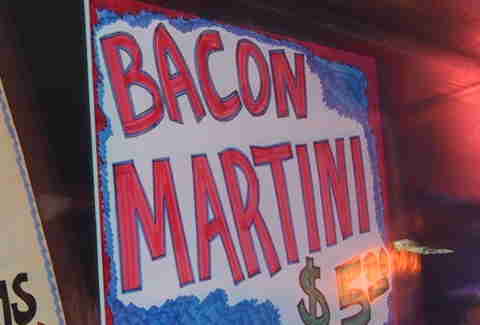 East Village
From Monday through Thursday, this punk dive will sell you all the "J" whiskies you want (Jack, Jim, Johnny, etc...) for $5 apiece in a crazy midnight-to-2am happy hour. If you want to pay full price for some crazy reason, we recommend the bacon martini, which comes garnished with a Slim Jim. Also available: Ass Juice.
 
Midtown
A bucket filled with five bottles of Sapporo, plus five pieces of Nagoya-style chicken wings is just $20 here, and that offers stands from 11pm-close. That's $4/beer basically all night, plus, you know, mandatory wings.
And thus ends the 20hr happy hour, now go sleep it off.
Sign up here for our daily NYC email and be the first to get all the food/drink/fun New York has to offer.
Jess Novak promises her mom that she doesn't normally spend twenty hours straight drinking all over Manhattan. Reprimand her for her poor life choices on Twitter @jesstothenovak and Instagram @jtothenovak.