When the late Sasha Petraske opened Milk & Honey on the Lower East Side in 1999, he started the first wave in a sea change in how bars crafted both cocktails and the environments in which we consumed them. Quality spirits were key, naturally, but so were things like fresh juices and clear, properly cut ice -- not to mention attention to technique. And the spaces themselves were austere, with rules ("no name-dropping, no star-fucking; no hooting, hollering, shouting or other loud behavior") that helped to encourage a sort of reverence for the art of the cocktail.
Of course, a whole lot has changed since then. Now, it's almost a challenge to find a bartender incapable of making a proper Old Fashioned or Manhattan. So when determining which cocktail bars in NYC are the best today, it obviously isn't enough that the staff knows how to properly stir (not shake!) a martini (gin, not vodka!) -- that's a foregone conclusion these days. Nearly 20 years after Petraske opened his seminal bar, a different sort of atmosphere and approach are key, with many of the top bars in the city dropping (or at least modifying) some of the rules and rigidity of their forebears in favor of a little more adventure and fun -- while, of course, holding on to the standards that kickstarted the cocktail revolution all those years ago. From a cheerful tiki den to an East Village spot that takes its cues from the spice rack, these are the best cocktail bars in NYC.
Recommended Video
The 'Game of Thrones' Pop-Up Bar Is Now Open in Washington, DC
Lower East Side
Opened in the original Milk & Honey space by two of its longtime bartenders, Sam Ross and Michael McIlroy, Attaboy takes the standards of Sasha Petraske's revolutionary bar (quality liquor; fresh juices; clear, carved ice) and houses them in a grittier, way-less-formal atmosphere. There are none of Petraske's notorious rules here -- and there's also no menu, so get comfortable with the pro bar staff and bare your soul (Are you in the mood for something refreshing, with gin, perhaps? Or maybe something spirit-forward, with whiskey?). Whatever route you take, you're in good hands: Ross, who still works the bar from time to time, is the man behind a host of modern classics, like the Penicillin, with whiskey, honey-ginger syrup, lemon, and Islay Scotch.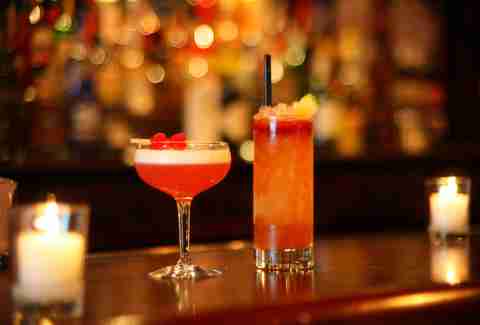 Cobble Hill
Julie Reiner is one of the cocktail world's OGs, having stamped her name on spots like the Flatiron Lounge and Pegu Club (the latter headed up by the legendary Audrey Saunders). But it's Reiner's Cobble Hill bar, Clover Club, that hits all the right notes with its thoughtful cocktail menu and deceptively casual vibe. The grandiose interior, with its burnished-wood accents and tufted furniture, may seem a little intimidating at first glance. But nab a seat at the bar and you'll find the atmosphere is warm and inviting -- and that includes the staff, who don't adopt the stereotypical bad attitude that tends to be on display at other, similar establishments. The menu follows suit: while drinks hew to the standards of classic cocktailing, they often come with an unassuming twist. See the "Garden to the Glass" menu section for inventive drinks like the Victory Garden, made with gin, tomato water, strawberry, and sherry.
East Village
The original Angel's Share, hidden inside the East Village's Village Yokocho, has been turning out refined cocktails for almost two decades, even helping to establish some of the standards for cocktailing we still see today (it's said Petraske himself took cues from the bar). It's a spot that helped set a new pace for the industry: creative menu, accommodating staff, and keen attention to detail. Now, in true neo-speakeasy fashion, this old-school drinking den has its own hidden bar -- well, more like an annex (it's a few doors down from the original, above Sharaku). Angel's Share 2.0 is where you turn when you're we're looking for a more open and inviting space; plus, wait times for tables here are significantly shorter. While the original location has more classic preparations on the menu (the traditional martini is a must-try), the annex offers quirkier spins on old standbys, like a leather-aged boulevardier, poured tableside from a pouch.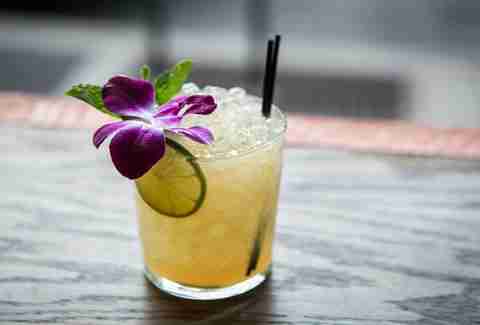 Cobble Hill
After working behind the stick for almost half a decade at Julie Reiner's Clover Club, Ivy Mix stepped out to co-helm (with Reiner) this colorful, lively spot right across the street from her former stomping grounds. Latin-American spirits and flavors inform the drink list here, which includes standards like tequila and every kind of rum you can imagine, as well as more esoteric picks like singani, a sort of Bolivian pisco. (If a cocktail isn't in the cards, the bar also offers a number of tasting flights for spirits -- extra points there.) Even better, Leyenda has some seriously knockout bar food from Suenos vet Sue Torres. The move is to settle in for a cocktail like upgraded Mai Tai (appropriately called the Tia Mia) and some roast pork tacos for dinner.
Cobble Hill
While bar owner Toby Cecchini is best known for inventing the Cosmopolitan, you won't find the Sex and the City girls' favorite cocktail on the menu here (though you can still get one if you ask nicely). The bar feels like it's been around forever, mostly because it has -- it was once an old-school neighborhood diner, and the neon-lit facade remains the same as it always was. The interiors follow suit, with retro decor and leather booths, where you can post up with a classic Boulevardier served in a coupe glass and one of the borough's best burgers.
East Village
The premise for this East Village den's menu, from Experimental Cocktail Club's Nico de Soto, is pretty straightforward: each drink is based on an individual spice. But that doesn't mean the cocktails here are simple. De Soto plays with seemingly incompatible ingredients in unique ways to create concoctions with shockingly complex flavor profiles, like red cabbage with yerba mate, or Aperol with beet juice, coconut cordial, and a mace mist. It also doesn't hurt that crowds are tame here, which means you can actually watch the bartenders juggle jiggers, bottles, and beakers to make you something you've never tasted before.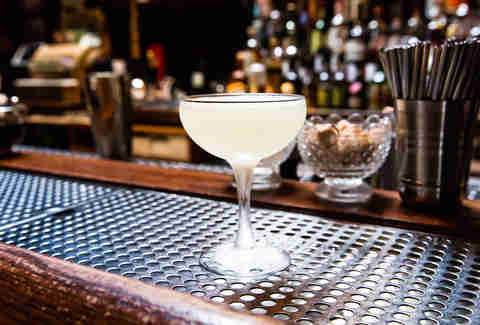 Long Island City
There are plenty of standout spots to drink in Long Island City (craft-beer temple Alewife; local favorite LIC Bar), but there's only one Sasha Petraske-affiliated cocktail bar. Of course, that means you can expect a quality drink (made with crystal-clear hand-carved ice from Hundredweight, housed in the same building as DK), but it also means you can expect this bar to be straight-up packed. No matter, because Dutch Kills' classic-leaning cocktails -- not to mention the kickass bar food from M. Wells, and an $8 Monday-through-Thursday happy hour -- make any amount of jostling worthwhile.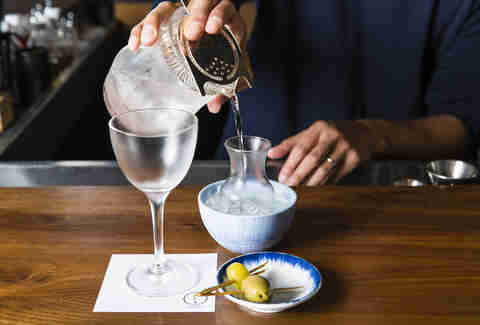 Lower East Side
Bar Goto may seem like the most serious-minded of all of the picks on this list, what with its sleek, simple décor (a golden-wood bar, a row of two-tops, and a mirror-lined back bar) and hushed atmosphere. Still, the air here isn't somber -- it's actually quite calming, which is the best way to savor the Japanese-influenced cocktails from Pegu Club vet Kenta Goto. The sake-and-gin Sakura Martini, garnished with its namesake cherry blossom, or the Improved Shochu Cocktail, delivered in a masu, or sake "overflow" box, are choice spirit-forward picks. If you're not looking to go the super-boozy route, opt for the dessert-y Rum Oshiruko, made with red bean soup and dark rum, and served on crushed ice with mochi ice cream. Once you inevitably find yourself hungry after all that drinking, the chicken wings here are practically required eating, and you can't go wrong with the sesame celery.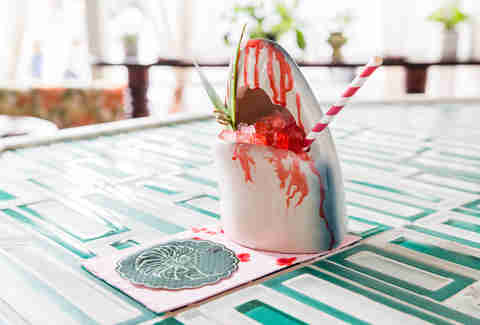 East Village
The closings of PKNY and Lani Kai in recent years haven't exactly portended great things for the success of Tiki culture in New York City. But Mother of Pearl, nearly a year old, is still going strong slinging piña coladas in the East Village. That's good news for the rum lovers, coconut enthusiasts, and vegans in your life. Yes, everything at Mother of Pearl, down to the food, is animal-free -- unless you count the bourbon-and-passion-fruit Shark Eye cocktail, served in a ceramic shark's head with "blood" streaming from its jaws. It's a drink worthy of a picture, for sure, but really, the entire scene at Mother of Pearl is a vision: wooden fans wave in the main bar area, flowy white curtains flutter in the breeze, and a leafy green "chandelier" welcomes imbibers into this oasis on Avenue A.
Union Square
If you're looking for an escape along with your cocktail, Meaghan Dorman's Union Square "cocktail parlor" has you covered -- threefold. There's the super-sexy crystal-curtained anterior, where you can sip on an actually delicious espresso martini (a popular choice for good reason: Dorman makes hers with a specially chosen Irving Farm Coffee Roasters cold brew and vanilla liqueur); a classic burnished-wood bar area, which offers ample seating; and a Marie Antoinette room, which is just as ornate as its name suggests. Drinks here are as delicious as you'd expect from the woman behind the Raines Law Room, but it's the vibe -- or vibes, really -- that make this spot a draw.
Lower East Side
The cocktail menu at this pint-sized subterranean bar covers all of the bases, from boozy "Firewater" options (the amari-forward Family Affair is a favorite) to easy-to-drink "Go-To Goodness" picks (try the refreshing Jaguar Shark). Naturally, the drinks here get the attention to detail you'd expect from an industry vet like Natasha David, previously of Maison Premiere and Prime Meats. Cocktails, poured under a watchful eye, and stirred or shaken 'til they're perfectly cold, are thoughtfully garnished with things like candied ginger and fresh florals, making them a treat for the eyes as well as the palate. And you can forget those stereotypical cocktail-bar hushed tones -- the crowd here tends to be playful (but not rowdy), so it's a great choice if you and a crew are looking for a few rounds of well-made drinks.
East Village
It's not a stretch to say that no NYC bar is more responsible for the (OK, relative) popularity of amari -- those bitter, herbaceous Italian liqueurs -- on the drinking scene today. This 6th St establishment puts traditional classic-cocktail spirits in second place and shines the spotlight on those until-now-obscure elixirs like Fernet Branca, Cynar, and Meletti, an antidote if you're suffering from Tom-Collins, Old-Fashioned, or classic-daiquiri burnout. Seating here isn't exactly plentiful, so come early if you want to post up, and get the 8 Amaro Sazerac, a "House Favorite," which mimics the original beautifully while ditching the rye whiskey altogether.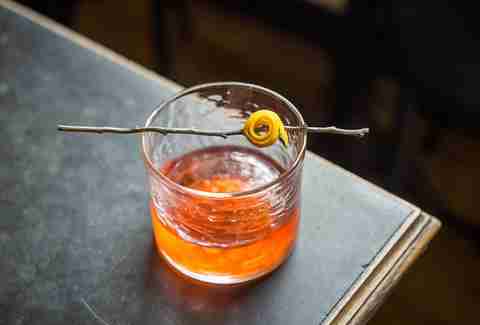 Boerum Hill
While Grand Army's drinks maestro Damon Boelte made a name for himself crafting riffs on classics at Prime Meats, his cocktail-and-oyster spot is where his creativity really shines. Boelte takes a seasonal approach to his menus, constructing them around specific themes. Most recently, it was cocktails "inspired by our favorite Gilmore Girls episodes." The space itself is a welcome break from the cramped spots you find lining Smith and Court Sts; it's wide open, with a wood bar front and center, just begging you to have a drink and a dozen briny bivalves.

Sign up here for our daily NYC email and be the first to get all the food/drink/fun New York has to offer.