NYC's Best Novelty Cocktails That Taste as Good as They Look
Light My Fire

| Courtesy of The Woodstock
Light My Fire

| Courtesy of The Woodstock
New Yorkers spend years cultivating home bars to proudly share with guests and occasionally (or regularly) dive into at the end of a long work day. Even supposed spirits novices know how to whip up a cocktail in a pinch, whether it's a basic G&T, or a superb sazerac replete with a proprietary absinthe mist. But there will always be some extraordinary creations that exist beyond the grasp of even the most ambitious stay-at-home barkeeps.
Elaborate libations can get you tipsy and provide a little social media content, for sure. And at their very best, they can also inform your palate, spark your creativity, and broaden your boozy horizons. Maybe leave the open flames to the pros, but sampling peculiarly prepared unusual ingredients may inspire you to toy with tinctures, embrace infusions, or at least add a dash of bitters now and then. Get started with NYC's most novel tipples that taste as good as they look.
ROKC
Hamilton Heights
ROKC is an unassuming restaurant that packs a wallop. Despite a nondescript entrance and simple, straightforward menu, its cocktail selection is consistently named among the most unusual and show-stopping in the city (and the ramen is some of the best in town). The Thai Tea blends its eponymous base with cachaça, absinthe, sweetened condensed milk, and egg white to create a cinnamon- and anise-forward take on the familiar sweet and creamy takeout staple. Like a few other ROKC creations, the Thai Tea sidecar arrives in an unusual vessel: an open eggshell nestled in a cozy little bird's nest ($13).
Clover Club
Cobble Hill
On a menu that is so stacked with enticing options that it's nearly impossible to choose just one, Sage Ya Later stands out for its taste as much as it does for its presentation. SYL blends two kinds of sherry with mezcal and plum-sage syrup to create a drink that plays on the opposing boundaries of sweetness and tartness, smokiness and earthiness. The pièce de résistance of this cocktail is the burning sage that both garnishes the glass and is said to stave off negative energy, creating a one-of-a-kind visual-spiritual spectacle ($14).
Nitecap
Lower East Side
Despite its name, Skywalker won't get you high. You may, however, feel like you've gone on a trip through space and time as you sip (through a metal straw; Nitecap is sustainability-forward) on this Jamaican rum and Absentroux (absinthe's long-lost, lower ABV sibling) cocktail, which combines the Caribbean flavors of citrus and falernum with a burning cinnamon stick garnish to evoke a distinct cigars-and-daiquiris-on-the-beach vibe, in a space that feels like a sleek and sexy 1980s throwback lounge ($15).
Mom's Astoria
Astoria
This boozy mega-milkshake will slake your sweet tooth your and proclivity for spirits in one sip. The Mr. Fluffleupagus -- no relation to the neighborhood's similarly named second most famous puppet -- boldly combines chocolate ice cream, marshmallow fluff, Reese's Cups, peanut butter chips, Cracker Jack, caramel and chocolate syrups, and affords you the option to request an adultifying addition (we suggest Stoli Vanil). Enjoy alongside one of Mom's equally decadent all day (every day) brunch menu items, if your stomach is as big as your eyes ($19 with Stoli Vanil).
Ophelia
Midtown East
Enjoy skyline views while you sip this cinematic cocktail on the top floor of the art deco Beekman Tower, originally a fancy ladies-only club and hotel for national sororities (it was later purportedly one of Frank Sinatra's favorite lounges). Ophelia's Ascension marries pepper-infused mezcal and bourbon with sugar and bitters for a spicy-smoky take on an old-fashioned. It's finished with a plume of cedar smoke, which slowly rises from a gorgeous 1920s-inspired glass canteen when uncorked ($17).
Maison Premiere
Williamsburg
This ultimate take on the classic martini -- made with gin, naturally -- isn't the city's most outlandish cocktail, but Maison Premiere's stunning interior, outstanding presentation, and impeccable attention to detail makes it worth the price tag. Enjoy it with someone who will really appreciate its creation and potency: the Old King Cole is stirred tableside, with a two drink per order limit ($24/$36 with caviar supplement).
The Woodstock
Meatpacking District
If it weren't for its spectacular flavor and photogenic presentation, this cocktail might be a little too on the nose to 'gram. The Woodstock is a 1960s-themed bar, the Light My Fire is named for a song that defined the decade, and it's served in a light bulb. The premium tequila beverage expertly balances sweet, spicy and tart flavors, the result of a Curaçao, blueberry and habañero blend that produces a rich and sultry deep fuschia color -- which glows semi-realistically when positioned near a tea light ($14).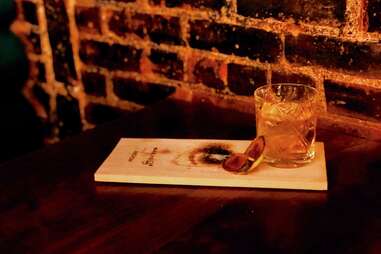 Patent Pending
Flatiron
If you can crack the password -- hint: it's hidden in plain (web)site -- make your way into the speakeasy-themed bar behind Patent Coffee, the and try this brand new offering off the exquisitely designed menu, which is inspired by the famous experiments Nikola Tesla conducted when he lived and worked in the historic Radio Wave Building nearly 125 years ago. Described by the Patent team as "rich, smooth and opulent," Harrison Ginsburg's Impossible Idea features a single-origin, hand-foraged aged rum mixed with maraschino liqueur, sherry and amaro, served alongside caramelized bananas that are torched barside ($28).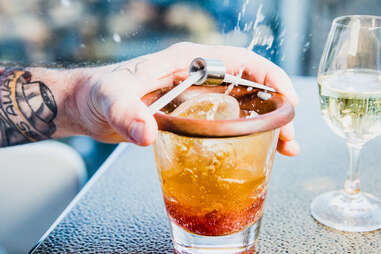 The Aviary
Columbus Circle
While The Aviary has long been known for its wild cocktail displays, most of the attention has landed on cheekily-named Wake and Bake, a drink served in a sealed plastic bag that, when opened, unveils the aroma of an everything bagel. But the best (and most unique) drink on the menu is the In the Rocks, an occasionally changing but typically amber-spirit forward sipper that's served inside a sphere of ice in a glass custom fitted with a slingshot that you use to break open the sphere and release the cocktail ($29).
Toro Loco
Financial District
This large format, group drinking experience is also interactive: It's delivered to your table in an actual piñata, you and your squad are tasked with breaking open the Mexican celebration staple to reveal four freshly prepared and bottled Perfect Puree fruit margaritas (ice and glasses with salted rims and limes are brought to the table separately), along with Mexican candies. One piñata yields enough fun for 4-6 people ($70).
Sign up here for our daily NYC email and be the first to get all the food/drink/fun New York has to offer.