Chelsea
While the view is unremarkable, the rooftop garden atmosphere gives off a kind of dark, mysterious, woodland vibe, and offers some of the best and most inventive cocktails in the entire city (get the smokey Blind Love and the perversely delicious Trampled Rose). Also, if you're into the food-as-obvious-sex-metaphor thing (or just delicious snacks) try the house-made fruit popsicles -- the flavors change daily.

Midtown
This place is famous for a reason. The view is perfect (and just keeps going), plus the atmosphere is relatively low-key (read: date-friendly) for a rooftop bar in Midtown. Try the Needles & Pins, a cucumber dry shake concoction that's the perfect antidote to the summer haze.
Long Island City
Queens is quite possibly the most under-appreciated borough in New York City, which makes this quite possibly the most under-appreciated rooftop date spot. This might shock you, but if you want a gorgeous view of Manhattan, the best ones aren't going to actually be in... Manhattan. Of course, you can hit up the bar on the rooftop (or try the awesome brunch deal), but if you want to earn triple date points, call ahead for the picnic package, and you'll be offered a little seasonal snack basket, board games, and a bottle of Prosecco.

Koreatown
This one just opened up in September, so this is the roof's inaugural summer. A little less luxe than some of the other spaces on our list, Cloud Social has a casual atmosphere that's ideal for an early after-work date. Besides, the happy hour is awesome, especially for a rooftop space: $4 for a beer, perfect for a Tinder match who may or may not be as cute as their photo.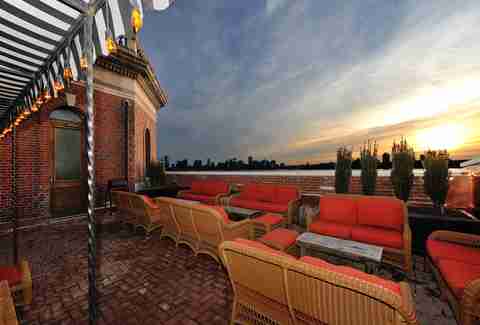 Meatpacking District
Previously reservations-only, The Jane Rooftop has been reopened to the masses now. The space is super cool, and there's a bohemian-chic thing going on that you get to tap into. Pro date move: share a glass of rosé as you watch the sun fall over unobstructed views of the Hudson, because obviously.

Williamsburg
The panorama you can see from this hotel-topper is pretty much unparalleled. Come early to get a seat, but stay later to witness the sun dropping behind the Manhattan skyline -- and even later for the great people watching later on. Split a half bottle of Champagne with your date and gear up for the show.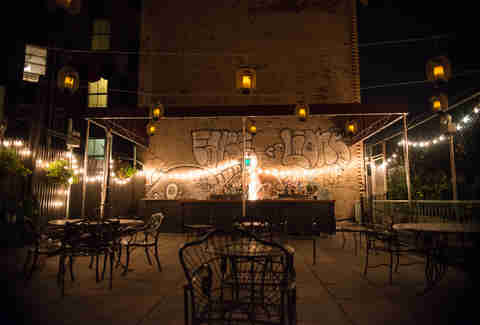 Williamsburg
This small, unpretentious spot is quiet enough that you can actually talk to your companion -- an experience that can feel unique in NYC. The space is simple and relaxed, it's got a great happy hour special, and the bartenders make a bunch of their own infusions and fresh cocktails with botanical ingredients, including a blackberry tequila option that you'll have two of, please.

Midtown
Reserve a table for two in advance, gaze up at the Empire State Building, and order the "Luster" -- it tastes like all the best parts of going to the beach.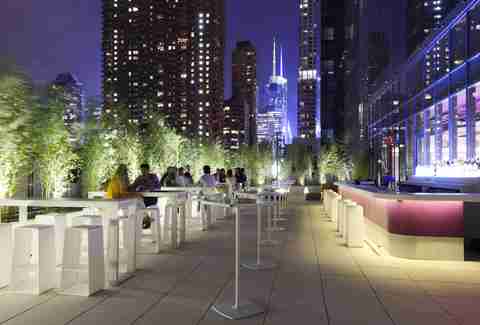 Hell's Kitchen
This gigantic outdoor space just started offering the perfect weeknight date night. From Sunday through Wednesday, it's doing film screenings on the terrace, and playing movies that are totally worth seeing on a big screen, like Ghostbusters and Goonies. Plus: your ticket comes with sangria AND a taco. Which really begs the question: why doesn't every ticket ever sold come with sangria and a taco? (Because they should.)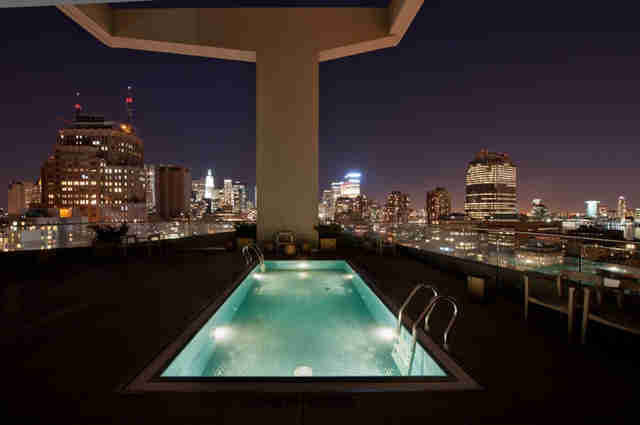 Soho
The Jimmy might just be the greatest spot in NYC for a daytime weekend date. Here you can lounge poolside, sip a spicy Sid & Nancy cocktail, and order a cheesecake lollipop tree (say those words out loud, slowly, and feel good about it). Like we said, it might just be the greatest spot in NYC for a daytime weekend date.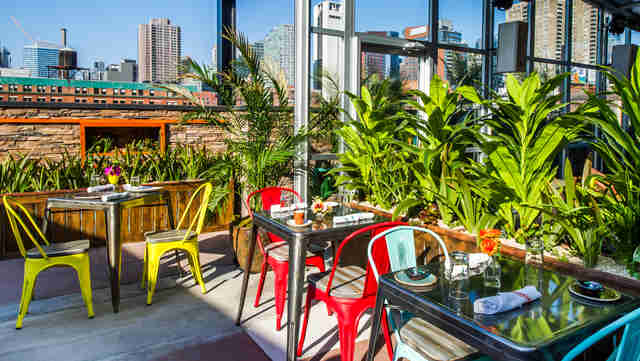 Hell's Kitchen
This space just opened and it's great for a low-key date. Being right by the water but without a waterfront view, the Cantina is a tease at sunset, but we'd definitely recommend this spot for brunch—the house margarita is tasty, and the food is genuinely excellent.
Murray Hill
This place is first date gold, Jerry: have a cocktail with a view of the Chrysler building, split one of the Mediterranean snacks, and decide if you want to keep going with dinner at any of the great spots downstairs.
Williamsburg
This is where you're gonna want to go on your next Summer Friday happy hour date (it's a thing, trust us). From 2-5pm, there're $5 drinks on the roof, and at that time, the place is yet to be packed. Chill out with the Campari-based "Ron Burgundy." You and your date will be in a glass case of emotion. But, like, in a good way.
Murray Hill
This space is straight-up romantic: English ivy climbs around original brick archways, terra cotta columns, cafe lights... swing by at sunset to watch the sun sink behind the Empire State building. The drinks and snacks are from the folks behind Salvation Taco, and are predictably awesome -- if you want to seal the date deal though, order the guacamole.
Greenpoint
After verifying that your date isn't vegan (or following breatharianism, or whatever), check out this Australian joint, where you can enjoy all of the fun parts of a rooftop grilling party (gigantic shrimp on skewers, cold beer) without the gross parts (getting soot and grease on your pants, having nowhere to wash your hands). Try the awesome Southern Collins cocktail, and be sure to order the pavlova for dessert.
Sign up here for our daily NYC email and be the first to get all the food/drink/fun New York has to offer.
Jess Novak believes in spending time outdoors, so long as the outdoors are rooftop spaces that serve cocktails. Stalk her on Twitter @jesstothenovak and Instagram @jtothenovak.