My dog and I spend 23 hours a day together. A lean and leggy combo of Chihuahua, dachshund, and rat terrier, Luna is blonde-haired and blue-eyed, a shiksa from the streets of Alabama. I wear her like a baby -- I'm only slightly ashamed to tell you -- on my subway ride from Park Slope to my Flatiron office. We eat almost every meal together. Sometimes, on our way home, we walk half the length of Manhattan, stopping for a cocktail when we see a sunny patio.
Part mirror, part yardstick, she helps me read the world and myself. Am I decent? Am I patient and kind? Do I sneak enough cheese to her beneath the table? Is this bar worth a damn? Our favorite places are low-key and calm, with no loud music or rowdy crowds. Day-drinking is best, or a quiet dinner; Luna doesn't like to stay out past 11:30 (which, honestly, same).
When planning such a day out, you have to know your dog. If Cooper's skittish or snappish, stay in; if Chlöe's new to the scene, be prepared with a handful of treats to reward good behavior (sitting by your feet, not begging from strangers, keeping her tongue to herself). To get you started, here are a few of Luna's favorite places to hang with her humans.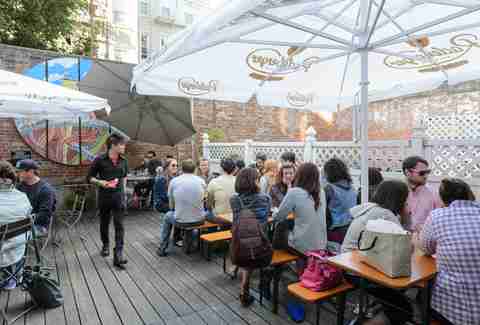 East Village
If you don't have a backyard, a bar with a garden's the next best thing. A big gravel yard feels cool on doggy bellies, while the huge whiskey selection feels tingly in human bellies. It has an extensive beer list and a $5 happy hour that lasts until 9pm, so chill in neighborhood bar for hours while your friends pop in and out to pet your puppy. Fair warning: After you take your dog once, they'll try to pull you back in whenever you walk by -- and who are you to say no to that?
Gowanus
Pork. Trees. The ever-evolving smell of the Gowanus Canal. With room to roam and a gigantic meat smoker, Pig Beach is a city dog's dream. I'm not sure if Luna misses her life on the Alabama streets, but I imagine this place makes her feel right at home. Go classic with brisket or ribs or order a "Briggie" with pulled pork piled high on a double cheeseburger. It's messy to eat, which is exactly what we're going for here. When you adopt a dog, you save a fortune on napkins.
Chelsea
Black Door doesn't have outdoor space, but you can still bring your best friend. The bartenders are friendly and the drinks are simple, making it a casual spot to catch up with human pals while you wait for rush hour to fade. Dogs are greeted by name and, unlike some less cute patrons, won't get bounced for the occasional leg-humping infraction. Happy hour features $3 PBRs (or $10 for a PBR and a shot) so you can skip the fancy cocktails and spend your money at the pet store.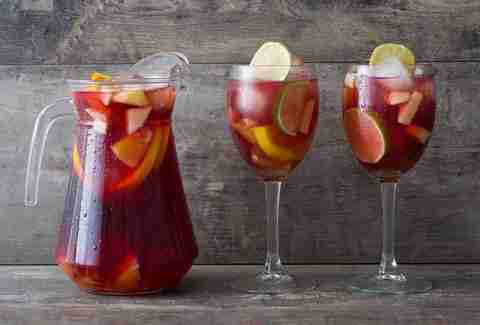 Kew Gardens
A quick walk from Forest Park, Tu Casa's sidewalk seating and Peruvian food are a favorite reward after a Saturday stroll. Order the ceviche mixto classically garnished with corn nuts, the caramelized plantains, and the rotisserie chicken. Served over rice, the chicken's crispy, cooked-to-sweetness skin might just be the best thing your dog has ever tasted. Get a few cold beers or a pitcher of sangria -- the park is so calm and the neighborhood so lovely, you'll want to stay there all day.
Greenwich Village
In the hallowed spot where the 24-hour French Roast used to be, La Contenta Oeste offers up fancy mezcal drinks and lots of meat-and-cheesy snacks. Located smack-dab on the sunny side of Sixth Avenue, the $15 El Easy Rider (tequila, anchos, grapefruit, and bitters) is well worth the price of admission. Settle in, bring a book and a water bowl, and share the free chips and salsa. In an inspired bit of capitalist farce, they offer a separate menu for dogs. Unfortunately for Luna, she's not allowed to order an $8 cheeseburger until she makes her own money.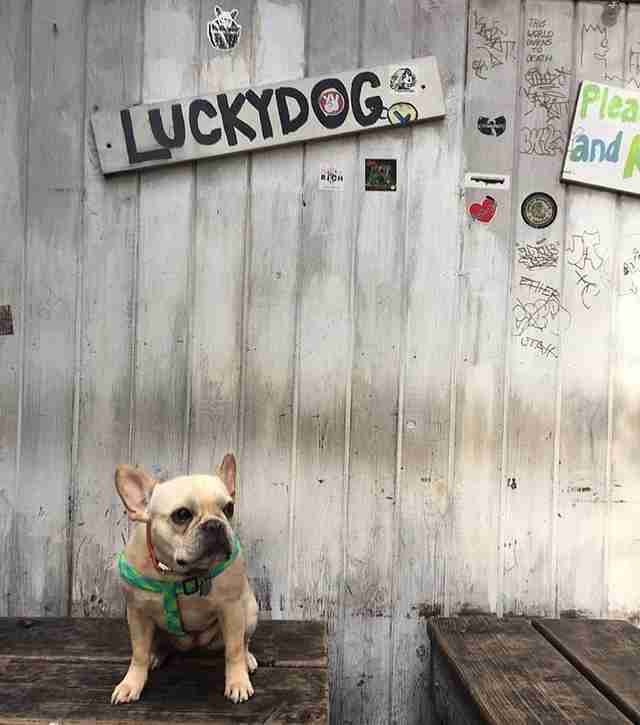 Williamsburg
True to its name, Luckydog is basically a dog park where you can drink. You can head to the patio or stay at the bar, where you might see a puppy perched beside you on a stool. A popular spot for birthdays or adoption celebrations, Luckydog's not far from Greenpoint's District Dog bakery, where you can get a peanut butter carrot cake with yogurt frosting. If you've got a tiny or fearful dog, you'll want to leave them home. Some of the four-legged patrons are large and off-leash, which can be a little scary once the party really gets going.
East Village
Billed as NYC's first "dog café," Boris & Horton skirts health code with a pane of glass that separates the human café from the rest of the shop. If you're walking by, grab a coffee and banana toast at the window before heading in -- there's a little shop where you can order a biscuit for your dog, too, if you didn't BYOB. It gets crowded on the weekends, so it's best for morning coffee runs or a quick breakfast. Even if it's quiet, be prepared for a photo op: There's matcha, doggie cupcakes, a photo booth, and everything else in the Make Your Dog Instagram Famous starter pack.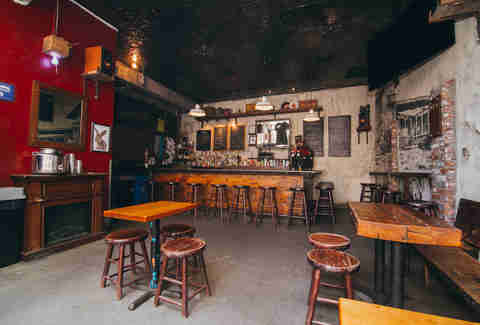 Park Slope
A Park Slope mainstay, Mission D is half indoors and half out, and on summer days the space between is filled with lounging dogs. They open at 12:30pm on the weekends, so bring The New York Times and choose a craft beer from the 20 taps behind the bar. If you're feeling hungry, order a takeout Sicilian pie from nearby Tomato-N-Basil or Korean tacos from Oaxaca Taqueria and make an afternoon of it. It gets loud and busy after sunset, so hike up to Prospect Park once things get bumping.
Flatiron
Shake Shack is a perennial dog-and-human crowd-pleaser. Watch the webcam to see when the line's short or pre-order with the app to skip the wait. When your Shackburger's up, you can drink a beer at a folding table while the park bustles around you. They offer a "Pooch-ini" -- vanilla custard mixed with dog biscuits and peanut butter -- but we both know you're going to share your cheese fries and vanilla shake anyway. The dog run's just a few feet away, so at least once of you can work off the calories.
Williamsburg
This brunch-only Israeli spot by the Lorimer stop serves sour labneh, sweet challah, and spicy pepper zhoug. The patio's perfect for people-watching the Gen-Z crowd: Why is no one wearing a bra, and who knew they even made sunglasses that small? Get a coffee with oat milk and order a Yemenite pancake -- the savory dough is handmade locally and fried to order in the kitchen. It's so good, you won't want to share it with your dog (but you will).
Sign up here for our daily NYC email and be the first to get all the food/drink/fun New York has to offer.