Summer has come to an end, and since you won't have to take your shirt off for another nine months unless you do crazy things like "go to the doctor", you can start focusing on drinking beer. Summer beers are also over -- it's time for stuff that will warm you up instead of cool you down. With that in mind, we hit up five experts for their picks on Fall-ready beers you need to drink before mulled wine season Winter.
Jimmy Carbone from Jimmy's No. 43
Southern Tier's Pumking (Pumpkin Ale, 8.6%)
Jimmy says: "It has been a staff favorite for several years at Jimmy's No. 43, and, at 8.6%, it is stronger than most pumpkin ales, and has less pumpkin pie spice. It is a good drinking Fall beer."

Victory's Festbier (Märzen/Oktoberfest, 5.6%)
Jimmy says: "Victory is one of the best American breweries that makes Belgian-style beers. This one'll get you ready for Oktoberfest, though it's more hoppy than a typical German Oktoberfest beer."


Get the Goods: 1. Kikkerland Ceramic Party Cup 2. Fred & Friends Beer Bites Snack Bowl
David Cichowicz of Good Beer
Southern Tier's Harvest (Extra Special/Strong Bitter (ESB), 6.7%)
David says: "This is one of my favorite Fall beers. It's an ESB that has a terrific piney aroma with a little earthy bitterness balanced by a wonderful sweet malt backbone. It just tastes like Fall. Think dead leaves and fresh pine needles wrapped in a sweet caramel treat."

Founders' Breakfast Stout (American Double/Imperial Stout, 8.3%)
David says: "It's a delicious mix of roasted malts, dark chocolates, oats, and great coffee. Perfect to drink while sitting on your porch (or roof-deck) wearing your favorite sweater and smoking a cigar."


Shop the Look: 1. Slate and Stone Firenza Blazer 2. Ben Sherman Double Woven Field Jacket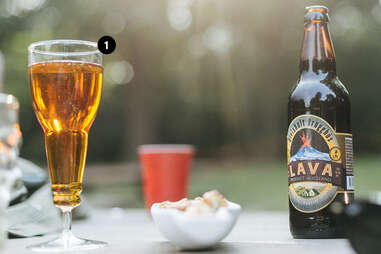 Zach Mack from Alphabet City Beer Co
Ölvisholt Brugghús's Lava (Smoked Imperial Stout, 9.4%)
Zach says: "This is a Smoked Imperial Stout that has so much going on with its chocolatey roasty flavors, it's insane. I love grabbing beers like this as soon as the temperature starts to drop because it just tastes like the season and it warms you right up. It also doesn't hurt that it comes from Iceland. Bring this to a dinner party and you'll be a surefire hit."


Get the Goods: 1. Fred & Friends Beerdeaux Longneck
Founders's All Day IPA (American IPA, 4.7%)
Zach says: "The name doesn't lie: An incredibly well-balanced IPA that you can drink all day thanks to the low ABV and the complex but not overly intense finish. I am obsessed with football, and this beer is perfect for watching games from 1p onwards. Love that they're available in cans, too!"


Shop the Look: 1. Ben Sherman Laundered Spot Oxford
Julilan Kurland of The Cannibal
Firestone Walker's Walker's Reserve Porter (American Porter, 5.8%)
Julian says: "This is easily my favorite porter from one of my favorite breweries. The brewery calls this a "robust" porter and they aren't joking. The beer pours an extremely dark, almost pitch-black body. Aromas of chocolate and coffee come cascading from the glass, while sweet roasted malts and toffee round everything out. The aromas transfer into the taste. The body is almost creamy, while the roasted malts and hops make themselves known. While this is extremely robust, everything is perfectly balanced. Perfect for staying inside on the first blisteringly cold day."


Shop the Look: 1. Nixon Quad Watch 2. Goodale Narita Oxford
Anderson Valley Brewing Co's El Steinber (Euro Dark Lager, 5%)
Julian says: "An interpretation of an old German method of making beer, stein beer uses granite rocks heated to extreme temperatures in order to boil the wort. Anderson Valley has taken this style and applied it to a dark lager, making it a perfect transition from warm Summer months to Fall's colder days. Made with dark malts and toasted corn, this beer provides the crispy body of a lager with the roasted sweetness of a porter or stout. The nose has subtle hints of cocoa and dark fruits, while the hops come slightly through. Crisp, slightly roasty, and sweet with a light hop backbone make this a great beer for Fall days."


Jacob Hadjigeorgis from Jacob's Pickles
White Birch's Nyx (American Black Ale, 7%)
Jacob says: "A very rare small brewery. We love the idea of a Black IPA for Fall. IPA's typically have a Summer profile, with floral and citrus notes. This Black IPA evolves into a Fall style. It's the same process but brewed with roasted malt."

Maine Beer's Mean Old Tom (American Stout, 6.5%)
Jacob says: "One of our best partner breweries, this is Maine Beer's darkest and most robust beer. It's brewed with oats and's got great Fall-friendly intense notes of coffee and dark chocolate."


Shop the Look: 1. Ray-Ban Original Wayfarer 2. Kikkerland Skull Beer Stein