The 5 Best Frozen Cocktails in NYC
As much as we like to complain about summer in New York City, it's kind of the best? More sunlight, ample sidewalk seating, breezy backyards and rooftops and, in true New York style, plenty of creative ways to cool down. One of our favorites: Frozen cocktails. These are the five best slushy, classic, highbrow, ice cold, booze-forward frozen drinks to sip right now.
Williamsburg 
Neither in Bushwick nor a country club, this welcoming dive bar whips up its own signature boozy slushies sweet enough to evoke childhood nostalgia and strong enough to help you unwind with generous vodka ratios. The homemade frozen sweet tea is perfectly satiating on a hot day, and you can take it outdoors for a free round of minimalistic mini golf on the backyard PBR-themed course. Frozen Negronis and frozen mint juleps are also on tap, should you crave an intense sugar rush.
Dark & Slushy

| Glady's
Dark & Slushy at Glady's
Crown Heights
Taking a classic hot weather cocktail and freezing it is, well, genius. This Caribbean restaurant and rum bar knows what its doing when it comes to cool-off cocktails, thanks to beverage director Shannon Mustipher. The dark and slushy, a frozen riff on the dark and stormy, melds Gosling rum with fresh ginger and lime for a tangy, slightly spicy slushy that tastes almost as good as cooling off in the ocean breezes on a Caribbean beach would feel.
Crown Heights 
The top secret blend of rums in this tiki drink will numb the pain of a summer heatwave and all the city garbage smells and un-air-conditioned subway cards that accompany it. Pineapple, orange and coconut juices are mixed with the rums to disguise nearly all booziness and create a refreshing, grown-up SunnyD that's truly delightful in this tropically decorated tiki bar full of Brooklynites all eager to chill the F out.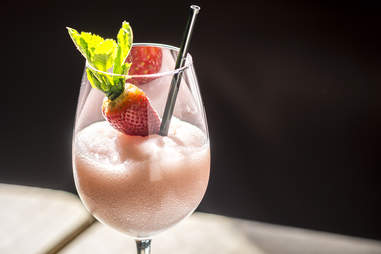 Frosé

| Noah Fecks
East Village
So-so frozen rose has become ubiquitous at bars and coworking spaces across the city, but this Andrew Carmellini restaurant is doing it right, with a highbrow rendition designed for outdoor sipping and people-watching from the pasta restaurant's sidewalk seating. This version of frosé blends Sicilian rosé wine with rosato vermouth and fresh strawberries for more depth, balance and summer sweetness than your #basic frozen pink drink. Post-brain freeze, you can also cool down with Bar Primi's Aperol Fritz, in which frozen Aperol gets doused with two types of bubbly: prosecco and sparkling brut rosé. 
Frozen Paloma at Oxomoco
Greenpoint
Simplicity is the key to this pink slushy! Tequila and fresh grapefruit juice team up to create a tart yet slightly sweet citrus-forward drink that goes down easily on a hot day. Add in a side of chips and guacamole, and it's likely you'll never want to leave Oxomoco's plant-filled space or umbrella-laden front porch…
Sign up here for our daily NYC email and be the first to get all the food/drink/fun New York has to offer.