December 21st is going to be the longest night of the year (literally, it's the Winter solstice). Here to help you ensure it also doubles as the Best Night of Your Life, we've got eight of the best happy hour spots in NYC -- because no good/great/best/average/kinda aight night is complete without one of them. Check out our picks below, and make sure to fully map out a perfect evening with our itinerary builder.
Recommended Video
South Beach Wine & Food Festival
Maison Premiere
Williamsburg
People will actually line up before it opens to hit this happy hour, thanks to their amazing selection of $1 oysters, totally excellent cocktails, and a New Orleansian vibe. BNOYL Bonus: they now do a weekend "happy hour" from 11a-1p. Go ahead, you've had a hard morning.
Tom & Jerry
NoHo
T&J's got all the things needed to be considered a solid after-work spot: good specials, free bar snacks, and a giant moose head.
Blind Tiger
West Village
Aside from just being in the conversation for best beer bar in the city, they've got an 8.5-hour happy... hour, that scores you $1 off draught beer, cask ale, wine, Prosecco, and mead. Where else are you gonna get mead on the cheap, huh?
Faces and Names
Midtown West
Somehow managing to be both 1) prototypical Midtown and 2) not awful, FandN is always a solid choice for a post-work meet up with quality pub grub and veteran 'tenders who'll pour from a beer list that gets a little crafty while still pleasing the masses.
Flatiron Hall
Flatiron
If you want to get rowdy in the Flatiron, this new beer hall is your go-to for 501p steam-letting. If you want to get kinda-rowdy, the upstairs will be a little more subdued than the full-on beer hall basement.
American Whiskey
Midtown West
Perfectly situated, lotsa TVs, pub food that takes the genre up a level, basically an endless supply of bourbon -- this place is pretty much the ideal environment for a an in-between-work-and-dinner whiskey (or six).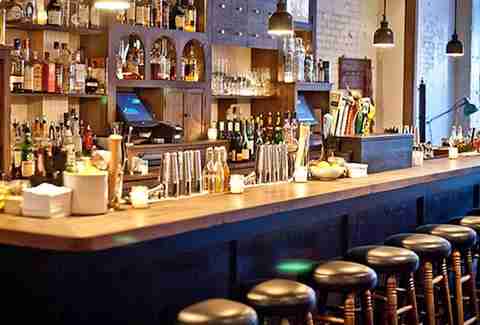 The Wren
East Village
This Bowery hotspot is the perfect place to start a night, with great cocktails (get the gin, basil, green Chartreuse Green Machine), a solid beer list, awesome bar snacks (vinegar fries/spicy beef jerky), and prime going-out-after positioning.
Drop Off Service
East Village
$3 Imperial (20oz) pints 'til 8p? Yessir. Also: an excellent selection of craft beer and whiskey in a divey-but-not-dirty environment.