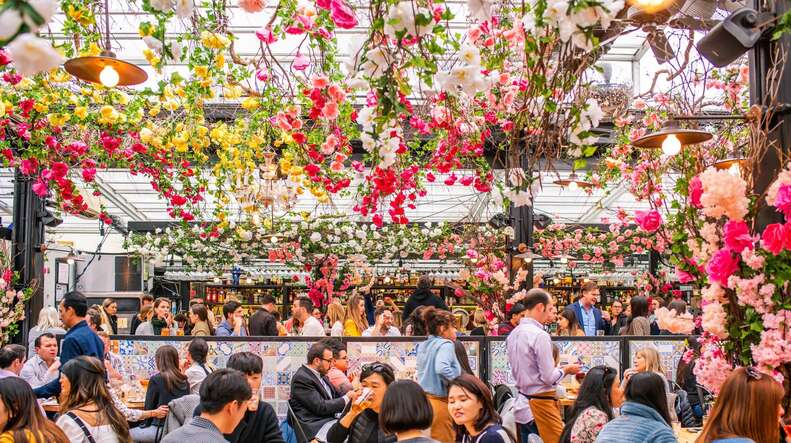 Summer is inching toward its end, but it isn't through toasting NYC just yet. We've still got weeks and weeks to battle the heat, sweat it out on subway platforms, and dart from one crisp, cool, climate-controlled environment to the next. Even the most committed weekend beach bums and post-work pool devotees sometimes need to rinse off the sand and chlorine -- while still soaking up some greenery and (filtered) vitamin D.

Well as you know, this town's got it all -- including a spate of spots that bring the outside in. Each of these restaurants and bars are filled with enough flora and fauna to evoke all the beauty of nature without its attendant sunburn, bugs, and stifling heat. So let that trail of sweat wash down the sewer where it belongs, and allow these greenery-filled spaces to transport you to Parisian gardens, tropical oases, and NYC's own little Seine during the laziest, haziest days of summer.
Gowanus
We may have oversold that Seine thing, but you can still bask like a Florida Keys crocodile crashing his neighbor's pool at this kitschy Brooklyn shuffleboard bar near the Gowanus Canal. With a double rum Hammer Hurricane in one hand and a tang (that's shuffleboard lingo for cue) in the other, you'll forget all about the blazing sun outside. Grandma's favorite game too taxing? Than play a round of jumbo Jenga and laze away in a cabana with a Floyd Swem, a margarita named in honor of the man who literally wrote the book on shuffleboard. Cap things off with a bathroom selfie in front of the flamingo wallpaper. For posterity, of course.
Carroll Gardens
A tree grows in this Brooklyn cafe. To see Petit's indoor arbor, walk past the grab-and-go counter, through the stone archway out to the casual French cafe's enclosed back patio, which is open year-round. Hanging planters and a slanted skylight imbue the space with enchanted Parisian garden vibes. Eat your quiche of the day next to a calm, cool koi pond and you'll forget all about the 90 percent humidity outside. A few apple cider mimosas will fill your head with visions of fall, too.
Little Italy
This old school Italian joint has been in the neighborhood for more than 40 years, and the potted plants and hanging ferns in its garden room will make you feel like you're under the Tuscan sun -- SPF optional. Order a round of antipasi and a Mulberry Breeze (vodka, cranberry juice, grapefruit juice), close your eyes, and imagine the AC is actually the cool Castiglione air.
Williamsburg
Sand covers the floor and surfboards serve as decor at this beachy bungalow. Surf Bar's fish-forward menu includes clam chowder and ceviche, and the honey and sea salt topped fries are like beach bum bait at happy hour. Wash it all down with cocktail umbrella-topped frozen boat drinks to keep this whole staycation rouse going.
Greenpoint
This Vietnamese restaurant is a delicious tropical oasis replete with a fiddle-leaf fig and teeming with greenery that you'd see in any aspirational millennial apartment. Big windows and skylights let the sun shine in and keep Di an Di's many, many plants alive and well while you stay cool enough to enjoy pho with scallions sliced on the bias.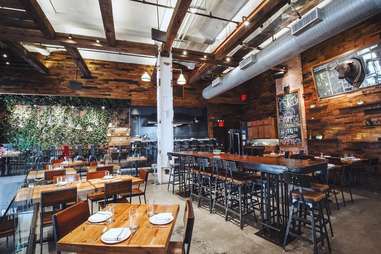 Chelsea
Housed in the one-time Nabisco Factory building, this modern tapas spot's 18-foot windows offer a breathtaking view of the NYC skyline without forcing you to breathe the stagnant NYC summer air. But, wait, look over there by the plancha bar! It's an ivy-covered wall that isn't so bad to look at either! Settle in with a pitcher of gin and tonics (available in four varieties) and that statement wall will really speak to you.
Prospect Heights
Named for the landscape architect behind nearby Prospect Park, Olmsted walks the farm-to-table walk with rows of produce in its whimsical little back garden. Folks sipping orange wine and making their own s'mores fill up bench seats fast in spite of the lingering heat. Those in the climate controlled know eschew the outdoors in favor of the hotspot's herb-lined interior, where you can enjoy all the sweet benefits of photosynthesis without breaking a sweat.
Nolita
Natural light bouncing off white brick and tile will nourish you and the copious potted plants scattered around this ironically named "vegetable slaughterhouse" and juice bar. The decor is so bright and airy, you can enjoy expertly prepared seasonal produce and the sunniest days without having to break out the parasol.
Flatiron
Eataly's seasonal rooftop has transformed into an Italian garden flush with bright-colored blooms for the summer. Since "serra" means "greenhouse" in Italian, the place is covered in flowers -- a mix of real, preserved, and paper blooms. This is definitely the place to have a snap and a spritz, Aperol or otherwise, you truly cannot take a bad photo here. You'll catch a good breeze up on the 14th floor when Serra's retractable roof is open.
Bushwick
Mad Tropical's good vibes and fresh foliage might just trick you into thinking you're on a tropical island. Grab a fruity drink or make like Keanu Reeves, and have some tacos. Turns out, John Wick's a fan of this succulent-filled bar. And even when it's hot outside, it's worth taking a turn on the neon-hued dance floor, where breaking a sweat might not feel like a bad thing for once.
Sign up here for our daily NYC email and be the first to get all the food/drink/fun New York has to offer.
Shannon Carlin is a pop culture writer whose work has appeared on Bustle, Refinery29, and BUST.