During the Potato Famine in the late 1840s, Irish immigrants fled to America, and with them came the traditional Irish pub. Fast forward to today, and New York City has almost 2,000 Irish bars in which to pound Guinness and whiskey -- an astounding number that also makes it pretty difficult to separate the real-deal watering holes from the less-authentic replicas. So we sifted through the clovers to bring you the absolute best Irish bars throughout the city, where you can always expect draft beers, loads of whiskey, tasty bites, and an especially riotous crowd -- whether it's St. Patrick's Day or not.
Gramercy
This classic Irish drinkery has been on 3rd Ave since the 1960s and just keeps getting better with age. This is the place to go if you crave an old-school Irish pub atmosphere (think sawdust on the floor, wood-worn bench booths, vintage photos on the walls, and a fireplace), but it's also famous for its totally under-the-radar, 10oz bacon cheeseburger, and for having lots of great beers to chug along with it.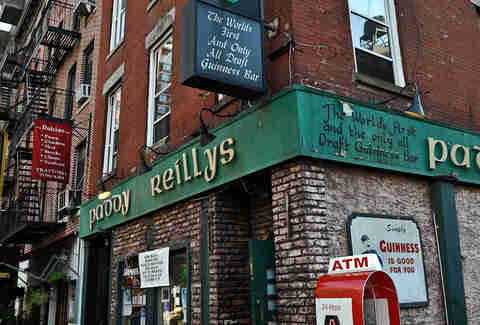 Murray Hill
There are two important things you need to know about Paddy Reilly's, other than the fact that it's celebrating an impressive 30 years in business: 1) there's only Guinness on tap (no complaints), and 2) there is almost always live music playing, from Bluegrass to traditional Irish to classic rock. Grab a seat by the bar and take both in generously.
Hell's Kitchen
In operation since 1868 (the third floor was a speakeasy during Prohibition), this storied Hell's Kitchen watering hole has since seen renovations and owner changes, but still maintains it's old-school feel with an original mahogany bar and tin ceilings. More importantly, it still serves up completely legit Scotch eggs, Shepherd's pie, and whiskey, of course.


Greenpoint
This legendary Greenpoint dive has been bringing Irish realness for over 85 years, with a green-painted brick facade, exactly two beers on tap (Bud and Coors), a friendly and extremely devoted neighborhood crowd, and sports perpetually blaring from the flat screen TVs.
Noho
Named after Irish writer Jonathan Swift, this cozy bar has a fantastic craft beer selection that goes above and beyond what you expect from a typical Irish pub (we're talking drafts of Stone Lucky Basartd and bottles of Saison Dupont), plus traditional down-home food like chicken & sausage pot pie and corned beef & cabbage tacos.


West Brighton
This unassuming, shamrock-speckled nook delivers dollar drafts of Miller Gold and the best burger in Staten Island (a half-pounder on an English muffin with crinkle cut fries -- order it!) in a snug space that's known to bring in locals and not-so-locals, all in the name of good beers and good times.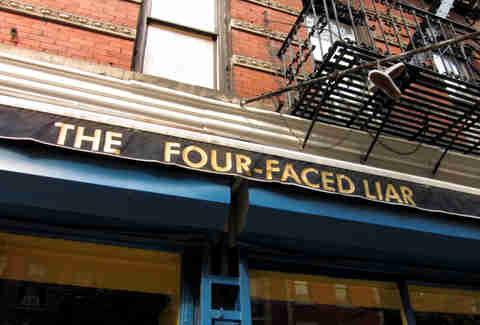 West Village
Named after the church steeple in Cork, Ireland where its owner Connor O'Sullivan was born, this old-fashioned and laid-back Irish mainstay appeals to expats and Village residents alike with an ample selection of draft and bottled beers, and soccer always on the TV.
Nolita
Filled with tons of nooks and crannies, this tri-level bar is a perfect for when you're in the mood to drink with a bunch of friends and actually want to be able to sit or stand with them all. Enjoy the rotating selection of draft beers, friendly atmosphere, and menu full of hearty eats like Guinness-braised beef stew.
Woodside
This corner pub in Woodside has been delivering Celtic spirit in a nearly unchanged space since 1966, and locals like it that way. Enjoy the cozy tavern digs speckled with antiques and stained-glass windows, plus a reliable selection of on-tap brews and fuss-free eats like the famously beefy burgers.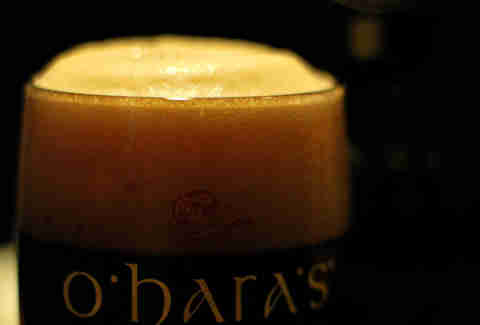 Financial District
Adjacent to the 9/11 Memorial, this bar (which was a common drinking ground for ground zero workers after the attacks) is lined with police and fire badges and boasts a beautifully random mix of patrons (tourists, finance guys, locals -- they're all drinking here), plus $3 draft Bud Lights all day every day.


Riverdale
Head to Riverdale for one of the most authentic Irish spots in the whole city. This welcoming pub offers live music and other performances from both local and Irish artists, alongside traditional Irish comfort foods like bangers and mash and a generous selection of bourbons, whiskey, and Scotch.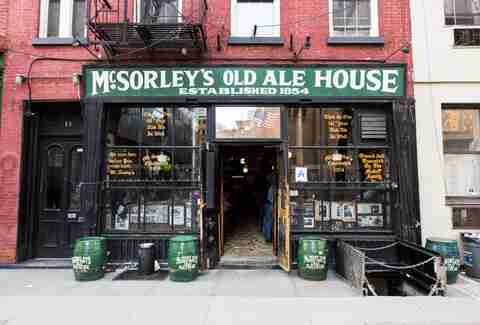 East Village
The King of Irish bars, this New York institution has been pouring drafts since 1862, making it the oldest tavern in the city (it was one of the last "Men Only" pubs in New York -- finally allowing women in 1970). McSorley's keeps it real with just two beers -- the house ale, light or dark, and nothing else.


East Village
It's named for the Irish word for "victory," but this St. Marks watering hole isn't your traditional Irish bar (there's not an Irish flag in sight). But even if it's not as loud and proud as other spots, it's a local favorite for its excellent beer and whiskey options, overly friendly bartenders, and one of the best people-watching decks in the whole city.

Sign up here for our daily NYC email and be the first to get all the food/drink/fun New York has to offer.

Christine Fischer is a freelance writer for Thrillist who will be downing Irish car bombs on St. Patty's Day. Follow her on her website, Facebook, or Instagram.