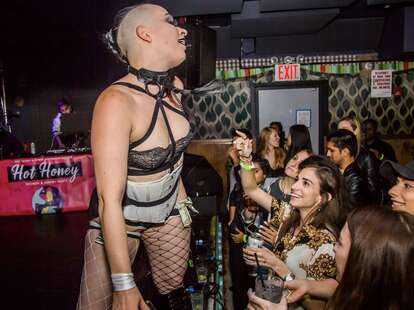 Hot Honey by Hot Rabbit

| Hot Rabbit
Hot Honey by Hot Rabbit

| Hot Rabbit
Within the incomparable metropolis that is NYC, you can find nearly any bar your heart desires to visit, from speakeasies hidden within hot dog shops to opulent cocktail dens and disco ball-lit dance floors. However, despite this abundance, only three formally designated lesbian bars exist—and lately, people have finally been noticing.
Lesbian bars and regularly scheduled pop-ups for queer womxn are more than just a fun place to mingle, they are integral and rare safe spaces where members of the community can freely express themselves. Luckily, roving destinations like Dave's Lesbian Bar and House Gayjoy—as well as more fluidly-labeled "queer bars"—have sprouted around the city (aka Bushwick), providing queer womxn with more reason to regularly let their proverbial hair down.
LGBTQIA+ bars are just as much safe spaces as they are deep expressions of joy, so here are our top ten places and parties for queer womxn to enjoy for Pride Month and all year round. And for more fun events this June, check out our Ultimate Guide to Celebrating Pride in NYC.
Cubbyhole is NYC's quintessential lesbian hot spot and located just a short walk from Henrietta Hudson (also on this list) on a charming stretch in the West Village. When the bar first opened in 1987, it was actually named 'DT's Fat Cat' but thirty years and a very welcomed name change later, it remains constantly packed and draws a crowd that often leans young but still spans across a wide age range. Take note that it's cash only here, so prepare both your bills and your vocal chords to get the bartender's attention before heading into the cozy space. Also, be ready to socialize since it's a notoriously great place to meet new people—both friends and potential new flames.
Dave's Lesbian Bar is a pop-up in Queens that takes on different iterations of itself each month with live music and mutual aid at its core. Events by the company can present as a dance party one month and a queer maker's market the next, establishing itself as an exciting new genre of "pop-up" that regularly brings the community out to connect over music, art, philanthropy and more. Keep tabs on their IG for upcoming events.
This classic dive is the only remaining lesbian bar in Brooklyn and patrons can expect a vibe that feels like a relaxed lesbian frat party (but in a good way!). Make sure to bring cash before you head over for a round of billiards and booze-fueled deep conversation in the backyard. After being around since the turn of the century, Ginger's closed for an anxiety provoking amount of time during the pandemic but now that they're back and better than ever, be sure to show them some love and pay them a visit.
You'll find a mixed gender crowd at Happyfun Hideaway, a chaotic fever dream of a tropical bar in Bushwick. The interior of this queer watering hole is full of conversation-sparking oddities, but the real draw, especially in warmer months, is its spacious backyard space. It's a great bar to start the night out with, but don't expect a particularly consistent crowd—it can be packed one night and empty the next.
If you've never walked onto a packed dance floor with nary a man in sight, it's time to make a beeline for Henrietta Hudson. Technically the longest operating lesbian bar in the country, the spot has updated their language in recent years to identify as a 'Queer Human Bar.' We love that for them as much as we love downing a $10 Buttery Nipple shot and dancing the night away to pop icons. Be prepared for a line at the door and a cover charge that matches the price you'll pay for the aforementioned shot.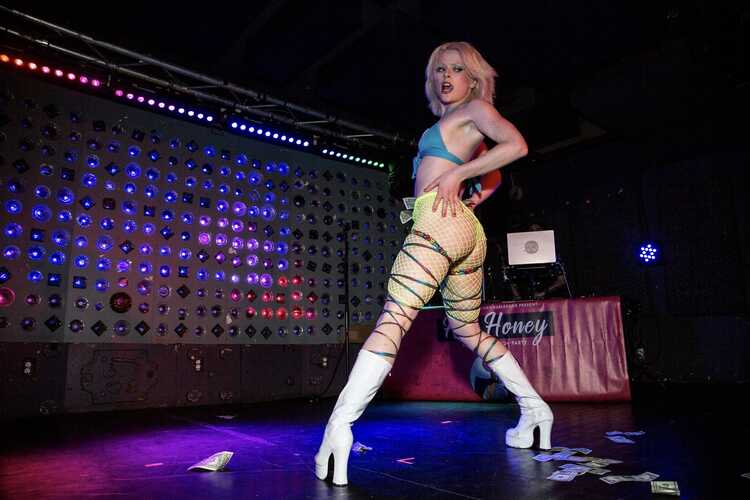 Hot Honey by Hot Rabbit

| Hot Rabbit
This roving dance party has been putting on killer events since 2011, and continues to draw in a wide range of queer New Yorkers to their regularly scheduled nights of debauchery. Hot Rabbit typically puts on 2-3 LGBTQIA+ events per month—one always being a dedicated womxn's party. Called "Hot Honey," these monthly affairs take place at Baby's All Right and include everything from dancing to craft cocktails, burlesque performances by Honey Burlesque, and free tarot card readings.
If you've been to the popular indoor-outdoor drinking hole The Woods on a typical weekend, you'll know that it is for all intents and purposes a straight bar. However, every Wednesday night, the venue is turned over to the queer community for Misster, an all-night-long lesbian dance party with sounds by DJ Amber Valentine. For those feeling the all too familiar midweek woes, this soirée is a great way to get you to the weekend.
While not technically a queer bar, Pink Metal identifies as a safe space for the community with "a high femme aesthetic." Neon pink lights create an entrancing vibe here, rounded out by kinky cocktails like The Pink Straddler—a summer-ready concoction of vodka, Campari, citrus and prosecco. Come thirsty on Tuesdays and Thursdays for free burlesque shows featuring beautiful queens.
The owners of the astrologically-themed cocktail spot Mood Ring have joked that it's a "bisexual bar," and adamantly emphasize its queer fluidity. Located a stone's throw from Happyfun Hideaway, the spot is a cheeky, neon-lit space that attracts a diverse crowd with lively DJ sets and dance parties with varying cover charges. Keep tabs on their IG stories to see what's coming up next.
Elsewhere is one of the best music venues in Brooklyn with three separate stages, so it's unsurprising that regularly scheduled queer events there would be incredibly lit. These events are thrown by Papi Juice, an art collective aimed at celebrating the lives of queer people of color. Their curated events usually involve multiple DJ sets, and thus a lot of quality dancing. Keep tabs on their IG for upcoming events.
Austa Somvichian-Clausen is a freelance food and travel writer, who lives in Brooklyn with her girlfriend and two fur babies.