We've already shown you the city's best bars, but what about its finest lounges? Is there even a difference? Of course there is: a lounge is like a bigger, dressier version of a bar, one that possesses ample booths and tables for people to... y'know, "lounge" in.
With that key differentiator in mind, here are 13 lounges to know and visit in NYC -- from panoramic rooftops to subterranean speakeasies.
355 W 16th St
Perched atop the Dream Downtown is the Penthouse at Dream Downtown (PH-D). In addition to sexy skyline views, this sprawling indoor/outdoor lounge features two separate bars, a DJ booth, and a menu of small bites. If you're interested in actually lounging, you can do so in the Italian leather banquettes or outside on the terrace.
206 Ave A
This eclectic and cozy spot has whitewashed brick walls and a steel bar rimmed in reclaimed wood, while the "living room" seating area sports a fireplace that puts this watering hole squarely in lounge territory. It's also known for its innovative cocktail menu, which packs punch bowls as well as cocktails served in glass flasks and Boston Round bottles.
180 Orchard St
New to the LES scene, this rooftop lounge on the 15th floor of Hotel Indigo has an interior filled with reclaimed wood, concrete, metal, and free-hanging lights. The space has two terraces, the larger of which has its own swimming pool, bar, chaise lounges, and banquettes. To top it all off, the menu is stacked with locally sourced staples from Melt Bakery, Russ & Daughters, il laboratorio del gelato, and Beecher's Handmade Cheese.
848 Washington St
There's a very good chance you're not cool enough to hit up this club/lounge since it has an airtight guest list and everyone there is famous (or related to someone famous). That said, this penthouse rooftop lounge/disco on top of The Standard hotel has a rotating list of world-famous DJs, unreal views of NYC, a plunge pool, and a "grass"-covered rooftop. Again: there's a very real chance you won't get in unless you're Jeremy Piven (or Jeremy Piven's nephew, Wilfred).
25 N. Moore St
If you enjoy the finer things in life -- like the smell of rich mahogany, leather-bound books, and a never-ending cascade of brandy -- you'll love this sophisticated Tribeca lounge. With a menu of 100 (100!) signature and classic cocktails, wine, beer, and some super rare spirits, this sophisticated Tribeca haunt makes sure your liquid needs are well taken care of. There's also a menu with things like Cognac-cured foie gras and chocolate cake with a molten center, all of which can be ordered well into the wee hours of the morning.
20 7th Ave South
This subterranean speakeasy-style lounge is NYC cocktail royalty. The underground bar prides itself on showcasing some of the best mixology in the city (and the bartenders wear suspenders, so you know they're legit). The upright piano lends itself to jazz trio performances, which occur Sundays through Thursdays.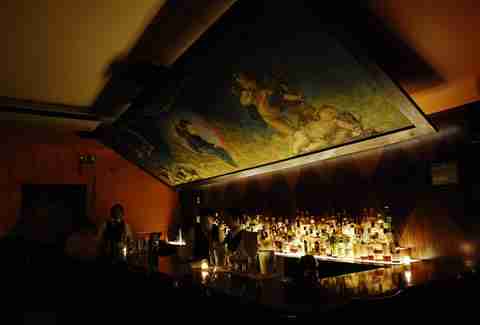 8 Stuyvesant St
A Japanese whiskey speakeasy tucked behind a boisterous East Village restaurant -- need we say more? Up a stairway and inside a Japanese restaurant, you'll find this "secret" ethereal whiskey heaven that'll drum up visions of Bill Murray and "Suntory Time." The darkened, library-looking den has a strict code of conduct: play it cool, keep the volume down, and keep your shit together. If you can remember that, you'll have access to a list of some of the best whiskey in the city.
37 W 19th St
A Jazz Age-era throwback, the Flatiron Lounge is located in a landmark building and pays homage to its history with Art Deco-style stained glass lighting and a wall covered cobalt-blue mirrored glass tiles. In addition to high-end whiskey flights, you can try one of the daily cocktail flights -- three mini cocktails with a common flavor -- and choose from menu of seasonally inspired cocktails.
145 E 50th St
One of the few rooftop lounges in NYC that is usable year-round, Upstairs sits 30 stories above the Kimberly Hotel. The 3,000sqft venue has three separate indoor/outdoor spaces, as well as a retractable glass ceiling and heated floors -- probably the swankiest upstairs you'll ever see, unless your last name is Kardashian.
210 Smith St
The original Clover Club was a select group of Philadelphia journalists who met once a month at the Bellevue Hotel to eat, drink, and talk, and that's exactly the spirit that the Brooklyn version is looking to mimic. An old timey vibe with leather banquettes, wood paneling, and a fireplace certainly gives it that edge, but the creative and delicious cocktails will remind you that you're very much in the 21st century (in a good way).
4 Bleecker St
This sexy, Southeast Asian-influenced lounge focuses on gin -- in fact, its name comes from the 18th century English term for Gin. Along with specialty cocktails like the Four 75 and Mustachio Pistachio, you'll be able to order up street snacks like duck steamed buns and summer rolls, inspired by small eateries in Hong Kong and Singapore.
2 Lexington Ave
Tucked inside the Gramercy Park Hotel, Rose Bar (and the attached Jade Bar) is a super-exclusive experience, complete with a Maarten Baas billiards table, a silk velvet banquette, and a limestone fireplace. It's often picked as the home for Fashion Week afterparties, book launches, and intimate Rose Bar Sessions that bring in artists like Axl Rose, Dave Navarro, and Rufus Wainwright.
149 Mulberry St
Chances are you haven't been to Little Italy since you first moved here and subsequently realized Little Italy's actually kind of terrible, but this speakeasy-style tribute to cocktails and NYC street art is a legit reason to make your way to that part of town. Mix your own cocktails from the list of available ingredients, or leave it in the hands of your trusty bartender while you lounge in one of the many black booths -- because, really, isn't lounging what it's all about?
Sign up here for our daily NYC email and be the first to get all the food/drink/fun New York has to offer.
  
Meagan Drillinger is a contributing writer for Thrillist and prefers to drink while standing. Follow her on Twitter, Instagram and Facebook at @drillinjourneys.