Take It Easy (Or Drink Even More!) With NYC's Best Low-ABV Cocktails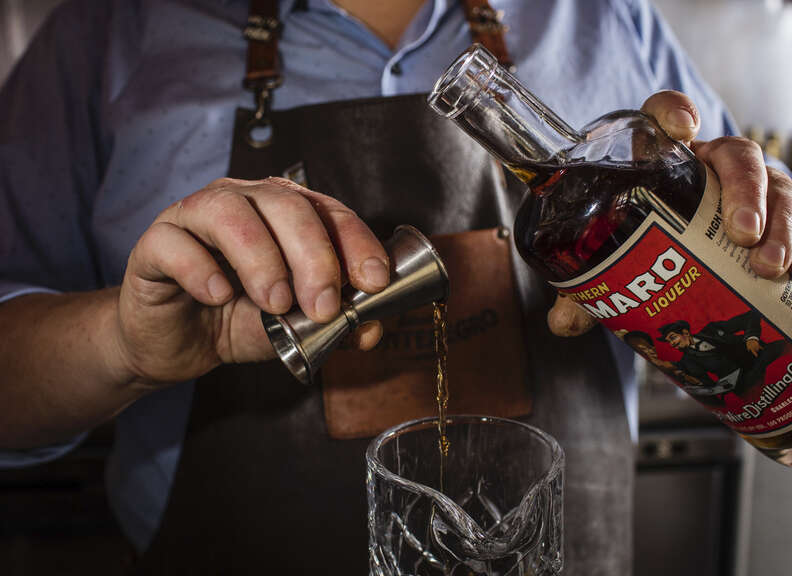 Low-ABV (alcohol by volume) libations have been around since the first recorded human hangover, but they're sometimes overshadowed by bawdier libations like your martini, Manhattan, or Old Fashioned. But with the rise of the so-called "New Sobriety," the release of Brooklyn Brewery's non-alcoholic beer, and the opening of a booze-free bar in Brooklyn earlier this year, the #soberlife (or, more accurately, the sometimes-sober life) is solidly trending in NYC.

Seemingly rooted in the growing desire for "wellness" in an unwell world, millennials are drinking less -- and more thoughtfully -- than their Gen X and Boomer counterparts. To capitalize on the trend, new restaurants and bars all over NYC are shining a light on their no- and low-ABV cocktail menus.

Some restaurants, however, may come by their low-ABV cocktails unintentionally: Full liquor licenses in the city can be hard to come by, due to community board concerns and State Liquor Authority regulations.
"There are two categories of on-premise licenses," says Max Bookman, an attorney at Pesetsky & Bookman, a law firm focused on alcohol regulation in New York. "One is what we call in the business a "beer and wine" license. The other is a full liquor license. From a political perspective -- and all alcohol licensing is 50% legal and 50% political -- getting a beer and wine license is easier than getting a full liquor license."
New York does not separate beer and wine from full liquor according to ABV, like many other states; rather, the state defines the difference by the process in which your booze was produced. Alcohol fermented like beer or wine, then, can be served under a beer, wine, and cider license.
By exploring fermented alcohol -- like sherry, soju, sake, vermouth, and other unsung heroes of the liquor world -- restaurant owners can create a cocktail program while sometimes even increasing their lemon-twist-thin margins.

"The entrepreneurs in this sector are incredibly creative people," says Bookman. "Everyone is trying to find new and creative ways to make additional money, to make another buck or two. If consumer trends are going in the direction of wanting to have lower alcohol content in their drinks, that's the direction bars and restaurants are going to go in."

Want to find out why not getting wasted might be worth your hard-earned cash? These seven newly opened restaurants and bars let you give the #soberlife a try with no- and low-ABV cocktails. Just don't blame us when you're not drunk and crying in the cab ride home.
Lower East Side
Low-ABV Cocktail: The Mindanao Valley with Daiginjo Osakaya Chobei sake, red bell pepper, beet, yuzu lemon, chipotle, cayenne, and rhubarb bitters; $15
At Tsismis, a Filipino restaurant, the lack of a full liquor license presented a problem.

"I normally work in full-license operations," says Philippe Segura, a sommelier and beverage director at Tsismis, "so I had to readjust."

The resulting cocktails at Tsismis are constructed around sake -- a fermented rice wine -- with an overall Tiki influence. In addition to sake, the Pickle Pepper Punch has pineapple, pickle juice, ginger, Thai chili, and mint; the Boracay Beach has passionfruit and galangal. The whole program tends towards the super-sweet, much like a standard menu of tropical drinks.

Segura, who is also a (spoiler alert) Reiki master, chose the ingredients in Tsismis' cocktails for their health benefits.

"Everything is about energy," Segura says of his cocktail program. "It's important to me to create cocktails that contain good things for the health."

Cutting back on alcohol can't hurt, but can a cocktail really be good for you? Even when a drink is packed with organic fruits and vegetables, you're still damaging the neurons you need to stare at your phone all day.

Segura believes that a low-ABV cocktail can, in fact, be good for the soul. "There's a wave of people who are looking for more healthy food, healthy cocktails, getting more spiritual," he says. "They can enjoy a different cocktail without getting too overboard."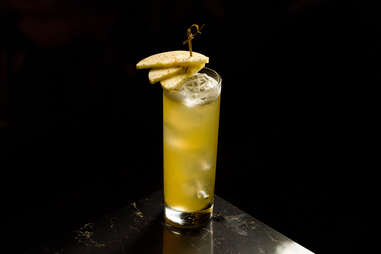 Midtown
No-ABV Cocktail: The Bertie Brown with Seedlip Grove 42, spiced apple, lemon, Fee Brothers walnut bitters, and soda; $13

At Valerie -- a two-story, gin-focused bar on 45th and 6th -- low-ABV cocktails give the bartenders the opportunity to experiment with lesser-featured spirits like sherry and vermouth.

"With the happy hour upstairs, to keep it a little out of the norm, it's very low-ABV and aperitivo-focused," says Marshall Minaya, the beverage director. "When you open a new bar -- specifically a new concept to what midtown Manhattan is used to -- we've had to take a stand and showcase that we're here to educate our clientele and help them grow as consumers."

Vermouth and sherry, both fortified wines, are often relegated to the role of the "funny friend" in cocktails -- but the low-ABV trend is giving them a star turn.

Sherry, which has been made since the 1st century BC, can be complex: nutty and salty, or sweet as ice cream. And vermouth -- herbaceous and often bitter, adding a little bite to a Negroni -- is as worthy on its own as in your martini.

The low-ABV content of vermouth and sherry lend themselves to a more European style of drinking, bringing to mind long afternoons spent sipping aperitivos on sidewalks and in dark bars. That's why Valerie's upstairs space, the Blushing Bar, has reimagined happy hour as "aperitivo hour," which can more soberly spill into nighttime.

Valerie has considered non-drinkers in its cocktail menu, too, with a rotating list of Seedlip cocktails. Seedlip, a non-alcoholic simulacra of the hard stuff, was made for mixing into complex cocktails. At $13, Valerie's price for a non-alcoholic cocktail is steep -- the cost of sipping something more exciting than tonic water with lime.

"I hope that the people who aren't drinkers start leaning more towards non-alcoholic cocktails," says Minaya. "If you're taking a month off or you don't drink at all and you're coming to a bar with friends, there's no odd person out anymore."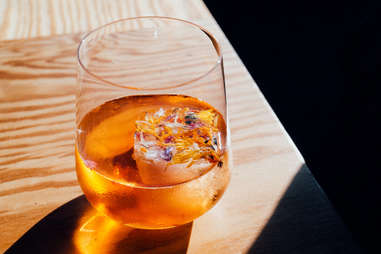 Gowanus
Low-ABV Cocktail: The Strawberry Spritz with Cappelletti, Fragola, white balsamic, and prosecco; $14

At Public Records, the bar-slash-cafe-slash-performance-space in Brooklyn, low-ABV cocktails remained on the menu even after the space received its full liquor license.

"It's an audiophile bar," says Meaghan Montagano, the beverage director. "A lot of people don't drink for health and lifestyle choices."

Public Records offers no-ABV choices, too, making it the ideal choice for the sober and the sort-of sober.

"We've been seeing a shift due to health and wellness and lifestyle with the new wave of millennials who are choosing not to go out and drink," says Montagano. "So why not use that as a base for how we want to attack cocktails?

For a long night of vibing to music, low-ABV cocktails can be a solid alternative to the classic concert drink of a vodka-and-soda in a plastic cup. Sipping a spritz won't turn your night into a rager, but for Public Records' lowkey crowd, the low-ABV options make everyone feel welcome.

The lower price of low-ABV cocktails can make a space feel more inclusive, too. Since a bottle of low-ABV booze is cheaper than hard liquor, menu prices can reflect the cost of their ingredients. At Public Records, low-ABV drinks start at $10 a pop -- relatively more affordable for the freelancers and up-and-coming musicians of New York.

"We want to keep the price point approachable," says Montagano. "We want people who might not be ballers to experience a nice cocktail without it costing $18."
Chelsea
Low-ABV Cocktail: The Oolong High with Oolong tea, soju, lemon, and cane sugar; $13
"To be honest, we don't have a hard liquor license," says Suhum Jang, the General Manager and part-owner of Hortus. Without the hard stuff, the Asian fusion restaurant relies on soju for its low-ABV cocktail menu.
Soju, a clear Korean liquor, has a taste similar to vodka; accordingly, sojus can have as much alcohol by volume as their Russian counterparts. Many distilleries dilute their sojus, though, putting the spirits well within the beer-and-wine license limit.

"The soju we're using here is coming from a distillery," says Jang. "It has a unique flavor compared to what we used to drink in Koreatown."

By creating soju cocktails with Asian ingredients like oolong tea and yuzu, Hortus offers a chance for New Yorkers to get to know the Korean spirit outside of shots at karaoke bars.
Starting at $10 a drink, you can make your way through the entire cocktail menu for less than a hundred bucks -- but you risk getting a sugar high before you get drunk. Still, Jang claims he prefers not having a hard liquor license.
"If I have a full liquor license, people will get distracted," he says. "They'll get confused. I want to focus on selling wine by the glass, beer, and soju cocktails."
Lower East Side
Low-ABV Cocktail: 22-Degree Halo with amontillado sherry, bianco vermouth, mastika, carrot, and basil; $20

Perched atop Freemans Restaurant, Banzarbar had its full liquor license grandfathered in. Even with a full bar at her fingertips, Head Bartender Eryn Reece set out to create a cocktail list with low-ABV options. The tasting menu, which is $95 for five drinks and a light sampling of seafood including oysters, sturgeon caviar, and blue crab, contains only low-ABV cocktails.

"When people hear tasting menu, they hear dinner," Reece says. "Ours is not meant to be that way. We're a cocktail bar first and foremost. It's more about the drinks, with bites."

A sake and sotol cocktail (sotol, derived from the sotol plant, is a lesser-known mezcal kin from Northern Mexico) is paired with razor clam ceviche; vermouth and champagne are paired with oysters in a calabrese chili mignonette. All in, the liquor in the five drinks add up to about two-and-a-half regular cocktails.

"Cocktails can be be really aggressive with citrus, or they can be a lot of alcohol," says Reece. "Especially with tasting menus, having strong spirits and strong acids can be overwhelming."

If paying $95 to be only a little drunk doesn't appeal to you, you can always stay on your barstool for another round.

"Since it's low proof," says Reece, "[customers] can enjoy more drinks afterward. They appreciate that they're not getting destroyed."
Flatiron
No-ABV Cocktail: Cucumber & Kombucha Spritz with cucumber, kombucha, lemon, mint, and club soda; $9

Little Beet Table -- a sit-down offering from Little Beet, one of the mix-and-match bowl spots for the liberal elite lunch crowd -- is designed around the concept of "wellness," with a "vegetable-forward menu" and "thoughtful whole food choices" for "indulging in your well-being." The menu is 100% gluten-free.

Post-Pure Barre, a low-ABV cocktail like the aperol-based grapefruit spritz is ostensibly a continuation of one's wellness journey. (Plus, it looks great on Instagram). Or you can forego alcohol altogether with the menu of "Natural Refreshers," or juice. With beets, matcha, kale, and the other usual suspects, the Natural Refreshers are popular options for the sometimes-sober SoulCyclers of New York.

"It's been really interesting to see folks shift from always ordering wine and cocktails," says Adam Cornelius, the Little Beet Table's Director of Operations. "There has been a lot more conversation around sobriety in the industry. The bar has been raised to think outside the box with non-alcoholic drinks to complement different dishes."

Like all the salad, spin bike, and stretchy-pants startups that have rushed to fill NYC's growing need for wellness, Little Beet Table reimagines every choice -- in this case, what you order off a menu -- as an opportunity to sell you self-care. Just don't forget that self-care can also be pounding three bourbons and then texting your ex.
Williamsburg
Low-ABV Cocktail: 8 Amaro Sazerac, with house amari blend, green Chartreuse, Peychauds, and orange citrate; $15

"I have a mischievous sense of glee when I let my guests know that the only thing on the entire bar that's not alcoholic is water," says Sother Teague, the beverage director at Amor y Amargo's recently-opened Brooklyn outpost. His strictly spirits-only cocktail menu -- with absolutely no shakers or juice in sight -- seems an unlikely destination for a low-ABV cocktail. But Teague believes that it's a bar's responsibility to offer options to its clientele.

"There are nights when you want to go out and get your load on," says Teague. "High-ABV, high pace, at your favorite dive bar. Then there's a time to enjoy the drinks and the atmosphere. It's up to the consumer: What's your plan for the evening? What's your plan for tomorrow, frankly? Are you looking to just get full, or to have an experience?"

Low-ABV cocktails come down to the way you want to drink. You can choose to nurse an Old Fashioned, or slam tequila shots, or sip three low-ABV cocktails, or drink a bottle of wine and lose your phone. You do you! The no- and low-ABV trend is ultimately a trend of inclusivity, of allowing space for choice and control in our increasingly chaotic world.

Still, Teague is holding firm against the no-ABV cocktail. "When someone comes in and says, 'I'm not drinking,' I say, 'I have flat, frozen, and bubbly water. I can mix those together for you.'"
Sign up here for our daily NYC email and be the first to get all the food/drink/fun New York has to offer.