Courtesy of Paul Wagtouicz
Courtesy of Paul Wagtouicz
Spring is (kind of, sort of, not-really-but-we-can-dream-can't-we) here, and with it, a megacraploadton of openings since our last bars-to-hit-in-the-city update. From a shrine to beer in Queens, to a revamped East Village watering hole, here are the eight best new spots you need to be drinking in this spring.

East Village
Back in the day, the Ramones and Frank Sinatra used to kick it at the old East Village dive, but it closed in 2012 and NYC feared it was lost forever. BUT NO! The dude who spawned Pirate Booty (yes, the snack) decided to give it an overhaul (while still not daring to remove that signature red awning). The real action takes place by the horseshoe-shaped bar, where Long Island Iced Teas are made on the gun and drinks like the Los Hollywood (whiskey, Fernet Branca, bitters) are dreamed up by ace cocktail bros, Michael and Danny Neff.
Upper East Side
Upper East Siders have further proof their once sleepy 'hood is transforming into a choice imbibing territory with the arrival of this collaboration between the good folks at the Gilroy (just a few blocks over), Ducks Eatery, and former Dead Rabbit bartendress Pamela Wiznitzer. Grab a Mortimer & Mauve (whiskey, chai-infused sweet vermouth, ginger liqueur) and a sexy red banquette, and keep the fashionable theme (which, yeah, includes a few sewing machines) going by perusing the on-site shop devoted to leather goods.
Harlem
For those evenings when you're craving a pint and/or a swig of whiskey (so... every... night?), look no further than this Harlem bar -- a cozy space, kitted out in vintage goods and taxidermy that comes from the same arty trio behind Double Dutch Espresso next door. Instead of an Americano, though, you'll be sipping a hickory-smoked Campfire Manhattan, Bell's Two Hearted IPA, or one of the 20 or so bourbons on offer. Bonus: because this is a true neighborhood bar, the happy hours are held nightly. Additional bonus: the beloved $5 beer-and-a shot special is a thing here.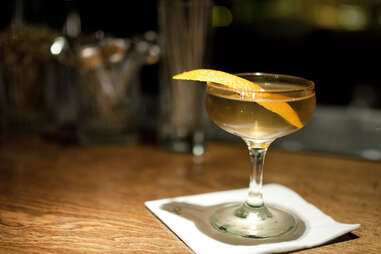 Greenwich Village
Matt Piacentini, of the dearly departed Beagle, has thankfully returned to the city's drinking landscape with subterranean Up & Up, a sexy, wallpapered spot in Greenwich Village cranking out well-made tipples (the well made-iest of which is the Foster Avenue with Glenmorangie Scotch, Perucchi vermouth, pear eau de vie, honeydew melon, orange bitters). If you're going with a group, get one of the jacked-up bottles of Messier Manhattans. If you're not... probably still get one of those. Snacks like pork rillettes with chimichurri aioli ensure you won't be leaving any time soon.
Ridgewood
The gals behind sunny-walled coffee joint Norma's, in is-it-Brooklyn-or-is-it-Queens Ridgewood (it's Queens, FYI), are also behind this airy new beer & wine bar with a bistro-like black-and-white-checkered floor. The beers have a local spin -- the borough's own Transmitter Brewing F0 Farmhouse Ale and SingleCut Billy Half-Stack IPA among them -- as does the food. This translates to beef turnovers braised in Ithaca Nut Brown Ale and brats cooked in Captain Lawrence Liquid Gold, which is obviously good news.

Hudson Square
Until you're invited to the Hamptons, washing down oyster pot pie with a gin-and-beet Beaten Gypsy cocktail here is the closest thing you're gonna get to seaside bliss. Do it.
Alphabet City
Swilling wines on tap has become a real thing in recent years, but at Lois, it's an even REALER thing. The two ladies who run the mirrored den, from Alphabet City Wine Co. and Alphabet City Beer Co., serve all 16 of their selections straight from the spigot. Dig into duck confit arepas alongside California-made Saintsbury Pinot Noir and wind down the evening with Gotham Project's Katas Palomino Sherry.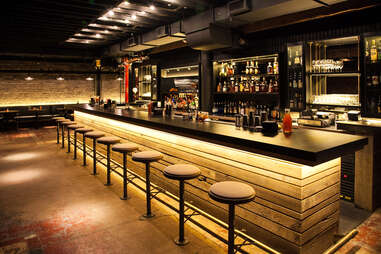 Chelsea
We all know Danny Meyer strikes gold with restaurants, but now he's hoping to lend his Midas Touch to the world of bars, too, via Porchlight, a collab with Mark Maynard-Parisi, his Blue Smoke partner. The spot has a classy Southern vibe, which means head bartender Nick Bennett might ply you with a Whiskey & Cola (mellow corn whiskey, Fernet-Vallet, homemade cola syrup) while you snack on jalapeño cheddar cornbread. When the Sazerac becomes one too many, however, the totally chill indoor porch, complete with rocking chairs, comes to the rescue.
Sign up here for our daily NYC email and be the first to get all the food/drink/fun New York has to offer.
Alia Akkam is a food, drink, travel, and design writer for myriad outlets. Follow her on Twitter.