There are times when there's nothing better than being single in NYC. Going to bars with dim lighting, darkened booths, and couples sucking face are not those times. Fortunately, NYC's got plenty of watering holes perfectly suited to finding Mr./Ms. Right (or more likely, a hook-up for the night -- but beggars can't be choosers). So when you've finally accepted that you're (probably) not going to meet the love of your life on Tinder and want to actually get out and meet people, head here -- from spots with lively dance floors, to bars with themed nights, these are the best places for singles in NYC.
Recommended Video
Stay Classy This Winter With a Spiced Pear Tom Collins
Lower East Side
A bar specifically designed with hooking up in mind is probably the place to go if you're single and looking... to hook up. Rochelle's even has a Tinder Thursday night: come in with your date and prove to the bartender that you both swiped right and the first shot is on the house. The bar's walls are also smeared with life lessons, such as not to hook up with ugly people, and not to have sex in the bathroom. And then there's the photo booth. Two single people in a photo booth after several rounds of drinks is always a good idea.
Harlem
It just opened in September, but this new kid on the block is already gaining popularity amongst the Uptown singles crowd. Most nights the bar is packed because of the live music, which varies from jazz, to rock, to soul. But the real reason people are buzzing about it is because of its calendar of parties (like pajama parties) and its bottomless mimosa brunches on Sundays. Put the two together and you've got the morning after made.
Astoria
The opening of Sek'end Sun was a huge win for Astoria (even if it did bring infiltrators from Manhattan and Brooklyn who hike up rent prices). It's not only an excellent cocktail bar; it's also the answer to single Astorians' prayers for a local watering hole with live music, all-night happy hour on Mondays, a menu of classic American bites, and an outdoor patio that's always bustling with cool people in the warmer months.
Kingsbridge
For singles who love beer, Bronx Alehouse is the perfect meeting spot. The bar has tons of interesting craft beers available (many of which are local), as well as great burgers, and a weekly beer club on Wednesdays -- so you can really get to know your fellow beer enthusiasts on a more intimate level.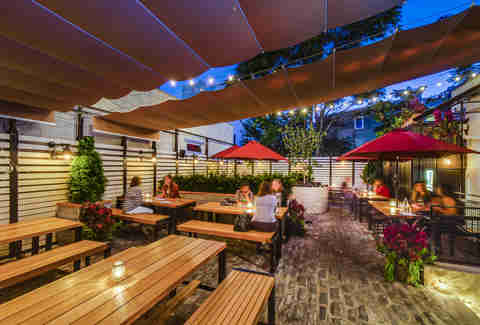 Astoria
It may seem from the outset like every other bar done up in that "reclaimed" style, but the food and drinks at The Bonnie are exceptionally on point. Plus there are attractive, bearded bartenders aplenty, and an outdoor garden filled with communal picnic tables that were made for mingling.
Belmont
Another Bronx spot that's all about brews, this beer hall offers lots of great options from local breweries and makes things even easier for singles with weekday happy hours and events like Wednesday Trivia, Boozy Movie Mondays, Judgment-Free Karaoke Tuesdays, and live music or DJs on Fridays and Saturdays.
Lower East Side
Nothing like a good ol' fashioned throw-back to get single people in the mood. No Fun takes you back to the 1980s with classic music nights, so you can bond with other New York singles about how much better life was in acid-washed jeans. Be prepared for breakout dance parties, without that terrible clubby feeling. Casual side-ponytails encouraged.
East Village
OK, so your tone-deaf singing of Elton John hits doesn't seem like a surefire way to get someone to sleep with you, but hear us out. It's been proven time and time again, especially at Planet Rose, that karaoke brings people together in a very intimate way. Show off your confidence and pizzazz on stage and plant the seed that you bring equal enthusiasm to every aspect of your life.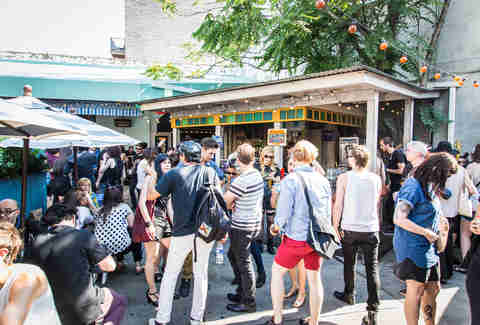 Williamsburg
If you haven't hooked up with someone at Union Pool, then you were almost certainly never in Brooklyn in your early 20s. This bar was made for singles, with a photo booth, taco truck, and extra roomy bathroom stalls. Tales from those bathrooms are downright legendary. If you're over the age of 25 and single, you get a pass on us to go check this place out and cross it off your horny-in-New York bucket list.
Midtown
The 17th outpost of this US chain now has an NYC location, which means it's time for the singles of New York to enjoy access to this veritable meat market. Wednesday-Saturdays tend to be the most popular nights when singles come out to dance and... see what happens. It's a live music venue, as well, and everyone is encouraged to get up on their feet and dance to eclectic sets that include generation favorites from "Livin' on a Prayer" to "Uptown Funk." But bottom line: drinks are cheap and strong, and the crowd is largely unattached.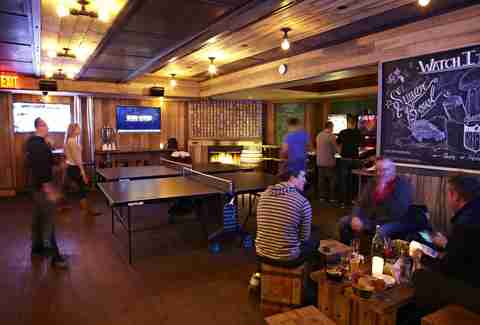 Upper East Side
This new Uptown beer hall has all the fixings for a night out on the town: great food and drink, ping-pong, and pinball. For group-friendly activities, consider their Monday Night Bingo, where you can win prizes like Pac-Man lamps, pinball machine socks, and Elvis jumpsuit Snuggies (which you and your future boo can wear together and laugh about that time you met at Upper East Side bingo).
Meatpacking
If you haven't been to Le Bain, then you've certainly heard of it for its penthouse location on the top floor of The Standard, High Line. It's the one with the plunge pool on the dance floor -- and nothing says romance like a nightclub pool brimming with sweaty singles, raging hormones, and all other things that can be described as raging.
Williamsburg
For all the times you wish you were in Dirty Dancing 2: Havana Nights, Bembe is your real-life solution. Dance with all the other unattached souls that have the same fantasy of being dipped and felt up (romantically, of course) to some sultry Latin music.
Sign up here for our daily NYC email and be the first to get all the food/drink/fun New York has to offer.
Meagan Drillinger is a contributing writer for Thrillist. She prefers to meet people in the prepared foods section of the supermarket. Follow her on Twitter, Instagram, and Facebook at @drillinjourneys.