NYC ranks worse than Fargo, North Dakota for finding love, the rom com and love song are shadows of their former selves, and swiping has devolved from a dopamine rush-inducing novelty to a yawn. Apathy and disconnectedness run rampant in this metropolis. Are New Yorkers post-horny? More IDGAF than YOLO? Maybe, but we have no reason to be. No matter how indifferent the city seems, it's flush with reliable gathering places where single souls can find each other: bars.
Go to a bar tonight. Down a couple tequila shots, relax that hard shell, end the Hinge cat and mouse game, and aim to get some skin-on-skin action -- even if it's just a handshake. Whether you're on the prowl for an ambitious finance chick, a C-list musician, a not quite jobless stand-up comic, or someone as over this recurring cast of NYC stock characters as you are, there is a bar to suit your needs. Flock to your choice of glittering rooftops, laid back dives, and hot, sweaty dance floors to meet your match. These are the best bars for singles in NYC.
Fordham Manor, the Bronx
Lighting up the dance floor is a surefire way to entice a suitor or three, especially in New York where not too long ago shaking and shimmying was taboo most everywhere. This sprawling Latin restaurant and lounge has good food, drink, music, entertainment, hookah, and maybe even somebody to love, all under one roof. Start your night with Puerto Rican lasagna and juicy white sangria. Then bust a move to Spanish classics, '90 jams, and modern hits when the eatery transforms into a 21-plus nightlife spot after 11pm.
Astoria
Judy and Punch is a casual neighborhood bar with a welcoming and social atmosphere, a robust rotating draft list sans snobbery, likeable bartenders, generous pours, and even free, buttery popcorn that evokes notions of brushing hands in the movie theater. Swing by and show off on a trivia night, when the banter practically writes itself, and you'll attract suitors with your wits, not your... other attributes.
Hell's Kitchen
If drag shows, sweat-slicked men, and plastic cups overflowing with vodka soothe you, a visit to Therapy will start you on your way to sexual healing. Get messy and vulnerable and order the Psychotic Episode -- Bacardi, banana liqueur, orange, cranberry, and pineapple juice -- or hint at your proclivities by sipping the Oral Fixation -- Grey Goose, fresh mint, and lime juice. Come early for happy hour and you can easily treat and be treated by your collection of hopefuls, as cocktails are $9 and wine starts at $7 a glass.
Meatpacking
Take your love life to new heights at this sceney, dreamy rooftop frequented by fashionistas and their kin. Thumping beats that would be annoying elsewhere echo your adrenaline-fueled pulse, and the shimmering Hudson River view is magical enough to make you forget your subway crush and imagine your future honeymoon with the mysterious tourist across the room. Strut your stuff, catch his eye, strip down to your swimsuit, and take a sultry dip in the oft-Instagrammed jacuzzi to really heat up that coquetry.
West Village
Sometimes, you want to feel classy, but act trashy. The Jane Hotel Ballroom's indeterminately Old New York decor will knock you back about a hundred years, but do not be fooled: there is no old fashioned restraint here. The sultry, boudoir-like vibes help rank it among your best bets for getting checked out, and you can check into a room upstairs if things get intimate.
West Village
This sports bar is rife with bros, beer, and billiards. Whether you're craving performative masculinity, just want to watch the game and drink a Stella, or you're looking to connect with a cutie over an arcade game like Golden Tee or Big Buck Hunter, this West Village watering hole satisfies and sometimes defies expectations. On a recent Saturday night, a man checking all the jock boxes endeared himself to a nearby woman by inadvertently revealing his ignorance of every game playing on the bar's 10 flat screen TVs. The pair reportedly gave up on the sports lesson and made out in a corner, instead.
Lower East Side
You'll have to endure long lines before making your way to in-house carbonated cocktails and your shot at a spot with the in-crowd, but the 360-degree skyline views from a pair of terraces that deck the 15th floor of the Hotel Indigo are an ideal backdrop for romance. Once you've made it up to the LES nightlife hub, find a seat on a swanky couch right around sunset, and the odds of meeting a charming quarter-lifer sporting teeny sunglasses will be in your favor.
Lower East Side
Whether you're looking for love in the local music scene or you're powerless against Ludlow Street's Bermuda Triangle-like party pull, there are worse places to be than Pianos. Dancefloor playlists are made to move you, and the overflowing crowd magically transforms from bug to feature when you're scoping out prospective future exes.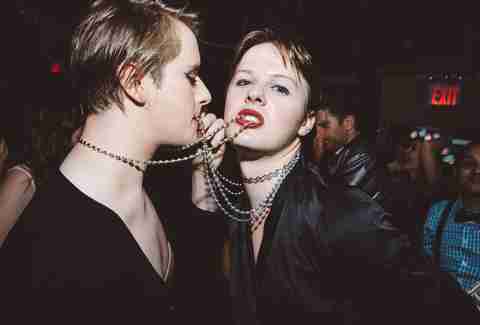 Bushwick
Part acrobatic burlesque show, part-exhibitionist showcase, House of Yes is made for grown-up theater kids… and we all know what happens when a bunch of theater kids get together. The Bushwick nightlife staple thrills with outlandish, themed costume dance parties, even on school nights. Meet the throwback superstar of your dreams at an '80s fête, the artist to your muse at a pop art party, or the or the ringleader to your firebreather at a Dirty Circus show.
Williamsburg
Expect to get hit on when you enter North Brooklyn's prime hotbed of horny hipsters. This hookup bar is so hyper-aware that it's a hookup bar it's as close as you'll get to Tinder IRL. The patio's mingly layout, complete with a taco truck to refuel when you're psychologically depleted from flirting, is practically designed to help you bump into the next person you can say ruined your life.
Bushwick
Snag a captivating Capricorn, a sexy Scorpio, or a lovely Leo at this astrology-inspired drinkery. Dating apps be damned -- when it comes to love and sex, a cold and calculated algorithm can't compete with the grand, mysterious power of the stars. The whimsical cocktail list includes a rotating zodiac special: It's a mix of cucumber infused Tito's, St. Germain, ginger beer, swedish fish, and lime for Pisces season. The bar is dimly lit in neon hues, and its steamy dance floor is perfect for canoodling to R&B, '80s hits, and house music once you've successfully compared birth charts.
Park Slope
This low-key, high-achieving lesbian dive boasts a competitive pool scene that lends itself to teasing eye contact, a jukebox to set the mood, and notably for the neighborhood, a relative lack of strollers. You'll go for the motivating prospect of meeting a Betty and stay for the cheap drinks and lovely backyard patio at one of the city's few true lesbian bars.
Sign up here for our daily NYC email and be the first to get all the food/drink/fun New York has to offer.