It's very easy to think you can just "go anywhere" to celebrate someone's day of birth, especially when New York has all the trappings to propel this thought process. There are bars literally everywhere, in all different shapes and sizes.
But all bars are not created equal on the birthday front; in fact, some (most) are indisputably terrible for this. It's important to know the standouts, which we've conveniently put together here, so you don't end up trying to squeeze a group of 35 people into a bar the size of your apartment with no music and $15 drinks.
Oh, and happy birthday. It's probably somebody's.
Soho
This bar checks off pretty much everything on the "not annoying" list. Ample space? Check. Places to sit? Um, booths and tables. Cheap drinks? Only if you think 24oz beers for $5 is a deal! (It is.) Easy access? It's literally right next to BDFM and 6 trains, so if anyone complains this place is inconvenient, disinvite them.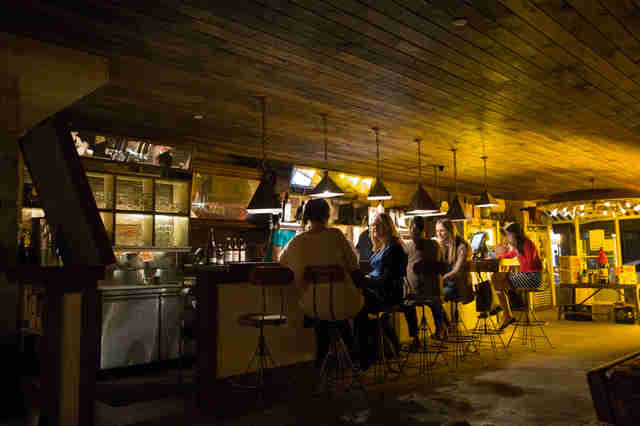 Alphabet City
It's hard to have house parties in New York, mainly because 1) no one actually has a house, and 2) your apartment fits four people comfortably. Consider ABC Beer Co. your loophole. Its homey vibe is palpable from the minute you walk in thanks to fridges of bottled brews, grilled cheese aromas, and taps of arguably some of the best beers in the city -- all of which you can down from couches or a massive wood table while playing Guess Who!
Lower East Side
If you want to get that classy birthday dinner-party feel without actually having a birthday dinner (because those are awful), this is your spot. Get here early to take over the back area, where waiters will serve you delicious handcrafted cocktails and probably not sing to you in unison.
Chinatown
Is it a restaurant? A bar? A tavern? A hip Downtown gallery run by local artists? The answer is all of the above, making it an ideal spot to unpretentiously celebrate another year of life.
Meatpacking
Giant Oktoberfest-style beers, massive indoor/outdoor space with plenty of tables, ping-pong, and easy access to the High Line's lounges for post-celebration napping with a view.
East Williamsburg
When it's 2am and everyone wants to keep celebrating, this is where you need to be -- '90s hip-hop, solid beer/shot combos, and plenty of comfortable couches for when you need to collect yourself.
Greenwich Village
For that fancier friend that you definitely have (hi, Kaki!), this is a solid birthday bar option. It's got all the rooftop splendor without being overly obnoxious or overly cramped thanks to a massive indoor/outdoor space with two separate decks. Pro tip: kick off the shindig at 5pm for two hours' worth of fancy cocktails for under $10.
Williamsburg
Just like homes, yards are also scarce in this town. Crown Vic takes care of that with a giant backyard BBQ feel -- think pitchers of beer, patio furniture with umbrella canopies, and a baby pool in the middle. Seriously, all that's missing to make this a true birthday cookout is your dad flipping burgers in an apron that says "Kiss the Chef." Which... is probably better off left in New Canaan, anyway.
Nolita
This one wins for outdoor space alone. It's huge, and can even be booked for private events should you only want your guests out there. Also, while there's no hard evidence to support this, there's something crazy in those frozen margs that almost guarantees you'll only have to buy the birthday boy or girl one or two drinks before they're having the "best night of their life!"
Carroll Gardens
Seventy bottles of beer on the wall... 70 bottles of beer! They're not really on the wall, but this bar does have that many bottles, and typically even a cask. Plus, there are long wooden tables to seat all your friends.
Soho
This is just the epitome of a no-fuss birthday joint -- $8 Ginger Yum-Yums (you won't regret it); good music; and a solid happy hour, if you want to start the celebration early. Plus, there's a hidden back room if you want to segregate your group a bit, or attempt to pull off a surprise party.
Alphabet City
Remember when you were a kid, and you always wanted a bounce house at your party? Well, this bar doesn't have one, but it still evokes the charm of a childhood birthday with -- wait for it! -- two skee-ball machines, Buck Hunter, and very affordable drinks.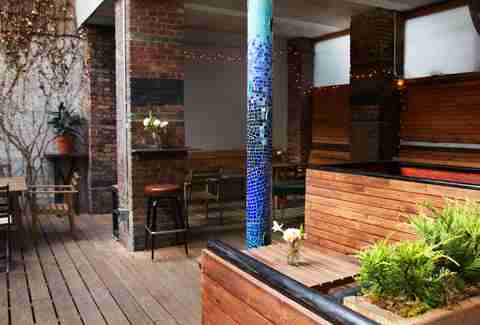 Greenpoint
This Greenpoint spot has a large year-round backyard, really good cocktails that are actually not $15, and tunes that make you want to dance, not punch someone.
Little Italy
Who needs a themed birthday when the bar takes care of that for you? This place used to get so packed there was actually a Yelp review that said it was easy to "rub butts" with people. Since then it's opened a private downstairs, but has thankfully maintained the Rainforest Cafe-meets-Swiss Family Robinson vibe.
Sign up here for our daily NYC email and be the first to get all the food/drink/fun New York has to offer.

Liz Newman is a freelance writer for Thrillist, and was once asked to kindly leave a certain NYC bar on her birthday for pretending to be a bartender and singing Wiz Khalifa's "Black and Yellow" too loudly. Follow her as she at least doesn't do the first one anymore on Twitter and Instagram at @lizn813.