Not a lot of coffee shops in New York City offer Wi-Fi. It's a business decision that people from the laid-back West Coast find baffling and international tourists lament. But even the most entitled New Yorker eventually admits (however begrudgingly) that they understand it. After all, a person spending $2 -- or no dollars -- to take up a seat in your 500sqft cafe for three hours? Probably not the best way to break even.
Assuming you're not going to be a jerk about it, here are some of the city's finest places -- with good Wi-Fi AND good coffee -- where you can safely post up and work for a while. Just remember to buy another item periodically, and don't take your Skype videoconferences there -- take that mess to the public library like everyone else does nowadays.
Recommended Video
Winter Starbucks Beverages Around The World
East Village
Ninth Street has a reputation for no-nonsense coffees, cafes, and attitude -- and this original location of the small local chain is the best place to partake of all three. Order an intense, naturally sweet espresso drink and gaze out the window at the ancient willow trees of Alphabet City while you mail out that social media manager resume for the 99th time.
Flatiron
The Ace lobby, directly adjacent to New York's first Stumptown cafe, is a posh, semi-public space designed for you to see people working and be seen working -- in dim, flattering light, of course. Order from the cafe (or grab a ready-to-drink cold-brew coffee) and camp out at a USB-enabled reading table or hover over one of those nice wingback chairs. No one will ever know you've been here for hours.
Greenpoint
The only location of Café Grumpy that allows laptop use, this flagship spot has ample room for seating & meeting on a quiet neighborhood corner. The roastery's just up the block, so your coffee couldn't possibly be more locally made.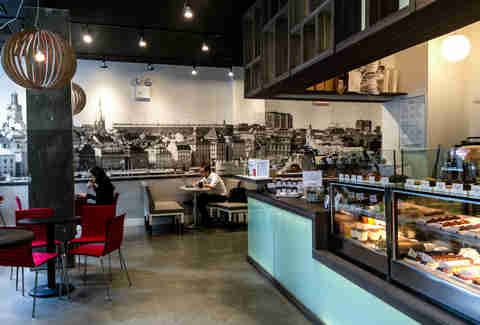 Upper West Side
Find the soothing austerity of a Scandinavian setting really helps clear your mind to work? That's what Fika is counting on, pairing your free Wi-Fi with quality coffee roasted in Red Hook by Nobletree and an assortment of sandwiches, salads, and even chocolates. (The shelf of fancy jams is nice, too.) The chain's stylish and anonymous charms can be found virtually all over Manhattan.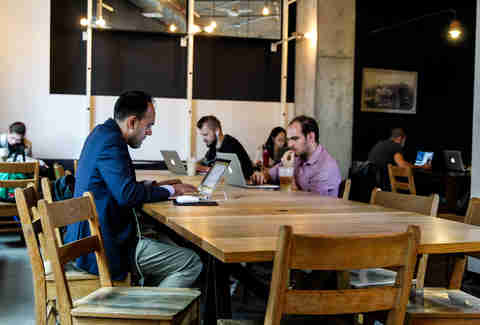 Chelsea
Though it's not the only location of Brooklyn roaster Pushcart, this ground-level shop in a Chelsea apartment building virtually screams "working space." Actually, it does scream working space: there's a motto on the wall about the company's commitment to providing a meeting space that inspires entrepreneurship. Grab a damn fine coffee and plug in.
Chelsea
I know what you're thinking. Isn't this a Spinning™ studio? Why yes, it is, but it's a Spinning™ studio with a stylish, cozy cafe within. Grab a hold of a Jack's Stir Brew coffee and some kind of healthy premade treat, stretch out on a lounger, and log on.
Flatiron
Gregorys, a multi-cafe local chain owned by NYC coffee wunderkind Greg Zamfotis, has been known to confuse. It looks surprisingly corporate for a shop that actually has good coffee -- but this makes it the ideal place to work! It proudly offers Wi-Fi alongside snacks and drinks at nearly 20 stores Manhattan-wide. Sure beats Starbucks.
Fort Greene
Fort Greene longed for a decent cafe for years, and when the Annex -- part of the ever-real-estate-shifting Greene Grape empire -- opened, its prayers were answered. The roomy, oblong space has a bit of a college-town feel, but its Café Grumpy-roasted coffee, food offerings, and bar (yes, there's a bar), draw a diverse crowd. Try to grab a seat in the sunny corner.
Midtown West
Midtown's Culture has two locations, but the first shop on 38th St is ideal for working -- bench seating, ample tabletop real estate, the chandelier lighting you're accustomed to, and did we mention fresh-baked chocolate chip cookies? Beans are sourced from roasters like boutique West Coast purveyor Heart, along with other selections.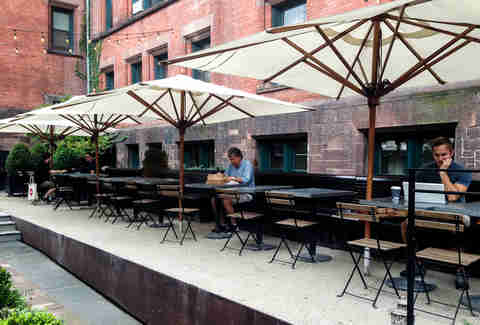 Chelsea
Sometimes you just want to work remotely from a strange hotel patio that feels bizarrely cut off from the city, and those times you should trek out to Intelligentsia's outpost in the High Line Hotel. Though a few cozy chairs dot the hotel's diminutive lobby, the real action takes place outside, where a cushion-bedecked array of patio tables surround a modern fountain that you can kind of imagine is a pool, while you imagine you're in LA, instead of on 10th Ave.
Sign up here for our daily NYC email and be the first to get all the food/drink/fun New York has to offer.