Even if you have a nine-to-five office job, the odds that you'll work only those hours, exclusively in that space are slim. You have to hustle if you want to get ahead or even stay afloat in New York City, and that means putting in extra time whenever and wherever you can. Sometimes coming in early, staying late, and firing off a few emails on the subway is enough to give you a competitive edge. But more often than not, whether you're working yourself or someone else, you'll have to sacrifice some sweet personal time to make it big (or medium... or small).
It's not always easy to find a proverbial room of one's own. Your apartment is rife with temptations, like a bed for sleeping and fridge for checking. Your office is lousy with distractions, like babbling coworkers and inconsistent temperatures. Fortunately, the city is also awash with spaces to suit myriad labor needs: coffee shops.
Familiarize yourself with the basic cafe rules of conduct (tip; don't just nurse one cup of coffee for like nine hours; don't be a jerk), pack up that laptop, tablet, or Moleskine, and fire up those spreadsheets, screenplays, and Instagram butt pic sponcon posts at the best cafes for working remotely in NYC. We're sure it'll pay off in the long run.
Recommended Video
This Restaurant Sells 20+ Types of Poutine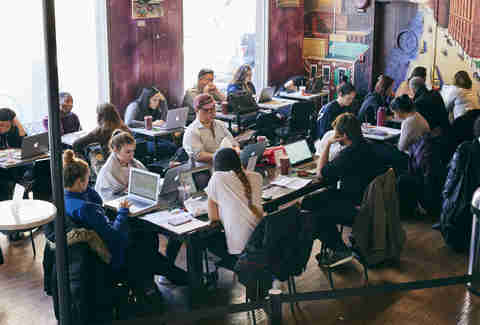 Best for weaning yourself off the ubiquitous green behemoth: The Bean
East Village
Sure it's a chain, but The Bean is one of the cutest and miniest we've ever seen. Four cafes are clustered around the East Village, with another in Williamsburg. Each has its own merits, and the Astor Place location's abundant seating, fast Wi-Fi, and numerous outlets make it your best bet for churning out some blogs. The space is open and airy, with a marketplace feel and whimsical outer space-inspired chalk drawings behind the bar. The superfood-friendly menu is expansive enough to slake your appetite all day. --AE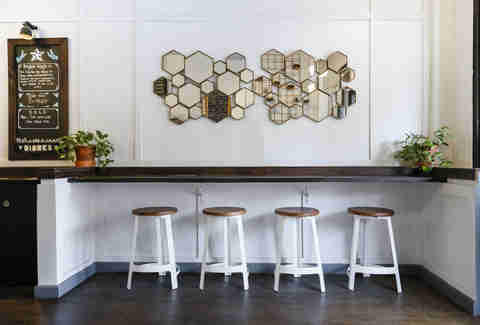 Bedford-Stuyvesant
You don't have to know what a kolache is to know that ordering one of the filled pastries at this novelty bakeshop is a good idea. Purportedly the only brick-and-mortar kolache bakery in NYC, Brooklyn Kolache Co. offers handmade, ethically sourced bites alongside Kitten Coffee bean espresso drinks. The cafe's open seating areas and backyard garden provide a conducive work environment for students, freelancers, and bookworms, and its kolaches are some of the freshest treats in all of New York. --KA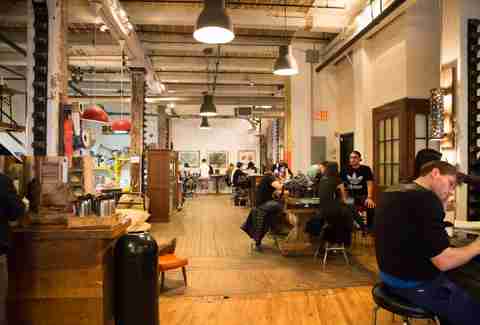 DUMBO
BRC's riverside roasting house has all the ingredients of a refreshing day away from the office: natural light, various seating options, and the invigorating aroma of freshly roasted beans. The company went all out to make its headquarters a welcoming work space for individuals and groups, replete with reclaimed furnishings that look like the successful execution of your Pinterest DIY fails. Not feeling a latte? BRC also houses a Matchaful pop-up cafe with slightly less-caffeinated brain fuel. --KA
Best for night owls in need of a drink: Caffe Reggio
Greenwich Village
Opened in 1927, this relaxed Italian coffee-shop-meets-bar is one of the Village's few surviving authentic salon-style spots. Jack Kerouac and Allen Ginsberg once frequented the place, but today you're more likely to find artificially beleaguered undergrads than literary luminaries. Reggio serves a comprehensive food menu, beer, wine, and espresso drinks -- including what they claim is the "original cappuccino" -- until 3am every day. Order the oversized, cocoa-drenched tiramisu when you need to catch a sugar- and caffeine-infused second wind. --AE
East Harlem
Named in a nod to legendary NYC-born west coast rapper Tupac Shakur, this East 109th Street cafe treats northern Manhattanites right. Rotating works by area artists line the walls, fresh tracks ring out from the speakers, and drink options are more spirited than the requisite espresso: Beer, wine, and mimosa happy hour runs daily from 3-7pm. Grab a window-facing seat, and when you've hit a milestone on the day's project, reward yourself with a hip-hop-inspired dish like the Cardi B-urrito or The Notorious BLT. --KA
Best for tourist-weary students and uptowners: Double Dutch Espresso
Hamilton Heights
Double Dutch's South Harlem location may belong to Ivy Leaguers and their admirers, but its northern iteration is shared by neighborhood folks and City College kids alike. This quaint cafe isn't the place to bring your visiting parents, rowdy study group, or unvetted Tinder crush. A picturesque view of CCNY and an intimate back nook make Double Dutch a haven for students and locals seeking peaceful, tourist-free productivity and the assurance that their focus face won't appear in the background of some errant Instagram selfie. Is a Times Square Starbucks really #WhereDreamsAreMadeOf, Jessica? --KA
Best for energetic extroverts: Gossip Coffee
Astoria
Some tasks require deep focus and others, well, don't. This lively coffee shop/cocktail bar concept is perfect for the times when you don't need library-like environs to knock some things off your to-do list. The energy at Gossip is contagious: Catch up on emails while you bop to the beat, or hash out a zine with your artsiest pal. Retreat to the sunny back patio when the weather's nice for a reminder of why you steered clear of Manhattan. --KA
Midtown East
The original Ground Central location, just a quick walk from apparent namesake Grand Central, looks like a New York-themed coffee shop you'd find in a lesser metropolis. The train station departure board-styled logo and throwback rock 'n' roll tunes seem to hark back to an idealized Gotham -- one with friendly faces and affordable housing. Set up shop at a table in the front room or plop on a leather couch in the cozy back library -- the subway rats can't reach you here. --KA
SoHo
New York, New York: The city so self-centered, they couldn't only name it once. Or something like that. Amazingly, Housing Works makes something good out of New Yorkers' self-indulgence -- its roomy downtown bookstore cafe is run by volunteers, and proceeds go toward ending the AIDS and homelessness crises. If you're dishing out a few bucks anyway, why not make them count? Peruse their book selection or head straight to the seating area with your own work materials. --KA
Best for unplugging to focus sans Adderall: Irving Farm
Greenwich Village
Ditch your iPad and throw your phone down a storm drain. (Or maybe just put it on airplane mode.) Irving Farm's Washington Square location is the place to be for class reading, MCAT practice tests, or to disconnect over diary. The Wi-Fi free zone will prevent you from wasting time checking myFace or accidentally liking your ex's Instasnaps or whatever. And the uncommonly spacious environment provides ample room to spread out books and the trendy bev of your choice. Your offline productivity will shock you. --AE
Best for after-work side hustlers: Kinship Coffee
Astoria
Can anyone actually live off one income in the metastasizing gig economy? Kinship's warm lighting provides the perfect evening atmosphere for part-time freelancers to crank out content after a long day at their demanding Midtown office jobs. The modern shop stays open till 9pm on weekdays, so you'll have time to get things done even after enduring daily Queens-bound train delays. --KA
Flatiron
There's coffee, and there's coffee. Anyone who knows anything will tell you Stumptown is the latter. Sometimes getting through a project requires a little luxury to remind you what you're working for. It might as well manifest itself via fresh, dark, hand-roasted Ethiopian beans, brewed before your eyes to rich perfection. And it doesn't hurt that the swanky Ace Hotel lobby has USB-enabled tables and wingback chairs. Bring a charger and stay for a while. --AE
Best for being almost as comfy as working from bed: Vineapple
Brooklyn Heights
The effect of pajamas on productivity remains to be seen. However, on some occasions -- namely when you're hungover and staring at the ceiling but also need to crank out some pages before your e-book editor starts stalking you -- mixing work and comfort is essential. Grab your laptop and sink into the soft, roomy sofas at this Pineapple Street mainstay and slay that writer's block. Hit those deadlines and you'll be rewarded with lazy Sunday vibes and a well-earned glass of red. --AE
Sign up here for our daily NYC email and be the first to get all the food/drink/fun New York has to offer.