Remember when celebrating Halloween was as simple as slipping into a $12 costume from Party City, grabbing a pillowcase, and roaming the block with neighborhood kids in search of The Biggest Candy Bar? Now, as grown-ass adults in a city that knows how to party, trick-or-treating is out and the stakes are considerably higher. Costumes require weeks of preparation, events sell out quick, and Halloween-themed attractions are, like, actually terrifying.
Luckily, amidst the chaos that is Halloween in NYC, there are plenty of festive bars that you can take shelter in all week long: some with chilling pasts, some with extravagant decor, some with themed cocktails, all with Halloween spirit. So cut yourself some slack for waiting too long to buy House of Yes tickets this year and enjoy some old-fashioned debauchery. Here are the best watering holes in NYC for celebrating Halloween this week -- because you're going to need a few drinks to make it to November.
West Village
Interactive barstaurant that'll keep you on your toes
Dr. Jekyll (and friends) take guests on a journey through a faux 1930s Explorers Club at this frightening West Village outpost. Whether you reserve a seat for dinner or pop by for drinks at the bar, you'll come face to face with live actors and high-budget special effects all contributing to the near-famous theatre experience. The club haunts guests year-round, but makes the biggest waves at Halloween time when guests come in costume too.
Financial District
A Founding Fathers favorite with present-day paranormal activity
The Pearl Street tavern once frequented by George Washington and Alexander Hamilton opened in 1762, and its rich history lends well to a number of purportedly paranormal occurrences still happening today. Through the years, the building's played host to a series of misfortunes: a supposed murder/suicide in the 1700s, multiple fires in the 1800s, and a bombing in the 1970s. Grab a happy hour drink from 4-7pm on weekdays and wait for the chill of dwelling spirits.
East Village
Tim Burton-themed bar where Halloween never ends
Known as the bar where every day is Halloween, Beetle House is perhaps the most obvious place to grab an All Hallows' drink. The macabre decor stays up all through the year, drawing inspiration from the work of Tim Burton and other creepy filmmakers and authors. Reservations are recommended for dinner service, but if you're in it for the booze, just walk on in. Get a peek inside.
Tribeca
The best Halloween hideout for NFL enthusiasts
Who said sports bars can't have Halloween spirit? Warren 77 is decorated for the holiday all week long, but the best day to stop in is on Halloween proper. Screenings of The Shining and Silence of the Lambs kick off at 5pm, followed by Thursday Night Football at 8:20pm. Participate in the costume contest if you think you can steal the show, and be sure to try the "Boozed Up Blood," a Jell-O shot in a syringe, available from October 31 to November 3.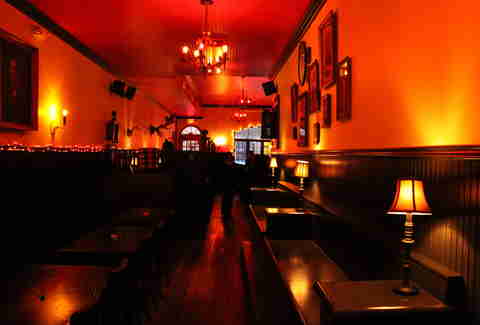 Greenpoint
Quaint Brooklyn bar that doesn't even have to try
For a bar that isn't Halloween-themed, Black Rabbit is so Halloween-themed. It's old, it's moody, it has candles and a fireplace; it looks like the kind of place the Headless Horseman would stop in for a drink after a long day of terrorizing angsty townsfolk. Black Rabbit doesn't do anything special for Halloween, but that's because it doesn't need to. If you're looking for a no-frills drinking spot straight out of a storybook, you've found it.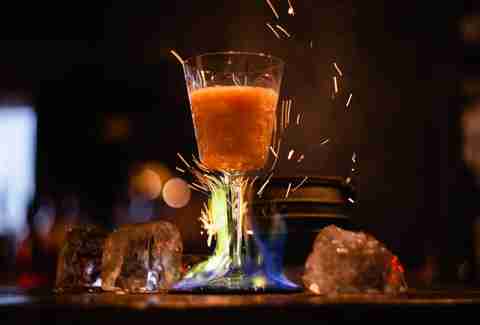 Financial District
Witchy wonderland brewing up boozy potions
It's only fitting that a high-tech bar dedicated to all things magic would get extra witchy for Halloween. Wander through the autumnal coven's lair this month and choose from any number of themed specialty cocktails, with cute names like Sweet Agony, Necromancers Delight, Elixir of Blood Loss, and Ectoplasm. Think you can stomach it?
Hudson Square
Haunted 19th-century tavern nestled in a designated historic landmark
New Yorkers have been going to the James Brown House for liquor since before Prohibition; today, Ear Inn calls the historic building home along with a few "friendly" ghosts. Sit for a drink at the bar and see if you can catch Mickey, the ghost of a sailor whose ship never returned for him, stirring up trouble among the other patrons. Keep an eye on your drink though, or he just might sneak a swig!
Lower East Side
Halloween spirit seizes a swanky downtown rooftop
Mr. Purple's no longer just a rooftop bar: From now through the end of the month, it's been transformed into the Temple of Terror, a ghastly space with creepy cocktails, à la carte food options, live DJs, and city views. There's no cover charge to enter the Temple, but if you're piling in with a big group, you'd be smart to call 212-237-1790 and reserve a table.
Ridgewood
Goth as f*ck venue with an October 31st birthday
Will a visit to The Keep give you nightmares? Not quite. Will it weird you out? Definitely. The decor's as extensive as can be, landing on a generally dark and gaudy vibe. This Halloween, the bar celebrates five years in business, making it an especially festive time to stop in for an evening drink. And if you're looking to get wild, it's hosting a neon body paint party on October 29 with a suggested donation upon entry.
West Village
Old writers' hangout housing its own celebrity ghost 
Another historic pub, another rumored haunting; but what White Horse Tavern has that other rumored haunts don't is the spirit of renowned poet Dylan Thomas. After drinking a few too many at the tavern one night, he collapsed and later died in a hospital. Even though he made it out of the bar alive, many claim he still hangs out at his favorite White Horse table trying to get his hands on another drink. There's only one way to find out.
Sign up here for our daily NYC email and be the first to get all the food/drink/fun New York has to offer.