With 80- and 90-degree temps still in our future, it's only natural that we need a side of fresh air with our margaritas. Like brunching, drinking on a rooftop bar is something of a sport in New York, which means every upper-level lounge from Midtown to Greenpoint is invariably packed. So if you're going to risk suffering the indignities of long lines, hip crowds, and overpriced drinks, you might as well do it at the best. Whether you're looking for somewhere sleek and refined with expertly made cocktails, or something a little more low-key, these bars are the superlative NYC spots for rooftop revelry.
Midtown East
Brick architectural details, romantic lights, and colorful, Latin-American-leaning décor make this drinking destination feel more "street fair" than Midtown Manhattan. But look to your right and there's the Empire State Building, and over there -- there's the Chrysler Building. The rooftop bar here is escapism at its finest, and the Latin-American-flavor-focused cocktails certainly help. Try something different, like the pineapple-and-cachaça Upside Down; or bring friends, go classic, and order a pitcher of margaritas.
Greenpoint
Since this unpretentious Aussie bar and restaurant lies in a low-foot-traffic section of Greenpoint, chances are high you'll be able to snag a seat at the cabana-esque bar -- a rare feat at most rooftop-drinking locations. Post up there for a pear cider or spicy paloma, or see if you can settle in at the raised corner table, which offers a view of lower Manhattan that can hardly be beat.
Flatiron
You'll have to navigate past tourists and through aisles of imported pasta, and then travel up a claustrophobic elevator to get here. And you'll have to carefully protect your glass of sparkling rosé from flying elbows and flipped hair. But none of that matters when you've got views of the Flatiron Building from one angle, and the Empire State Building from another. That's not to mention the extensive wine list, the unique house-brewed cask ales, or the knowledgable and kind bar staff.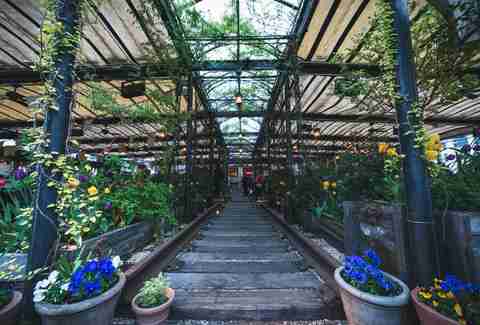 Chelsea
If The Secret Garden were a cocktail bar, it'd be Gallow Green. While the view isn't particularly noteworthy, there's a little bit of magic at this Chelsea spot atop the McKittrick Hotel. Perhaps it's the abundant greenery, the romantic lighting, or the sense of mystery exuded by the hotel and its signature production, "Sleep No More." That all makes Gallow Green one of the best date-night bars, rooftop or otherwise, in the city.
West Village
It was only recently that the cocktail den atop the Jane opened to the public, and rooftop drinkers looking for a little getaway should be glad it did: it's the perfect way to escape the New York City of present. The striking interior rooftop bar is like stepping back in time, with its faux-watermarked walls and elegant oak bar -- but instead of bellying up, we suggest you grab a Hemingway daiquiri, journey outside to the nautically themed open-air patio, and gaze upon the Hudson River.
Flatiron
If you're looking to avoid the typical rooftop-bar scene, stop into this unassuming lounge, where the space may be full but not elbow-in-your-ribs packed. Cozy up to the fire pit with a Sazerac, or go Tiki with a frozen overproof piña colada. And don't be shy about asking for help: cocktails here are expertly prepared by bartenders from acclaimed spots like The NoMad -- so while you might find yourself paying $30 for a drink (and that one, in particular, is a martini garnished with caviar), you know your booze is in good hands.
Park Slope
This rooftop bar is about as no-frills as they come. Here you'll find stunning views of a parking lot, zero signature cocktails, and TVs screening various sporting events as the primary décor. But that's fine if all you want is a can of Founders All Day IPA and a sunny place where you can drink it. Even better: The Rock Shop serves as a music venue most nights of the week, so your outdoor-drinking experience will likely be accompanied by a live soundtrack.
Williamsburg
On top of Williamsburg's Peruvian food mecca Llama Inn is a brand-new rooftop bar, El Techo, for which Chef Erik Ramirez has crated a casual menu of Peruvian bites like spicy aji panca chicken wings and tequeños (like a spring roll) filled with pork and shrimp. But most importantly, there are six new cocktails available, including a frozen pisco sour, a panca-infused pisco cocktail named Ay Que Calor, and a wine slushy named the Dolly Llama.
Williamsburg
Save for the sound of passing cars, you wouldn't know the BQE is just blocks from Night of Joy's whimsical rooftop. Drinkers are separated from the outside world by a fence laced with greenery, and the overall vibe here is convivial -- more "backyard party" than "highway-adjacent bar." That's certainly helped by its daily happy hour: from 5-8pm, signature drinks, including frozen margaritas, are just $6.
Williamsburg
If the line that extends down the sidewalk next to the Wythe doesn't scare you away and you actually find yourself with a coveted place atop the hyped Williamsburg hotel, you're privy to one of the best views of Manhattan. The indoor bar is a sight to be seen as well: a sleek, streamlined beauty, where you can sip on the bar's selection of well-made classic and classic-leaning concoctions.
Long Island City
Would you like your view with a side of sushi? While it's true this spot atop the Ravel Hotel functions as both a restaurant and bar, the reason to be here is the view. The establishment is adjacent to the Queensboro Bridge -- a sight that, in this case, might just trump the Manhattan skyline.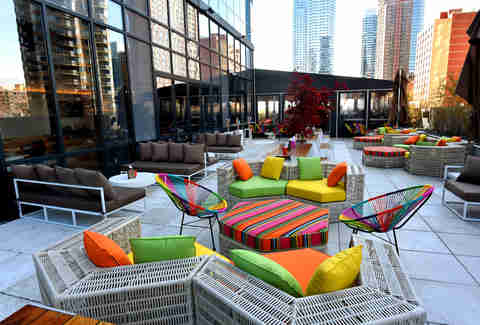 Hell's Kitchen
This is not only the newest, but one of the biggest rooftop bars in the city, which means you might have a few weeks before thirsty, fresh air-deprived New Yorkers are hip to its existence. Décor here is like a Lisa Frank fever dream: the 7,000sqft space is littered with Technicolor chairs, banners, pillows, ottomans... you get the picture. But don't let any fear of color shock keep you away from this globally inspired roof deck -- drinks like the Tropical Triple (a piña colada riff with Tiki tincture served in a hollowed-out pineapple) are seriously delicious, and at $23 for a three-person cocktail, it's practically a steal.
Sign up here for our daily NYC email and be the first to get all the food/drink/fun New York has to offer.