The summer heat rolled in on full blast early this summer and hasn't let up much since. When sweaty days cascade into breezy nights and you want as little between you and the sky as possible, it's rooftop bar time.

We're leaving Manhattan and focusing on Brooklyn's selection of (literally) elevated establishments for three reasons. First, there are already some great lists of rooftop bars in which Manhattan takes a starring role. Second, the absurd premiums for personal space in the most densely populated county in America make a cross-river move the comfortable one. And third, the evening view across the East River is WAY better from the Brooklyn side. Here are your summertime Brooklyn rooftop oases.
Williamsburg
You'll likely have to wait in line for the elevator up to this chic, meticulously composed bar. When you reach the 22nd floor, you may have wait in another line. Your reward: the breathtaking westward-facing view for which this bar was named. The roof's indoor/outdoor space is the ideal vantage for sunset-silhouetted Manhattanscapes in any weather. As temperatures rise, so does your barrier to entry. Try to beat the crowd as early as noon on weekends and you'll find a vast wine list, original cocktails, well-priced draft beer, and fancy tapas.
Williamsburg
This charming-top-to-bottom Parisian-style bistro's rooftop terrace has a full bar, so date night above the Williamsburg rabble is romance itself. But be warned: al fresco seating is first come, first served. C'est la vie, dude. There's no food service on the roof, but a croque madame in the dining room downstairs followed by an open-air cocktail is, pardon my French, fuckin' magnifique.
Red Hook
Nestled in Red Hook's subway-free sanctuary, the Crab has two full bars replete with specialty cocktails and frozen drinks, a veritable thicket of picnic-table seating, a putt-putt course, cornucopias of fresh seafood, and a postcard-worthy southwest-facing vantage on the Hudson River Bay. Yeah, it's no joke. Warm evenings and weekends at the Crab are predictably jammed, so your best bet's a weeknight and/or early evening.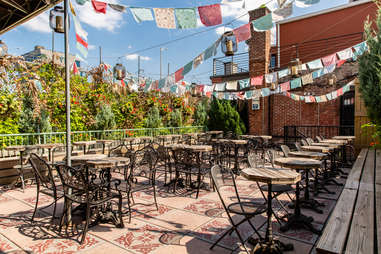 Williamsburg
White noise from the neighboring BQE; wall art by NYC graffiti OGs; flowers and ivy climbing chain-link fences -- this rooftop bar drips authentic Brooklyn energy. For tap beer or to pay with a card, head down to the inky-lighting and intimate-seating of the main bar, where on Wednesday and Thursday nights, DJs attract a "rock-and-roll" crowd. Happy hour goes 'til 8 and includes $7 signature cocktails. Every. Single. Day.
Gowanus
I know what you're thinking, but the last time I went here they had my favorite beer from Other Half on tap, the fried chicken sandwich was legit, and they played Bad Brains' self-titled album start to finish. The place earned this endorsement. Sixteen craft beers on tap, outdoor and indoor seating, and a full menu of brand-consistent food (e.g., Beyond bratwurst, grass-fed burger, avocado & arugula sandwiches), sit just atop everyone's favorite corporate wellness complex.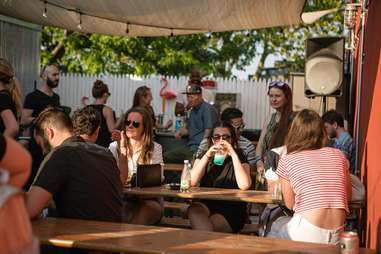 Bushwick
The vibes at this artist haven in an industrial zone are as carefully curated as the vinyl at its dance parties. O-W-L spells fun, bohemian ambiance: through the neon-glowing main bar and up a flamingo-stenciled staircase, the rooftop bar sports two frozen drink machines, Monday night movies, and the potential for stumbling upon a secret show.
South Williamsburg
I'm a sucker for neighborhood bars. And Bia's got character in spades: exposed ceiling-beams and brick, a menu of Northern Vietnamese food, humanely priced drinks (including Vietnamese iced coffee with whiskey!), and an unfussy rooftop. One side of the roof offers choice people-watching on the Williamsburg Bridge's pedestrian walkway. The other is a reminder: Williamsburg is still more than real-estate developers' sandbox. No food on the roof, but you're welcome to drink there 'til the bartenders head home.
Brooklyn Heights
Fresh pizza, check. Full bar, check. Glorious skyline/Lady Liberty view … why would I list that if Fornino didn't have it? Order a custom pie and watch it bake in the open kitchen, or turn around and watch boats glide around the river, sangria in hand. This spot's location in Brooklyn Bridge Park is a popular tourist and family destination, so anticipate an all-ages crowd.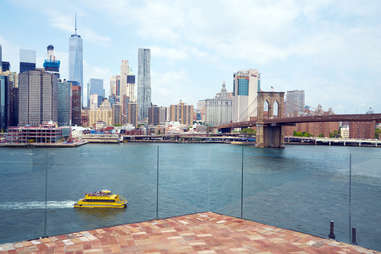 Brooklyn Heights
Is it rife with tourists snapping photos? Yeah. Do non-hotel guests have to pay a $20 entry fee? Yep. Does it have the best view of any bar on this list? Indeed, it does. In fact, as a born-and-bred New Yorker, I'll admit that this is one of the most beautiful cityscape vistas I've ever seen. Downtown Manhattan, Ellis and Liberty Islands, the Seaport, the Brooklyn Bridge... I could go on. Go here for the view. No, seriously.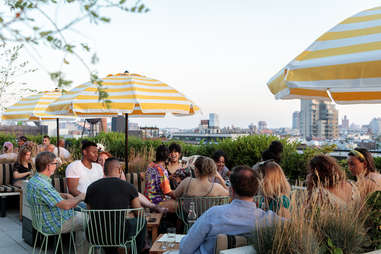 Williamsburg
The Wythe Hotel's rooftop bar offers sophistication and an unobstructed cityscape sans stuffiness. Order natural wine or a new summer cocktails from the welcoming staff in the redesigned outdoor area, or post up with a tap beer and some small plates at the gorgeous marble bar inside.
Brooklyn Navy Yard
By reservation only, this wine mecca is "the world's only commercially viable rooftop vineyard." Point is, this is a lovely place with a beautiful view where you can drink, or do yoga at sunset, or take a wine class, or watch movies and eat pizza on Thursday nights. If you're looking for a different or more refined venue for rooftop shenanigans, here it is.
Sign up here for our daily NYC email and be the first to get all the food/drink/fun New York has to offer.
Julien Levy is a writer and native to downtown Manhattan. He now lives in Brooklyn.