Battery Park
Loopy Doopy (address and info)   Yes, that's an ice pop inside of a glass of Prosecco, and the top of the Conrad Hotel is the place to get it. (In addition to some pretty serious Hudson River views, but, again, boozy ice pop cocktails...) Continue Reading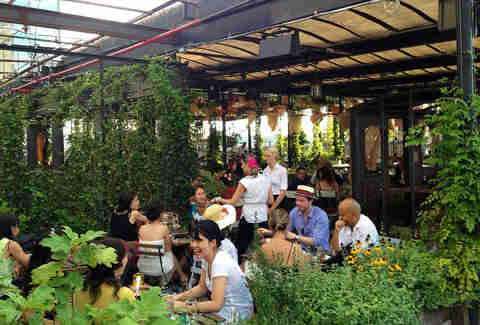 Chelsea
Gallow Green (address and info)   It's like the Secret Garden, but with alcohol, and on top of the McKittrick Hotel (home of Sleep No More). If a "cute" brunch is in order -- which, sometimes it just is -- this is the place for it.
 
Chinatown
City View at the Wyndham Garden Chinatown (address and info)   The Wyndham Garden rooftop is still not super well known, so it's great if you're looking to avoid the typical crowded rooftop scene, and want to drink well-priced drinks while taking in cinematic views of the Empire State and Chrysler Buildings. Which is something even the most jaded New Yorker can get behind.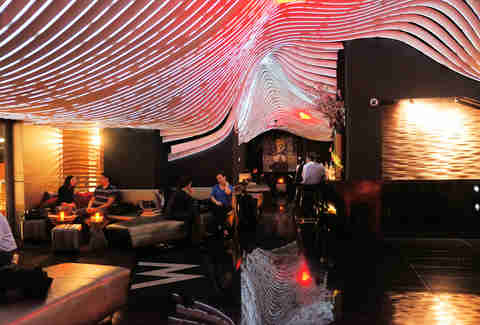 Financial District
Living Room Bar at the W Downtown (address and info)   A super-modern rooftop with nice cocktails and a DJ, the Living Room Bar is a good choice for outdoor after-work drinks. If you run out of things to talk about with your co-workers you can just gaze up at One World Trade.
 
Flatiron District 
230 Fifth (address and info)   It's open year-round -- meaning, in the summer you get to drink your drinks next to the Manhattan skyline and in the winter you get to do the same, except you'll be inside of a plastic igloo. Which may even be... more exciting?


Hell's Kitchen
Cantina Rooftop (address and info)   Tacos and margaritas just taste better on rooftops. Plus, this spot has serious date vibes going for it.
Herald Square 
Refinery Rooftop (address and info)   There are both indoor and outdoor portions to the bar on top of the Refinery Hotel, so yes, year-round rooftop drinking is in the cards. It's also got a solid brunch and cocktail menu, and some of the best Empire State Building views in the city.
 
Kips Bay
Crow's Nest (address and info)   On top of the Water Club restaurant you'll get East River views alongside eats like burgers and a raw bar. Plus, it feels like you're on top of a boat, but without all the near-vomiting -- win-win.
 
Koreatown
Vu Rooftop Bar (address and info)   This super-casual indoor/outdoor bar has a daily 5-7pm happy hour (all day on Sunday!), crazy up-close Empire State Building views, and retractable awnings and heat lamps in the winter.
 


Lower East Side
Hotel Chantelle (address and info)   No need worry about post-dinner or post-brunch plans if you're eating on the rooftop at Hotel Chantelle. It's got a lively bar scene (plus there's a downstairs club) and a retractable roof that opens up when it's nice out.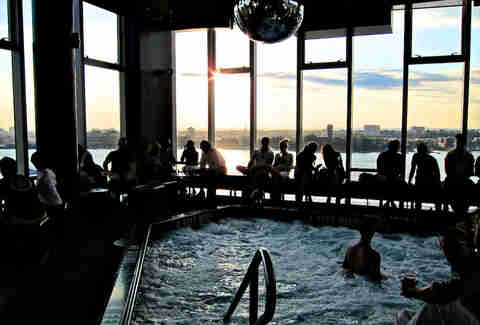 Meatpacking District
Le Bain (address and info)   The still-popular top of the Standard High Line is great for sunset drinks with views of the Hudson, and has clubbier, scene-y vibes at night if that's your thing. Yes, the cocktails will set you back a bit, but it's more than worth it to see who actually gets into the hot tub.


Midtown East
Upstairs at the Kimberly (address and info)   The indoor/outdoor bar atop the Kimberly Hotel is open year-round, and offers brunch, a number of good bar bites, and several creative signature cocktails. Word to the wise: dressy attire is required, and you won't get in if you're in sneakers or a baseball cap -- but you (probably) won't even notice how insanely uncomfortable your dress shoes are when you're staring out at the Chrysler Building.
 
Midtown West
Sky Terrace at the Hudson Hotel (address and info)   The Hudson Hotel rooftop has pretty unbeatable Statue of Liberty views, top-notch sangria and cocktails, and outdoor heat lamps for when it's below zero and you still need your rooftop fix/circulation in your toes.
 
Murray Hill
Rare View Rooftop (address and info)   It's not often that you find a Manhattan rooftop that's super casual and not at all pretentious. Rare is something of a Murray Hill gem (yes, those actually exist) with DJs, TVs with sports games, and insane skyline views.
 
Morningside Heights
The Heights Bar & Grill (address and info)   The Heights is one of the best bars in Morningside to begin with, so the all-weather rooftop is just an added bonus. It's got cheap frozen margaritas, burgers, and Mexican, and is a favorite of Columbia students and humans over the age of 21 alike.
 
Soho
Jimmy at the James Hotel (address and info)   The pool may be hard to sneak into if you're not a guest at the hotel, but you're definitely allowed to stand adjacent to it while drinking great cocktails. There's also indoor seating available, and a pretty damn good view of Downtown Manhattan.
 
Union Square
Bar 13 (address and info)   This NYU favorite has a small rooftop decked out with palm trees that pairs pretty nicely with happy hour deals that last until 8pm.


Upper East Side
The Met Rooftop Bar (address and info)   There's probably nothing better than drinking martinis in a rooftop garden with panoramic city views, and then heading downstairs to look at art (which is always 10 times easier to interpret when you're a few martinis deep).
Upper West Side
The Empire Hotel Rooftop (address and info)   Whether you want to bask in the light of the iconic neon sign while you drink and admire the city views, or just want to live out your Gossip Girl fantasies (we're not judging... that much) the Empire Hotel's rooftop is your best UWS rooftop bet.


West Village
Jane Hotel Rooftop (address and info)   The roof on top of the Jane is super intimate and date nighty, and perfect for taking in a sunset view of the Hudson while pretending you're part of the model crowd, which is worth doing every so often.

Sign up here for our daily NYC email and be the first to get all the food/drink/fun New York has to offer.

Lucy Meilus is Thrillist's New York editor and is still desperately trying to access the rooftop of her apartment building. Follow her on Twitter and Instagram.