New York City is as much a sports town as it is anything else. We have more baseball, football, basketball, soccer, and hockey teams to cheer for than anywhere else in the country. We are also a city of transplants, meaning fandom is fractured beyond even our city's disparate Yankees and Mets -- you may someday come across a Phillies or Red Sox fan.
Our sports bars are like beer-soaked houses of worship, where self-selected communities join in holy acrimony toward similarly devoted self-selected communities who have the audacity to support multi-million dollar athletic franchises from other regions. Sure, you could throw a stone in Midtown and hit dozens of nearly identical, 500-person capacity, over-air conditioned Irish pub-plus-sports-bar complexes that trade in serviceable wings and $6 Bud Lights. But this is sports we're talking about. Shouldn't the quality of your bar reflect the quality of your team? These are the NYC sports bars to try when you really want your team to win.
East Village
Now in its second decade, Standings remains the gold standard of New York City Sports bars. Some places stay noncommittal in a capitalist cash grab to cast the widest net. Standings stays neutral because it's a celebration of all things sports: Minnesota wrestling pennants hang next to Jets jerseys, and all manner of memorabilia is welcome. Eight TVs, 12 rotating beers on tap, and a bring-your-own-food policy (Dan & John's Wings and Lombardi's Pizza are best bets) combine to reward fans who are able to fit into its cramped quarters.
What's on TV?: Any package you could want: NFL Sunday Ticket, Champions League, NBA League Pass, NHL Center Ice, MLB Extra Innings, ESPN GamePlan college football, and ESPN Full Court basketball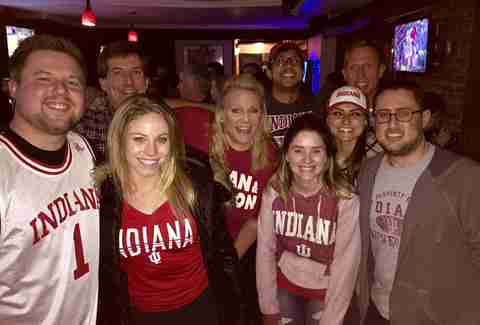 Upper West Side
I don't know what goes on on the Upper West Side. It's got a giant squid and a whale, every therapist in New York, probably, and Blondies' wings. People love Blondies. It's a solid dive with lots of TVs, bar menu standards (their wings make a lot of best-in-the-city lists) and reasonably priced drinks (2 for 1 happy hour, anyone?). Not to mention a personable staff of bartenders who'll make even UWS interlopers feel welcome, while making regulars feel regular. If you're coming on a football Sunday, you may want to make a reservation.
What's on TV?: DirectTV, NFL Sunday Ticket, NHL Center Ice, Champions League
Williamsburg
In Williamsburg -- a consequence-free adult daycare center on Brooklyn's north side -- a whiskey bar has aged into a neighborhood institution. Sure, not everyone's ideal sports bar is the same as mine or yours (maybe yours doesn't even broadcast sports), but a comprehensive selection of whiskey, games (play a round of pop-a-shot or Skee-ball while the game's on for a truly immersive sporting experience), and TVs visible from nearly every corner of the bar make Whiskey Brooklyn a fair compromise. Sports gear is curiously disallowed after 10pm, so swing by The Whiskey Shop next door and grab a bottle to-go if you must rep your team.
What's on TV?: NFL Sunday Ticket
NYU Village
Sports bars and college chime with the same timbre of nostalgia. Remember furiously cheering for a team you don't care about anymore with a crew you never saw again after graduation? Good times. Josie Woods is a true college bar in a time when undergrads would rather cloud chase and crush Fortnite than cosplay mascots. So enjoy pre-professional sports for 'em! The bar's walls are lined with TVs, the beers are reasonably priced, and the kitchen turns out more fried foods than you can shake a mozzarella stick at. Dart boards and pool tables keep the competitive momentum going during time-outs.
What's on TV?: NFL Sunday Ticket, NHL Center Ice, MLB Extra Innings, NBA League Pass, Champions League, ESPN College Extra
A Bar in Astoria
Astoria
Check the comments section on any NYC article and there'll be one guy complaining that his favorite place in Astoria isn't mentioned. So here it is: a bar in Astoria. Maybe it's Twist and Smash'd Sports on Steinway (they have indoor bocce courts!). Maybe it's Break Bar and Billiards on Broadway (they have a ton of TVs and pool tables!). It doesn't matter. You have been validated to never have to leave Astoria.
What's on TV?: Whichever bar you choose will definitely be able to screen the game (Giants or Jets) you want to see, I guarantee it.
Upper West Side
Like their plebeian downtown counterparts, the Upper West Side's rich kids have trust funds to spend, and, like their parents, area bars are happy to pander to them. Head up to the Columbia University enclave and rub elbows with the city's transient Ivy elite. Lion's Head Tavern will reward your bravery with beer (including $4, 22oz drafts on college gameday Saturdays and $13 pitchers on football Sundays), big enough screens throughout the bar, and eight varieties of wings, from "mild" to "ass burner." Ironically, Lion's Head is a Mets bar first and foremost, so catch the future titans of industry rooting for the little guy while you still can.
What's on TV?: NFL Sunday Ticket, NBA League Pass, and MLB Extra Innings, in addition to Big Ten Network for college games
Bay Ridge
Bay Ridge has carved out quite a niche as a sports bar destination. Between The Salty Dog, The Windy City Ale House and our pick, The Kettle Black, there's a real murderer's row of places to watch sports out there. Kettle Black has weekend brunch with a $10 selected bottomless booze supplement, buy-one-get-one half-off burger specials on Tuesdays, and its 13 varieties of wings are ranked among the best in the U.S. Nab a spot near the big windows up front to feel a little less guilty about spending a beautiful day watching TV inside.
What's on TV?: NFL Sunday Ticket, MLB Extra Innings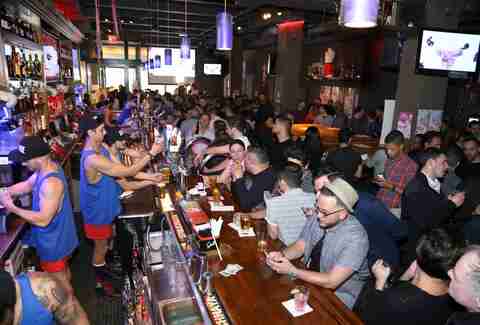 Hell's Kitchen
Boxers has three locations in NYC, each replete with a staff of of shirtless bartenders in, you guessed it, boxers. The Hell's Kitchen location boasts three levels, including a roof deck. Come for the sports, stay for the weeknight 2-for-1 happy hour specials, brick oven pizzas, Tuesday night karaoke, DJ sets, RuPaul's Drag Race screenings, and -- you didn't hear it from us -- an establishment-sanctioned outdoor smoking section.  
What's on TV?: Check back for Boxer's fall sports packages
Midtown West
This is the avoid-Midtown exception. Its location across from the Empire State Building draws a fair amount of tourists, but on gameday, you're guaranteed a crowd of dedicated sports fans -- especially during baseball season. Make your own game of spotting as many of Foley's collection of 3,500 autographed baseballs as you can amid the sports mecca's true abundance of memorabilia, including jerseys, bobbleheads, and stadium seats. Its serviceable bar menu is bolstered by shepherd's pie, fish and chips, and a traditional Irish breakfast.
What's on TV?: MLB Extra Innings, NFL Sunday Ticket, Champions League, NBA League Pass, NHL Center Ice, ESPN Gameplan college football, ESPN Full Court basketball, a Roku for pulling up anything else you could want
Williamsburg
When Croxley's Ale House moved from its Avenue B home of nearly 15 years summer of 2017, it was a blow for the East Village. But their loss is Williamsburg's gain. This large, TV-lined venue has over 100 varieties of beer between its bottles, taps, and cans, near-nightly food specials, and ample space to accommodate groups. Monday-Thursday, Saturday 12pm-5pm, and Sunday 12pm-close, boneless wings are $.50 and classic wings $.75 each.
What's on TV?: NFL Sunday Ticket, MLB Extra Innings, NBA League Pass, NHL Center Ice, All college football except Pac12, ESPN College Gameday, Every UFC event, ESPN Plus, Premier League, Bundesliga, Champions League
Tompkinsville
As a big fan of Staten Island, I understand that it's a big ask to get people out there. And there may be better sports bars with more character or local color deeper into the island, but DaddyO's is a short walk from the ferry terminal and offers southern BBQ, abundant TVs, and local beers (there are two breweries nearby!). It's a cool, quasi-suburban experience right here in the city. Gameday happy hour includes $3 select beers, $4 mixers, and six wings for $5.
What's on TV?: NFL Sunday Ticket, all New York sports
Williamsburg
There dedicated sports bars, and then there are bars that happen to screen sports. Alligator Lounge it the latter. Yes, games flicker across the bar's TV screens (especially during football season), and the beer is cheap, but the free personal pizza that comes with your pint makes that Giants game a momentary afterthought. Although it gets busy on weekend nights, Sundays at Alligator are pretty chill, so you can shuffle in and land a spot even on days when you sleep through kickoff.
What's on TV?: NFL Sunday Ticket
Kingsbridge
If you're tired of hearing about how the Bronx Alehouse is the borough's best sports bar, maybe it's time for you to open your own place. It'll be great, all your friends can come and drink for free for like a year before you have to declare bankruptcy. Or, you can save yourself the trouble and embarrassment, and slide on for $5 pints of rotating drafts, appetizer specials, and $5, 16-ounce cans of Blue Point Pinstripe Pils during Mets games. Just kidding! This is Yankee town.
What's on TV?: NFL Sunday Ticket, MLB Extra Innings, NBA League Pass, UFC and Boxing Pay-Per-Views, ESPN College Gameday, Streaming most major soccer games
Sign up here for our daily NYC email and be the first to get all the food/drink/fun New York has to offer.