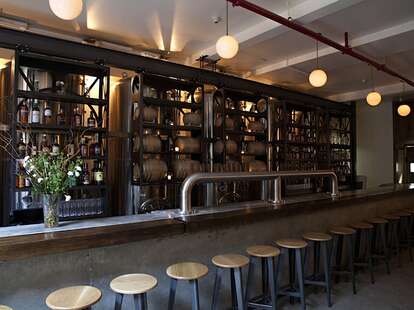 Courtesy of Pamela Masters Photography/Threes Brewing
Courtesy of Pamela Masters Photography/Threes Brewing
<em>NoHo</em><br />
Craft beer drinkers and Irish pubs go together about as well as mayo and French fries (seriously England, just stop), except when it comes to Swift Hibernian Lounge, where you'll surprisingly find an impressive selection of craft brews&nbsp;(from&nbsp;Pretty Things all the way down to Cantillon)&nbsp;on draft, from cask, and in bottle. Even though it's only steps off the Bowery, the devoted beer drinkers who frequent the Swift have been doing so relatively quietly for years. Oh, and the quality pub eats certainly don't hurt matters, either.<br />
&nbsp;
<em>Crown Heights</em><br />
Hardcore beer geeks probably already know and love Covenhoven for its awesome themed bottle nights, <a href="https://www.thrillist.com/drink/new-york/brooklyn/best-brooklyn-bars-ny…; target="_blank">subway proximity</a>, trivia throwdowns, and appearances by local beer makers, but this spot has remained a best-kept secret for casual beer drinkers who live outside of Crown Heights. Cellar manager James Case runs a great program, pouring a balanced splay of the best local breweries and nerdy favorites, all with friendly, educated service and a sweet back garden.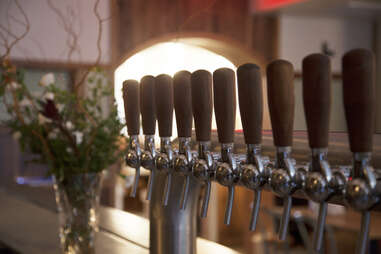 <em>Gowanus</em><br />
Aside from the fantastic in-house brews (with a focus on saisons), Threes offers up some of the most unique beers in the game, including Off Color and the occasional Hill Farmstead keg. Add to this the rotating pop-up restaurant space that's already hosted the likes of Roberta's and soon Mile End, coffee from the in-house branch of Ninth Street Espresso, and the events space that's set to blow up -- you've got yourself a cultural and culinary and beer...inary one-stop shop just a block from the Gowanus Canal.<br />
&nbsp;
<em>Astoria</em><br />
Most of the press on the Queens Kickshaw lands on its killer grilled cheeses or&nbsp;<a href="https://www.thrillist.com/drink/new-york/best-coffee-shops-in-nyc-by-ne…; target="_blank">fantastic coffee</a>, and totally deservedly. But beer is far from a second thought here: four rotating draft lines pour the likes of Element Brewing and Thirsty Dog, plus there's an expansive offering of bottles (including Oude Gueuze Tilquin and To Øl) that really makes this place on-the-radar-bound.
<em>East Village</em><br />
Burp Castle sometimes gets lost in the noise of its popular neighbors,&nbsp;Jimmy's No. 43&nbsp;and&nbsp;Standings, but that may be partly because of the strict decorum policy: bartenders here have been known to shush anyone who is talking too loudly. This church-like adherence to good behavior may be what makes it such a great place to enjoy the monk-made trappist beers that make up a large part of an impressive drinks list, which leans heavily toward Belgian producers, but also includes some English and German favorites. One drink in silence here and you'll understand the long-lasting devotion locals have to this place.<br />
&nbsp;
<em>Williamsburg</em><br />
Even though Beer Street has been open for a few years, it wasn't until Cory Bonfiglio of Proletariat fame recently came on board as an owner that the menu got so good. Hard to find bottles and rare kegs are the name of the game here, with Cory showcasing his trademark love for locally produced brews such as Other Half and esoteric foreign imports like White Hag from Ireland. And just like Proletariat, it's price gouge-free despite its obscure offerings.
<em>Greenpoint</em><br />
It may feel like all of the hype about drinking beer in Greenpoint has been sucked up by Tørst, but Brouwerij Lane has been at if for years, having barely preceded the wave of craft beer bars in the city. Today, thanks in part to the expertise of owner Ed Raven, it stills stands out for its support of great local beers like Gun Hill, hard-to-find German imports like Riegele, and a killer selection of bottles that number in the hundreds and can (read: should definitely) be purchased to go.<br />
&nbsp;
<em>Boerum Hill</em><br />
There are very few places that manage to pull off a great draft program, a solid bottle selection, and even less that can also host the occasional yoga class for customers, but St. Gambrinus manages to do it ALL. Its relatively young position in an exploding neighborhood probably means the under-the-radar thing is only temporary, so make sure to savor it (and the not-too-full beer and yoga classes) while you still can.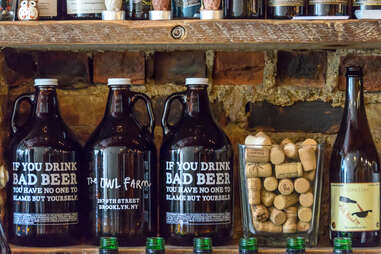 <em>Park Slope</em><br />
We can't think of any reason why this bar hasn't been as hyped as its sister spots (it has the same owners as Mission Dolores and Bar Great Harry), besides the fact that it's located in beer-bar-heavy Park Slope. Its expansive rotating list includes everyone from Almanac Beer to Mikkeller, many of which get tapped as part of the impressive event schedule. If you're in the market for a new extracurricular activity (or another excuse to drink beer &lt;-- THIS ONE), consider joining the local pinball league, which makes use of the bar's three machines for official league play.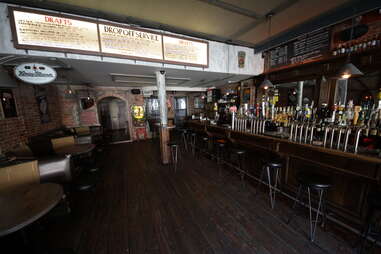 <em>East Village</em><br />
Most New Yorkers think Drop Off Service is the kind of bar you would only head to for a&nbsp;<a href="https://www.thrillist.com/drink/new-york/best-happy-hour-new-york-bars-…; target="_blank">rowdy happy hour</a>. Lately, though, it has quietly become one of the best places to get a great beer in the East Village. The rotating taps pour local favorites like Grimm and Braven, and remain well priced even outside of happy hour deals. It also boasts later hours than most beer-focused bars, which makes it the perfect place to drink great beer well into the wee hours.<br />
&nbsp;
<em>East Village</em><br />
It wasn't too long ago that things were looking pretty grim for East Village Tavern. After being awarded a Good Beer Seal and becoming a low-key locals bar, it changed ownership just weeks before being wiped out by Superstorm Sandy's floodwaters. For months, it veered close to shuttering, but has rebounded with great beers on draft and not a single ounce of pretense in the joint. The lines are clean, the prices are low, and it's a true New York City second wind story if there ever was one.<br />
<br />
<em><a href="https://signup.thrillist.com/&quot; target="_blank">Sign up here</a>&nbsp;for our daily NYC email and be the first to get all the food/drink/fun New York has to offer.<br />
<br />
<a href="https://www.thrillist.com/authors/zach-mack&quot; target="_blank">Zach Mack</a>&nbsp;is Thrillist's contributing beer writer, the owner of Alphabet City Beer Co. in NYC, and absolutely nothing else. Follow him:&nbsp;<a href="https://twitter.com/zmack&quot; target="_blank">@zmack</a>.</em><br />
&nbsp;