We've had a more-or-less proper fall so far this year. No unexpected snow, only a few freezing temperatures, and the trees are still hanging on to their color-changing leaves. Most of the time you can still even wear any shoes you choose, no bulky boots required. But now that the days are shorter, the holiday season's in swing. Winter, as they say, is coming -- which is as good a reason to drink as any.
Now, some folks around here would order a frozen margarita in an ice storm, but even they admit that the most seasonally appropriate cocktails are best served warm. We're talkin' takes on toddys, Irish coffees, boozy hot cocoa, mulled wine, and spiked cider that you'll want to wrap your fingers around, draw to your face, and blow on like a social media influencer with hygge to prove. These are the best hot cocktails in NYC right now.
Prospect Heights
What to drink: Hot Amari
Can't afford a trip to Italy? Travel no farther than Brooklyn to drink like a fancy European on a cold winter's night. This classy cocktail is a mix of Gran Classico, Cynar 70 (a sweet, nutty Artichoke-based liqueur), saffron-tinged Strega, and tart Contratto Aperitif. "Amari" is Italian word for bitters, so expect a negroni-adjacent flavor profile at an elevated temperature.
Hamilton Heights
What to drink: Japanese Hot Toddy
Warm your soul to the very core with a steamy bowl of ramen and a Japanese take on the ubiquitous Hot Toddy. This version includes Japanese whisky, said to be silkier than that from other parts of the world. Hot water, honey and yuzu -- a fragrant citrus that resembles a lemon and tastes like a grapefruit-mandarin-orange-hybrid -- complete the cocktail.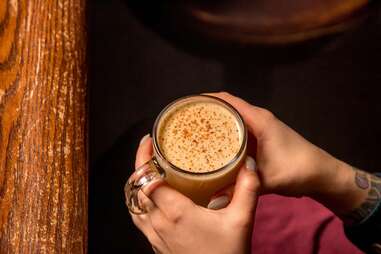 Long Island City
What to drink: Bear Trap
The Bear Trap is a spiked cider/hot buttered rum mash-up made with fresh apple cider, spiced butter and bourbon. The steamy winter favorite tastes like a liquid artisan Lifesaver.
Williamsburg
What to drink: Beans and Whisky
Hot cocoa drinks are tops. The booze/chocolate combo makes you feel like an unsupervised kid again and there's even the teensiest caffeine kick. It's like a subdued, winter time Four Loco. Extra Fancy's indulgent take combines dark chocolate, caramel whiskey, and a kiss of vanilla liqueur.
Lower East Side
What to drink: French Hot Chocolate
This little cafe's limited bar turns out a delightfully decadent, deceptively simple, sweet hot drink. The French hot chocolate combines dense hot cocoa with port wine to rich, slightly buzzy effect. A cup is a dessert replacement rather than accompaniment for all but the most committed gourmands.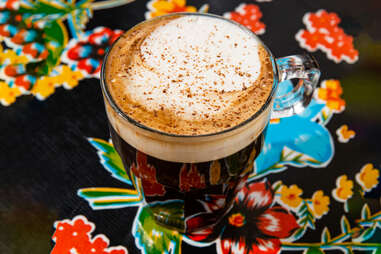 Red Hook
What to drink: Irish Coffee
An upturned airplane bottle in a burnt bodega brew with a will do for your morning commute, but brunch calls for something a little more refined. Fort Defiance's Irish coffee is made with high proof whiskey, espresso, boiling water, and thick, rich, heavy cream. This is a full sensory experience: the hot, caffeinated concoction toasts your palate and the hand-shaken, cinnamon-dusted cream cools it down.
Upper East Side
What to drink: Hot Spiked Honey
The uplifting swell of rum or whiskey in a typical hot toddy can overwhelm an untrained imbiber. This gentler, entry level variation incorporates honey liquor, lemon and cloves to warm up fairweather drinkers.
East Village
What to drink: Bad Santa
The Bad Santa has become a winter tradition at this cozy dimly lit cocktail bar. Last year, it was a boozy apple cider spiked with apple calvados, aquavit (a Scandinavian spirit) and cinnamon butter. Previously, it was a hot chocolate/mezcal mix. Now, it's a vegan blend of rum, spices, coconut butter, pineapple and lemon juice, and clarified coconut syrup.
Bed-Stuy
What to drink: Mulled Wine
Mulled wine is a comfort cocktail, and this is among the most nuanced recipes known to New York. Your taste buds and sinuses will be tingle after a glass or two of the port wine, Ansac Cognac VS, orange peel, peppercorn, and clove combo. Swap a stirrer with a slightly spicy cinnamon stick.
Financial District
What to drink: Peace Process
Keeping with Dead Rabbit's award winning, inventive cocktail menu, Peace Process is one of the more eclectic winter cocktails you'll find in the five boroughs. Bartenders combine a whopping nine ingredients to create the elaborate tipple, including (deep breath) rum, Fernet Branca, green chartreuse, banana syrup, and Cadbury chocolate walnut milk. Find it on the second floor parlor menu.
West Village
What to drink: Apples & Apples
Pumpkin spice is fine, but hot apple cider is the season's best fruity tipple. Dante amps up the cold weather staple by adding a kicky apple cider vinegar and calvados to its cider base to create wintry drink that you won't be ashamed to sip in public.
Greenpoint
What to drink: Devil's Juice
A punishing pour of High West Double Rye is barely tamed by a tangy blood orange liqueur, fiery habanero syrup, lemon juice, and a sprinkling of shaved Belgian Chocolate. And at $13 a pop, you won't need to sell your soul for a second.
South Street Seaport
What to drink: Spiked Hot Chocolate
The geniuses at Industry Kitchen cracked the hot cocktail game wide open with their boozy hot cocoa concoction: Nutella mixed with dark chocolate and milk. Spike it with the spirit of your choice for an adult iteration of your childhood snow day favorite.
Sign up here for our daily NYC email and be the first to get all the food/drink/fun New York has to offer.