Nobody ever said you could only have one "best decision of my life". Brooklyn-based bartender Brittany Chadbourne's had two, so far. The first came after she'd spent seven years working at an iconic Cape Cod joint where girls danced on the bar, patrons actually drank Mudslides, and bartenders regularly walked away with $800 a night.
It was a pretty good life, but pretty good lives aren't for everyone. Together with best friend Jillian Vose she set her sites on achieving greatness in the Big Apple. While Vose continued to bartend, Chadbourne went into commercial real estate. It was everything she thought she wanted, with one small drawback: she hated it. After six months, she made her second "best decision": she quit her job, and got back behind the bar.
"I missed the bartender community, everyone I loved and related to. I didn't want to settle just because I'd have to change paths again."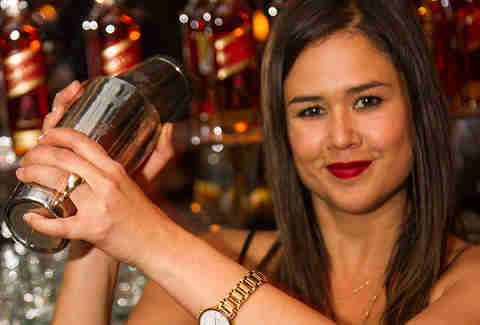 Chadbourne did encounter a learning curve (it's all uphill from the Mudslide), but she quickly adapted to the New York cocktail scene thanks to surrounding herself with people like Vose, current bosses Nate Dumas and Allan Katz, Jason Littrell, and Gardner Dunn. "Learn from the best, be the best – it sounds cheesy but it works."
Cape Cod to New York is impressive, but Chadbourne wanted her cocktails served at the House of Walker™ cocktails to take guests on an international journey. Her Johnnie Strolls packs in Johnnie Walker® Red Label®, orange blossom, lemon, and Pavan, a Muscat grape liqueur from France. Her Portside Roy presents Red Label, Carpano Antica, Campari, tawny port, and Bittermens mole bitters.
"Red Label is almost like a rye with its spiciness – it's so versatile, it's accepted the world over. These drinks bring in something from everywhere."
Regardless of how far she's come or how far she's going, Chadbourne retains one crucial lesson from her beach bar days. "No matter what and where you serve, if you don't do the best job you can, you're not a good bartender. You have to remember that nobody wants to listen to you complain. They want to complain to you!"

PLEASE DRINK RESPONSIBLY. JOHNNIE WALKER® RED LABEL® Blended Scotch Whisky. 40% Alc/Vol. ©2013 Imported by Diageo, Norwalk, CT.