5 things you need to know about the Brooklyn Bloody Mary Festival
New York If you could just skip the egg part of brunch and move right to the endless Bloody Marys part, you probably would. And so would the Bloody Mary Liberation Party, which unanimously voted to put an end to this Byzantine custom by organizing the Inaugural Brooklyn Bloody Mary Festival. This weekend, 10 of the borough's finest bartenders will descend upon Tacu Tacu in Williamsburg to find out who's making tomato juice tolerable. Here're five things you need to know, to make the most of your three hours of unlimited boozing. And in case you don't have a ticket: they'll have a limited number at the door on a first-come-first-serve basis.
1. Good vodka can make or break the taste of a Bloody Mary. 706 Bar takes their version way beyond Russia by infusing garlic, basil, jalapeños, and Jamaican Scotch bonnets into its base spirit. Fuel, meet the fire.

Continue Reading
2. 606 R&D is bringing a tequila-based "West-Texas Bloody Mary" to the rodeo that's topped off with a bacon garnish, and has a massive list of spices inside.
3. There's a drink with Sriracha, Valentina hot sauce, seaweed, and kimchee juice, thanks to Lucky Luna. Legend has it the concoction was born out of home brunch experiments... which we all need to be doing way more of.
4. A panel of decision makers from the bar biz will award one lucky contestant the title of Best Bloody Mary, with shout-outs for the runner-up, as well as Most Creative Cocktail. The lineup of gavel bangers is an all-pro group of alcohol enthusiasts, and includes Shelley Buchanan from "The Drunken Tomato".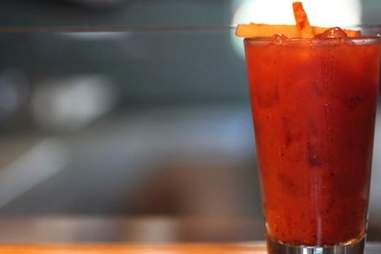 Thrillist
5. Liberation isn't only about the drink; it's about the people! Everyone in attendance will receive a token to cast their vote and decide who'll take home the People's Choice Award for crafting Brooklyn's Bloodiest beverage. Whoever has the most tokens at the end of the day wins, so plan on sticking around 'til 4pm, if you want to see who the best is.