Garrett Oliver's the brewmaster for one of the greatest success stories in the American craft beer movement, an accomplished author, and a globally respected industry luminary. When he's not busy crafting new recipes, he's usually traveling the world in search of new ideas and inspiration. But even as someone who sees as much of hotel rooms as his own apartment, New York is still his home, and he has a pretty good idea of what makes a great bar stand out. So we asked him about his favorite places to grab a drink in his lifelong hometown.
West Village
Garrett says: "Great beer list with something for almost everybody, better food than they need to have, and no attitude. A 'bar bar' for beer people."

There aren't many bars that can be credited with arguably birthing beer culture in New York City. There are also not many bars with such knowledgeable staff, great pub grub, and a working fireplace that always seems to be there when you need it most. Even after a move from Hudson St to Bleecker, the Tiger hasn't lost an ounce of enthusiasm from its stable of hardcore regulars or its stance as a craft beer kingmaker (if you're a brewery looking to launch in the city, chances are you're gunning to have your release party here).
Nolita
Garrett says: "King of the old-school Manhattan dive bars, and still one of the best places to sit at the bar with a pint in your hand and just 'be.'"

Anyone who has set foot inside Milano's will be able to tell it's been in operation since the 1880s (with a short break due to a little something known as Prohibition). It's the kind of establishment where the scents are as much a design fixture as the Christmas lights, faded pictures, and memorabilia on the walls. This is a true relic bar with more character than you can build out with physical materials. You don't come here for fancy cocktails: you come here to drink.
Boerum Hill
Garrett says: "Way before Brooklyn was 'cool,' they were here slinging beer and whiskey for the locals. A stunning old interior and the best place in NYC to watch snow drift past big windows."

There is Brooklyn -- the stroller-pushing, haircut-and-a-latte shop hosting, "oh, I think this place was in an episode of Girls" borough of New York City -- and then there is Brooklyn. Fitting to its name, the Brooklyn Inn upholds the ideals of the latter as the type of truly classic watering hole that is becoming dangerously rare these days. It's the kind of place where set designers might be sent to study "old time bar feels" (probably because most of the hardware was transported from Germany in the 1870s), and where lifelong locals sidle up alongside younger transplants to take advantage of the bar's impressive but not overthought beer and whiskey selection. It's a little something for everybody without trying to be that way.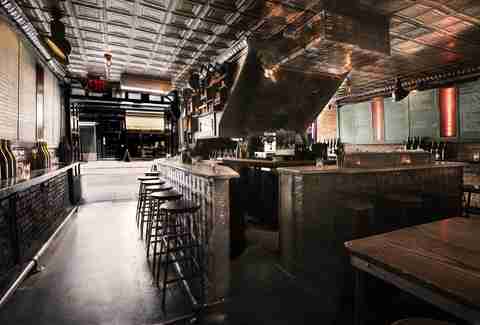 Lower East Side
Garrett says: "Obscure natural wines and ciders in one of the city's best pub rooms."

While sucking down oysters during one of Ten Bells' legendary happy hours, you're probably going to get the feeling that you're sitting in a decades (or century) old neighborhood pub. But the bar, in fact, is younger than the iPhone, having opened in 2008 and quickly establishing itself as a solid neighborhood option in an area that has hosted its fair share of flash-in-the-pan gimmick restaurants and bars. The real focus here is on the wine, and Ten Bells' list should be considered among some of the most adventurous in the city while still being affordable and approachable. This all combines to make it an irreplaceable part of the lower-key Lower East Side.
Cobble Hill
Garrett says: "A brilliant amalgamation of an old stevedore's bar and excellent up-to-date cocktails."

From the outside, you're more likely to pass right by The Long Island Bar without a second thought. (Author's note: I lived across the street from it during a summer in college and my roommate and I were convinced it was a drug front). But inside, you might be surprised to find one of the most highly praised cocktail programs in the entire city at work. The classic drinks are just as top-notch as their own creations, all with authentic Art Deco surroundings.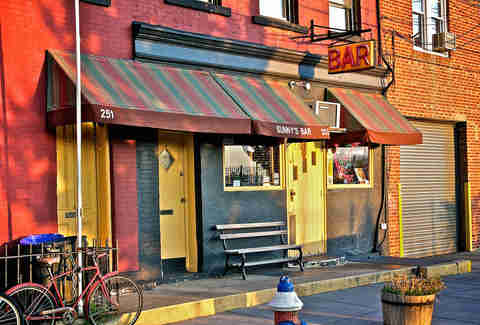 Red Hook
Garrett says: "You're not one of them, but that's okay -- they'll treat you like you are, and like you always have been. Magical."

Most people making the trek out to Red Hook usually have a destination in mind. But Sunny's is a neighborhood mainstay that exists in a "where else would you rather be" state that brings its ambiance to a level rarely achieved in other parts of New York. There's live music, cheap drinks, and a lineup of cool events including in-house drawing and sculpting sessions with live models. Spending five minutes in here alongside some of the lifelong regulars should be enough to realize how they survived after being devastated during Sandy. Pro tip: visiting this place during the afternoon can be the best way to really get the most out of it.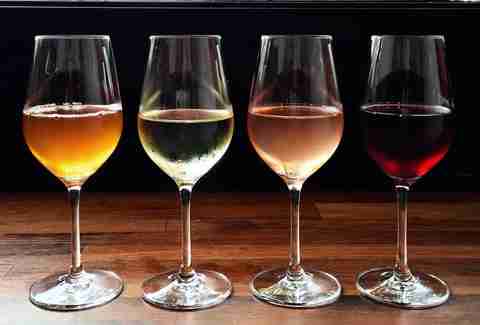 Williamsburg
Garrett says: "A ludicrous and more-than-fairly-priced wine list, a few nice beers, awesome food, great music, and a somehow perfect feel. Party time for adults."

When James Murphy opens up a wine bar in Williamsburg, the tidal wave of publicity is a given. Having it all work out as a great bar in practice? Less certain. The idea of a list focused on natural wines might have you clutching your credit card in fear, but the list here is incredibly well priced and well appointed. And when the food is good (think charcuterie, veggie dishes, and steak tartare) and the music is good (duh), you'll be happy you stopped by for more than the opportunity to make LCD Soundsystem song puns over your glass of Etna Rosso.
Lower East Side
Garrett says: "Great NYC drinks in a cool NYC room with NYC people. The cocktail bar you wish you'd opened yourself."

You may never remember the names of the cocktails you drink at Attaboy, but that's not because they're not good: it's because there isn't a printed menu. The program here relies on the incredible talent of the staff -- cocktails are ordered by actually talking to bartenders and telling them what you've got in mind. Want something like a Tom Collins? Something whiskey based with bitters served up? Looking to try a mezcal cocktail for the first time? It all makes for a cocktail adventure that's sort of the mixologist's equivalent to the chef's table.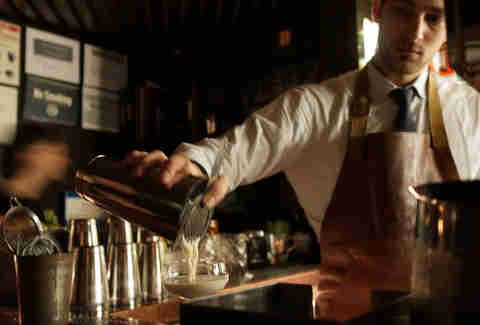 East Village
Garrett says: "You're half underground in a dimly lit room, no one's bumping into you, you have a Benton's Old Fashioned in your hand, and there's a stuffed bear next to you. Are you in a Kubrick movie?"

By all measures, a cocktail bar that came to the scene around the time PDT did should have become old news and folded by now. But by every measure, the speakeasy tucked behind Crif Dogs is as much a trendsetter now as it was when it opened in 2007. The Benton's Old Fashioned remains as a stable favorite, but the talented bar staff have kept the program lively with additions over the years that makes it easy to come back again and again and again...
East Village
Garrett says: "For when beer geeks absolutely positively need to go all the way there."

How do you build beer geek heaven in New York City? You should start with an impeccably curated draft and bottle list of esoteric brews and ciders, from as close by as Brooklyn and far off as Norway. Even for beer geeks, there's a very good chance that it will be the first time you try everything on draft on any given night. You can also expect an informed but lighthearted approach to the amazing beers you're enjoying: I have it on good authority that no one will judge you when you ask the bartender to join you in the shotgunning of a Stillwater Classique can.
Sign up here for our daily NYC email and be the first to get all the food/drink/fun New York has to offer.
Zach Mack is Thrillist's contributing beer writer, the owner of Alphabet City Beer Co. in NYC, a newly minted cicerone, and nothing else. Follow him @zmack.