The Marlow & Sons guy wants to fill you with booze and oysters at 10a
Before Williamsburg really became Williamsburg, Andrew Tarlow had Diner and Marlow & Sons under the Wiliamsburg Bridge; and then when Williamsburg did really become Williamsburg, he created Reynard in the Wythe Hotel. Now he's moving even further North, to Greenpoint's waterfront with this bar/cafe modeled after a fisherman's dive bar and open for breakfast, lunch, and dinner. The most important part of that sentence? Breakfast, it's starting at 8a, so this is one of the few places in New York you can hope to score an amazing roster of pre-noon heavy-hitter cocktails that go way beyond the bloody.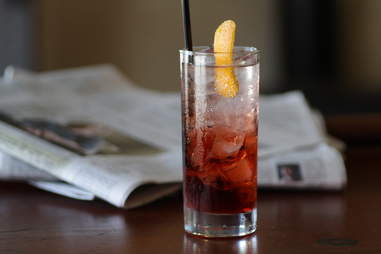 While you can technically order any of their cocktails from the classic-leaning list, they offer pre-noon-optimized suggestions like this Americano with Campari, vermouth, and club soda.
They stick pretty close to the original Bemelmans Bar recipe for their bloody, save for one absolutely crucial factor: they use a whole lot of high-proof vodka.
A classic French 75. The French love drinking hard booze at 10a. Or was that just Hemingway when he was there?
They add just a little OJ to the Aperol Spritz…
… and they add just a little whiskey to the beer. Nothing beats a pre-work Boilermaker.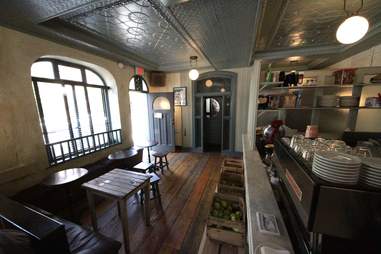 Ok, you just had five cocktails and it's like 1015a. Time to grab a seat in the cafe to score some solid breakfast, too.
Get it started with the ricotta Gruyere croissant, booya.
This here is their specialty Irish soda bread. It's a little sweeter than usual and comes with Amish butter topped with French sea salt. The French and the Amish, together at last.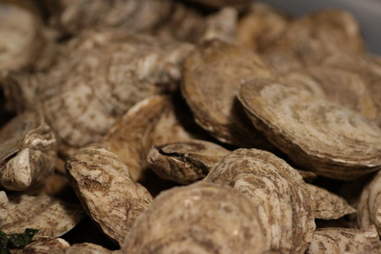 Also, oysters. Rumor had it that Hemingway ate 30 for breakfast every day, and that's what made him totally badass. Also, we just made up that rumor.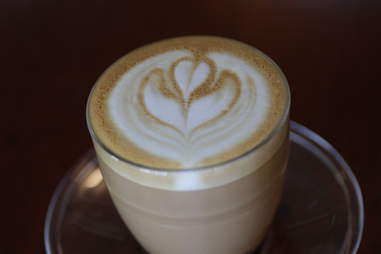 And whether you need to sober or wake up, they've got whatever types of coffee you need, like this cappuccino…
… or the pour over. Oh, did we mention they have all sorts of morning-ready cocktails?!?