Named for a lineup of big-ass guns out in the Rockaways, this indoor/outdoor sky-oasis of cocktails, beer, and Caribbean eats has taken over the former gas station/Loreley spot in Williamsburg and built up that classic tropical/industrial vibe everyone loves. To wit: all sorts of greenery and communal tables outside (under an overhang that's "inspired by an F-16"!), and an airy interior that gets blasted by a massive skylight. You can order inside the bar... ... or outside. TOTALLY COINCIDENTALLY the cocktails all have names that JUST HAPPEN to be Van Damme movies. They're mixed up by their head bartender who was previously at La Mar Cebicheria in San Fran, then took some time to explore Peru, a culture that seeped into the drinks -- especially this Lionheart, which employs a housemade chicha morada (a Peruvian specialty of purple corn, pineapple skins, spices, apples...), triple sec, light rum, and organic passion fruit. It's also going to be available as a slushy. Averna provides the base for The Quest, which also gets rye, lime juice, agave, and mint. "It's almost like an amaro sour." Mezcal, Carpano Antica, Campari, and a mist of absinthe (the best kind of mist) go into the Nowhere to Run, whose ice cube is infused with Peychaud's Bitters that works its way into your drink as it melts. Say "You're next!" to the pisco and rye Bloodsport. If you accidentally drop the glass, try to resist getting glue and rolling your hand in it, even though that happens in Kickboxer. The chef grew up in East Flatbush and Crown Heights, and soaking up influences from all the different cultures there led him to start cooking what he calls "New American", aka, "Afro-Latino" cuisine that includes the Battery Harris burger topped with avocado-cilantro mash, caramelized onions, and Monterey Jack, and comes with a side of jerk fries. The burger is great, but the jerk chicken is the go-to move -- it's marinated for two days in the jerk sauce, then baked and finished on the grill and served with coconut cornbread and plantains. Little known fact: "it's called jerk chicken because of the motion made while grilling it", making it surprising that American chicken isn't called "drinking-a-beer chicken". And you know they've got patties. These are like the things you get at 4a, but good, and not terrifying in daylight. They come packed with beef or chicken, and would actually be "kind of healthy if you didn't eat them with the filling". So, eat them with the filling.
Recommended Video
Go Camping in the Comfort of Your Own Home With S'mores Dip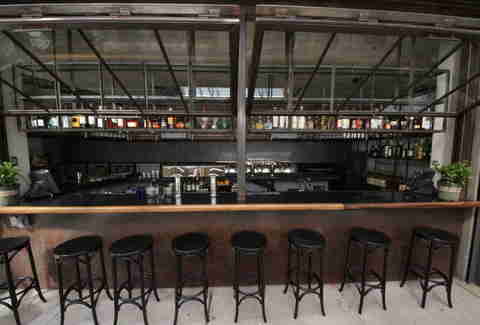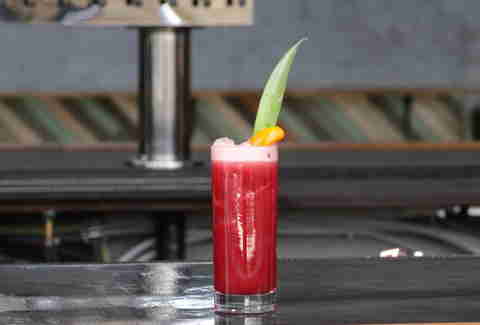 Previous Venue
Next Venue
Venue Description
1. Battery Harris
64 Frost St, Brooklyn, NY 11211
While named for the World War I-era bunkers at Rockaway's Fort Tilden, Battery Harris is a Williamsburg bar through and through. With an interior reminiscent of spring break in Baja, the beachy indoor/outdoor bar is flanked with panels of sandalwood, the patio space is sectioned off into palm tree-shaded cabanas, and the walls are plastered with various waterfront magazine cutouts. Maintaining its vacation shtick, the trendy joint offers a Caribbean-inspired food menu, where things like spicy fish tacos and jerk chicken sandwiches are served as late as 4am on the weekends. And perhaps more importantly, the all-day drink menu features an eclectic roster of beers on tap, and a glorious list of paper-umbrella-garnished tropical cocktails, like frozen Thai Piña-Coladas. On Saturday nights, while a macbook-toting DJ entertains on the patio, throngs of vintage-Levi clad Brooklynites wait in avenue-length lines to gain entry to the casual, scenic nightspot.