Because we know you like a good Brooklyn bar crawl, and we also know you like a good local hooch, we put together two of the former using alllllll of the latter. That's right: two Brooklyn bar crawls through the borough's bestest distilleries.
Crawl I: North Brooklyn

View 6 Brooklyn Distilleries Map 1 in a larger map
Stop #1:Greenhook Ginsmiths in Greenpoint
Spirits: Gin, Specialty Spirits
Getting There: Take the G train to Greenpoint Ave; 10-15 minute walk. Or you can just be boring and cab it.
Tour/Tasting: Free on select weekends (check their Facebook page for upcoming slots); or by appointment.
It's pretty much in middle-of-nowhere Greenpoint -- well, clear of the Polish meat markets and craft beer bars -- and you'll feel like you're on the set of The Walking Dead. But it'll all be okay once you down a sizable glass-worth of Greenhook's American dry gin (which packs a complex aftertaste) and fruity Beach Plum liqueur... which they definitely don't have on TheWalking Dead (spoiler?).
Next Move: Jump on the G train at Greenpoint Ave and take it one stop to Lorimer/Metropolitan Ave. Or walk (this one's not that far).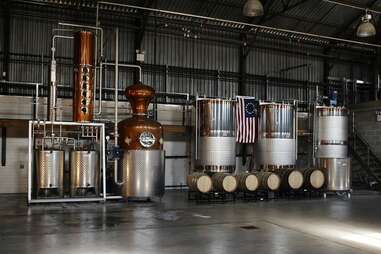 Stop #2:New York Distilling Co. in Williamsburg
Spirits: Gin; Rye Whiskey in the works
Tour/Tasting: Free on Sat/Sun, 3-5p
The best part of New York Distilling Co.'s free tour? You get to taste everything they produce. So take a good, long pull of Perry's Tot, their "Navy-strength" gin -- so called because if you were to find yourself aboard a Navy vessel doing shots of it, and happened to accidentally dribble a bit in, say, a gunpowder keg, it wouldn't ruin the ammunition. So, umm, feel free to drink near your leftover gunpowder, Corporal Awesome. The distillery also owns its own bar, The Shanty, which'll serve you the booze in 'tails like the death metal-meets-Tiki Cannibal Corpse Reviver No. 2 cocktail, which also includes Eau-de-vie, Fernet Branca, lemon, and Prosecco.
Next Move: Head back to the Lorimer/Metropolitan stop, hop on the L, and take it two stops to Grand Street. It shouldn't be more than a 10-minute walk from there.
Stop #3:The Noble Experiment NYC in East Williamsburg
Spirits: Rum, Infused Varieties (seasonal)
Tour/Tasting: $10 tour/tasting; schedule and purchase tickets here
You'll get a 60- to 90-minute, in-depth history lesson on the famed pirate currency, and how it's made. You'll also get a taste of Owney's NYC Rum -- named for a turn-of-the-20th-century rum runner -- and Experiment's various seasonal concoctions like rum that's infused with rosemary and mint from the distillery's garden (when in stock).
Next Move (optional): It's a little out of the way, so it's probably best to just cab it from Williamsburg (if you don't want to take the L back into Manhattan, and grab the F to York, and walk about 10 mins.).
Bonus Stop:Kings County Distillery in Brooklyn Navy Yard/DUMBO
Spirits: Whiskey, Moonshine, Season Spirits
Tour/Tasting: Open 230-530p every Saturday. No reservations needed. $8 for a tasting and tour of the distillery.
The oldest whiskey distillery in all of NYC, Kings County is located in a 113yr-old building in the Brooklyn Navy Yard. The tasting is like their thesis statement: you get some corn-based moonshine, their Craft Spirit Award-winning bourbon, and for the next two months, some holiday-spiced whiskey (a natural remedy for that Christmas Eve-morning hangover).
Crawl II: Red Hook

View 6 Brooklyn Distilleries Map 2 in a larger map
Stop #1: Van Brunt Stillhouse in Red Hook
Spirits: Whiskey, Rum, Grappa, Moonshine
Getting There: Take the F/G to 4th Ave or Carroll St, and it's about a 15-20-minute walk. Given that Red Hook is not super convenient on the subway, it might be worth paying for a cab ride (the other two distilleries in this crawl are within walking distance of Van Brunt).
Tour/Tasting: Free public & private tours (the second Sunday of every month, or by appointment); no tastings available. [Update: they do tours & tastings at 2p and 4p, Sat & Sun]
You won't be getting a free tasting on the tour, but you can take home a bottle of one of Van Brunt's quartet of liquors -- whiskey, rum, grappa, or moonshine -- so bring along a flask to keep you warm on the walks.
Next Move: This circuit is maaad easy, because the following distillery is just a three-minute walk down Dwight... and now you've also got a loaded flask.
Stop #2:Jack From Brooklyn in Red Hook
Spirits: Sorel
Tour/Tasting: Sat/Sun, noon-4p; by appointment only during the week
Jack's will be quick. His lone spirit, Sorel, is a dark-red liqueur that totally tastes nothing like Hot & Cool Cinnamon Aftershock, but is instead full of holiday-spice flavors like nutmeg and ginger, and is considered an age-old aphrodisiac... kinda like Hot & Cool Cinnamon Aftershock.
Next Move: Head back North on Dwight, then West on Coffey.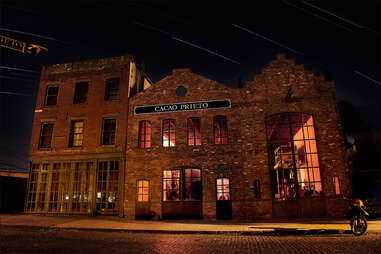 Stop #3: Cacao Prieto Distillery in Red Hook
Spirits: Rum, Whiskey, Flavored Liqueur
Tour/Tasting: $10 for a tour/tasting on Saturdays, 2p and 4p; first come, first serve.
Cacao Prieto is a triple-threat: they make chocolate, booze, and have tours/tastings. Your 10 bucks will get you a walk-through of the chocolate-making process (plus samples), and a trip to the distillery, where you'll get a flight that includes their signature chocolate-infused rum, Don Esteban liqueur (think s'mores doused in booze), and their Widow Jane bourbon, which's named for the mine-water from which it's distilled (not a crazy Brooklyn cat-lady).