After conquering nightlife, beer, coffee, and cocktails at The Randolph and Randolph Beer in Nolita, the Randolph team's shifting their Randolph gears away from rustic Randolph artisanry and shifting them towards '70s punk rock-meets-current Brooklyn, with the opening of... Randolph Brooklyn: a double-disc retrospective combining the best of all their previous spots... with a couple new releases thrown in there.
Recommended Video
This Amazing Frito Pie Is the Ultimate Texas Comfort Food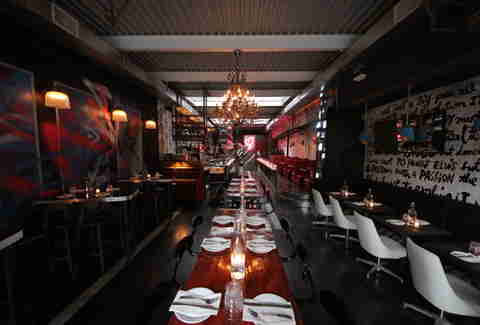 The space's bigger than any other Randolph spot, and comes with a giant skylight, a garage door up front, and a massive bar in back which's tucked just behind an old piano and the 8-track player that serves as a hostess stand. Also, it works, so feel free to bring your 8-tracks from home.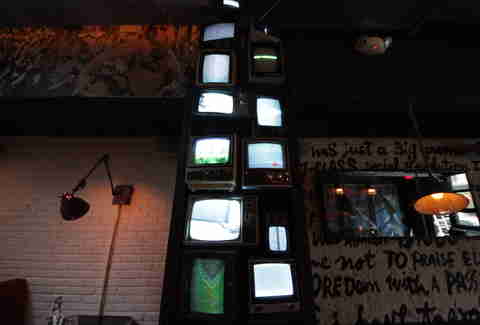 Their tower of TVs? They play a mix of old exercise videos, cat videos, found footage, and static because they have Time Warner.
The double-fried chicken with garlic, ginger, and sake is a favorite at their old spot, and will be here, too.
They're doing some new ish too, like these pulled lamb sliders topped with coriander-feta yogurt, fresh mint, and pickled fennel on a toasted brioche.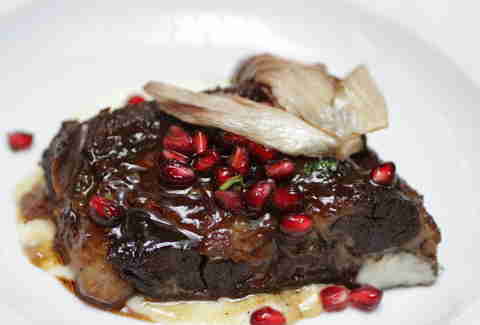 This beauty is the braised short rib with pomegranate glaze, parsnip/leek puree, and "fine herbs", which make everything better (wink, wink, nudge, it's a weed joke, nudge).
The beer list here is a lot tighter than over at Randolph Beer, but they still brought over a lot of the heavy hitters, including Hop Head Red from Green Flash, Tripel Karmeliet from Bosteels, and this pour of Cellar Door from Stillwater Artisanal.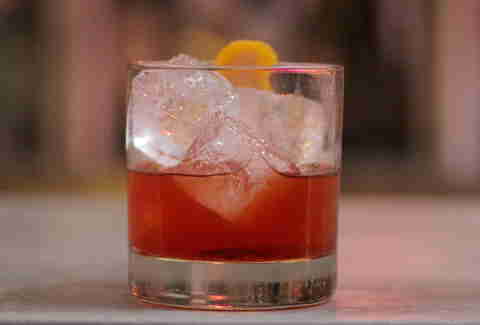 You'll also want to pay the cocktail list a visit: this Old Roman's made with rye, rhubarb aperitivo, absinthe, blood orange, and the kind of bitters you used to use in high school even though everyone was like, "dude, those smell gross... seriously, why are you using those?" (clove bitters).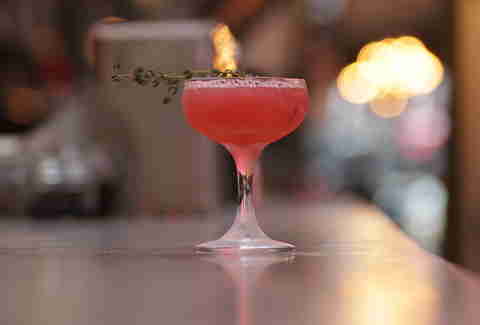 Assuming you've never had a pink coupe cocktail that mixes tequila, chainsaws, chest hair, and Hemingway's bones, THIS is the manliest pink coupe cocktail you'll ever drink. It's called the Smokin' Thyme and it's packed with strong flavor thanks to mezcal, St. Germain, Zubrowka, fresh lime, thyme, raspberries, and rhubarb bitters.
If all else fails, just go "off-the-menu" and they'll whip up something strong and delicious for you on the spot. If all else fails AND that fails, go with their "cheap" option: the fish house punch.
Previous Venue
Next Venue
Venue Description
1. Randolph Brooklyn
104 S 4th St, Brooklyn, NY 11249
This '70s punk rock-meets-current Brooklyn restaurant serves all-American classics, craft beers, and inventive cocktails. The interior is decorated with funky graffiti, and vintage TV's, but exterior is just as ornate with a big drive-in arrow directing you inside. The industrial 2,500-square-foot space has a grungy chic feel to it, but the food and drinks never cease to impress.