When it comes to the drinking, New York has a little something for everyone... and a lot of something for that dude you just watched faceplant while stumbling out of Opal. So to be sure you're maximizing your precious tippling time (and not going anywhere near Opal), Thrillist Executive Editor Hayden Lynch is cutting through the noise with his top picks for boozing in the city.
Best Cocktail Bar: When The Wayland first opened in Alphabet C a few years back, it was a beacon of inventive cocktailing sans a stuffy attitude, an act followed by like-minded institutions Evelyn Drinkery and Pouring Ribbons soon after. Now that they've doubled the size of their space and their drink menu, there's even more to like. Even on a Friday night, you won't have to wait long for your mezcal oyster shooters and kale margarita.
Best Beer Bar: Sure, the copious barn wood and fireplace are necessary to spin the oft-cramped space as "cozy" rather than "crushing", but the beer list at Blind Tiger is one of the best in town, with 30 taps constantly rotating a selection of craft ales, and a fridge that's pregnant with large-format options. If owner Ian Campbell is around, ask him what he's hiding in the cellar and he just may dig up something special for you.
Best Wine Bar: While I appreciate the fact that Vintry Wine Whiskey offers affordable 2oz pours of decades-old grand crus, City Winery is the rare wine bar that doles out vino that's bottled on the premises. Gigs by nationally recognized touring acts don't hurt, either.
Best Club: With how much things have changed in the past 10 years, the era of hulking megaclubs lining 28th St might as well have been the Cretaceous. Now everyone seems to prefer blowing the GDP of a third world country in more intimate environs, and the cream of the crop remains The Top of the Standard (nee the Boom Boom Room). Of course, the guest list is tighter than Nicki Minaj's spandex, but if you head up in the afternoon when the space is still used as a hotel bar, you can crush cocktails from stud 'tender Aaron Polsky until the sun sets and let the party come to you.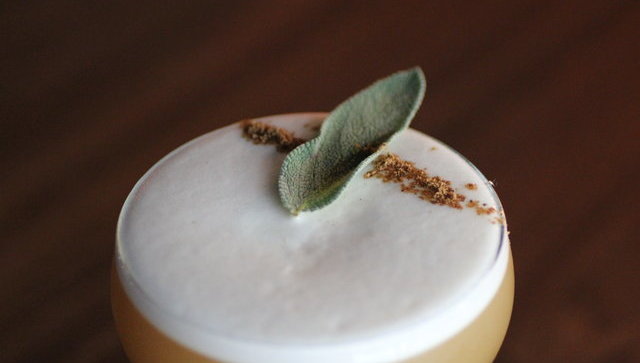 Best New Cocktail: I'm not sure that the egg cream doesn't owe its place in New York's culinary pantheon due to an egregious misnomer (it lacks both eggs and cream), but Evelyn Drinkery makes one with rum, sarsaparilla milk and housemade root beer syrup that's hand-frothed before your eyes. Any drink that's handed to you with an ultimatum that it be finished in under three minutes is worth trying at least once.
Best Martini: Nick Bennett, Bar Captain at Booker and Dax, recently gave me a taste of hands down the best martini I've ever had in my life. He pre-dilutes a mixture of gin, dry vermouth, and orange bitters, bottles it up with an olive, then allows it to mature and macerate for about five days. It comes with a liquid-nitrogen-chilled coupe, but it's good enough that even Gil Scott-Heron wouldn't mind living in the bottle.
Best Happy Hour: Former Death & Co and Pegu Club 'tender Brian Miller is NYC's leading tiki evangelist, and while the closing of Lani Kai caused a temporary hiatus of his amazing Tiki Mondays guest bartending series, it didn't take long for him to find a new home at Goldbar*. Drop by on most Mondays from 6-8 for rum-sponsored specialty concoctions whipped up by visiting luminaries like OG 'tender Dale DeGroff. *(Ed note: Immediately upon publication, Tiki Mondays changed venue's to Mother's Ruin.)
Best for Work: For the sake of argument, let's just assume that "work" means "Midtown", where oversized Irish pubs cater to oversized Irish bankers who are definitely going to crush a few Foster's oil cans from the Penn Station platform beer carts on the way home. But in that parched desert of a neighborhood, Lantern's Keep is a veritable oasis of craft cocktails, marble two tops, and stately library decor.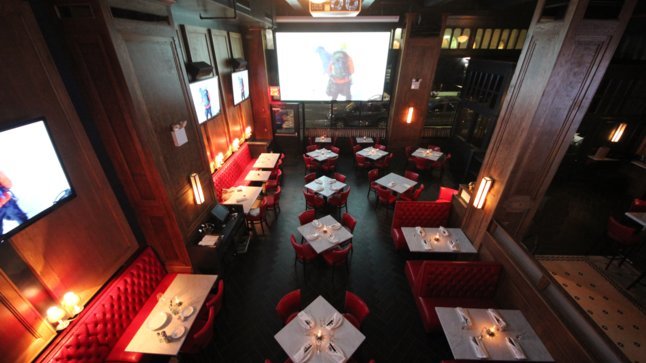 Best Near Penn Station: Speaking of Penn Station, finding a proper place to get warmed up before a game or a show can be harder than a slap shot by, uh, some dude on the Rangers who has a wicked hard slap shot. Fortunately, Pennsylvania 6 has a top-notch craft beer program, a cocktail menu heavy on housemade syrups, and a raw bar where you can take down bi-valves before the Knicks give you a playoff coronary.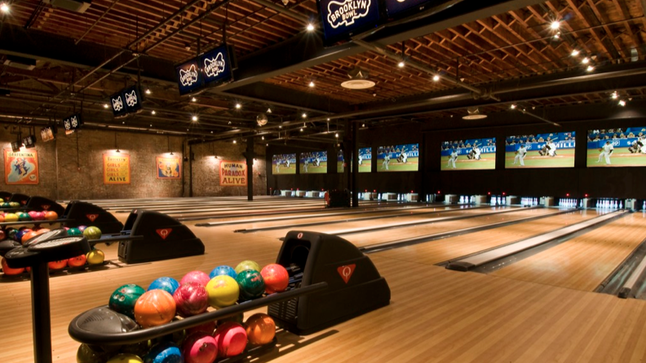 Best for a Group: The cavernous environs at Brooklyn Bowl are tailor-made for roving hordes. Grab a few lanes to secure some elbow room, then abandon it in favor of the dance floor once you tire of listening to your buddy's fiancee's friend Chad make excuses about how there was only candlepin bowling at Bates. Come on, Chad, everyone knows you're just compensating for not getting into Amherst.
Best Late-Night: Flashdancers? Yeah. Flashdancers.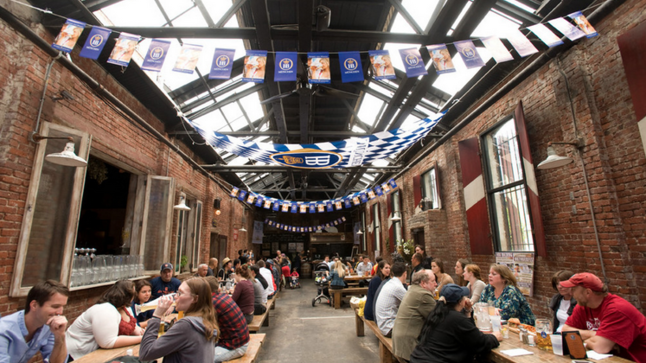 Best Place to Day Drink: Radegast may not have a proper outdoor space, but it's still the best biergarten in the city, and the enormous skylights that sit atop its brick-walled interior lend an airy enough feeling to fuel a full day of boozing. Throw in daily live music, liters of Teutonic brews & a daytime sausage stand, and you have every reason to demolish your chances of going out that night.
Best Jukebox: The HiFi Bar on Ave A had a custom PC jukebox named El DJ built for their opening more than ten years ago. The playlist is heavy on indie, but each of the 4000 songs was handpicked to build the "ultimate record collection", so you'll find everything from '40s Sinatra to current pop hits. It's a rare personal touch in a city where most jukeboxes can be dominated by anybody with an iPhone app and an inability to reign in their digital spending.
Best Backyard: Restos beer-centric offshoot The Cannibal gets the nod here for a few reasons, most important among them being the massive beer selection, offal-heavy bar snacks, and the fact that even on a perfect summer day you're guaranteed a handful of the 30 or so seats in their heated backyard will be open.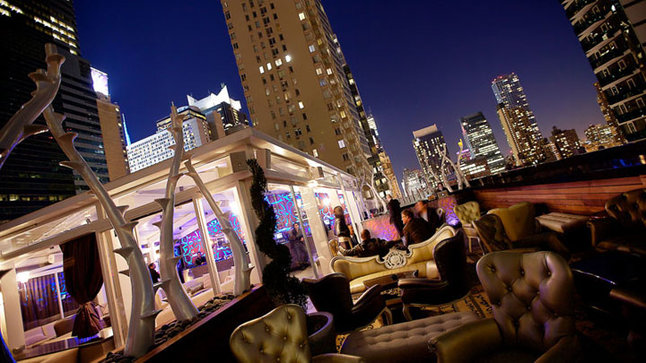 Best Roof: So long as its nice out, people will put up with pretty much anything just to be on a roof, which explains why so many of them reach so low. I have to give props to XVI Lounge for at least coming up with an (admittedly ridiculous) concept and executing it, even if decor at this "Versailles in the Sky" is equal parts Marie Antoinette and Edward Scissorhands.
Hottest Girls: It's either an improbably well-kept secret or an unrecognized fact, but due to our rigorous work weeks and northerly latitude, New York lacks the writhing mass of hot bodies seemingly spawned by beachier locales. Looking good means you either don't need a job or you've put in hours of effort before walking out the door, so frankly Meatpacking is probably your best bet. If you aren't doing bottles, the Biergarten at The Standard is low-key enough to let you in, and outdoors enough to promote summertime attire, so it has that going for it.