Now that the McCarren Park pool is back to being an actual pool, the parties will just have to take place on a rooftop high above it, thanks to another actual pool -- the one atop King & Grove Hotel in Williamsburg. It's been undergoing a lot of changes recently and, perhaps the most important, is the redesign and relaunch of its rooftop bar now known as Upper Elm (Elm is the Paul Liebrandt-captained resto opening on the ground level later this Summer), followed very closely by the reopening of its saltwater pool, which makes it just like going to the beach, except, you know, none of that annoying sand.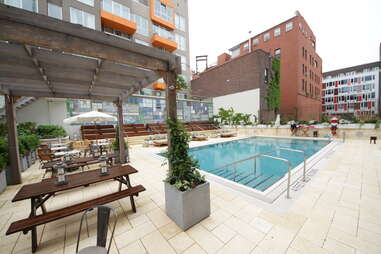 Here's the pool -- it's got expanded seating, a giant new mural, and food like a shrimp tempura BLT, lobster lettuce cups, and a white cheddared, dry-aged burger, which is the perfect complement to the people dry-aging themselves poolside all summer.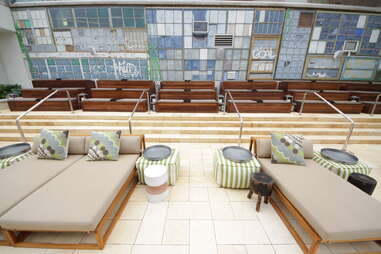 Access to the pool will run you $35 on weekdays and $45 on weekends, and seating is first come-first serve, so definitely beeline for one of the day beds.
Back up top, the roof bar has wraparound views of the park and skyline, as well as space for DJs and live music to fuel the reggae-themed Sunday evening industry night (specials for food & beveragers!). While any/none of those things are happening, get down with a new set of cocktails from Johnny Swet of Jimmy at The James and Rogue & Canon.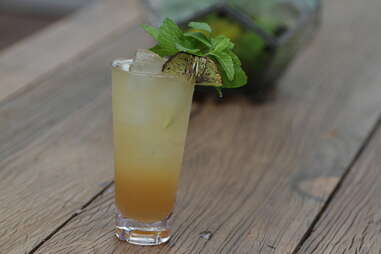 Rooftop mojitos are consistently excellent. These are extra-excellent thanks to a touch of smokiness from the grilled lime.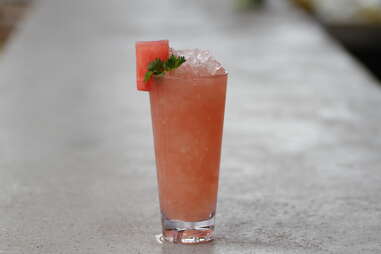 Fact: watermelon is the most refreshing fruit (sorry, clementines), and it only gets more so when booze is added. The Fresca de Sandia is loaded up with tequila, muddled watermelon, agave, and cilantro.
Tequila, lavender bitters, honey syrup, St Germaine, and mezcal make up the Beehive, which is now more than just a hairstyle that's due to make a comeback on the Williamsburg streets below any day now.