Panna II

| Flickr/Kevin Christopher Burke
Panna II

| Flickr/Kevin Christopher Burke
New York City's restaurant scene is the best in the world with the prices to match. On top of your $40 entree, some spots will have the nerve to charge you $10 for a beer, and the average craft cocktail pricetag inches closer to $20 with every passing Restaurant Week. Don't even bother with the wine list. Maybe that bespoke, CBD-infused, cucumber-saffron cocktail is worth the Andrew Jackson (it's not), but who wants to shell out that much cash every time they want a drink or three with dinner?
For those of us who aren't living it up like some kind of Goldman Sachs goblin or Timothée Chalamet, there is a loophole: BYOB. There are still plenty of places in this millionaires' playground where you can enjoy a meal with bodega beer, leftover airplane liquor, or a bottle of wine you stole from your neighbor's housewarming party. Here are all of the best local spots to grab a bite with your own booze. Though when you think about it, everywhere is BYOB if you're sneaky enough. . .
Long Island City
Perplexingly located in Long Island City, Astoria Seafood is BYOB with a side of DIY. Choose your own uncooked crustacean, mollusk, or whole fish from ice tubs in the back, hand it over to the kitchen with your preparation request, and sip from a magnum of twist off wine while you wait. (You could bring something harder, but good luck getting a mixer at this no-frills joint.) Perpetually crowded and understaffed, expect to wait for a table, wait for plastic cups, and wait for the best grilled octopus and lemon potatoes you've had in LIC or Astoria. You'll be glad at least you're in control of the booze amid the dining room's charming chaos.
Carroll Gardens
The simple, thin-crust pies at Lucali have captured the palate of practically every pizza-prizing New Yorker out there -- Beyoncé and Jay-Z included. Its BYOB feature (beer and wine only) partially makes up for the cozy spot's inconvenient cash-only policy and occasional hours-long wait times. Block off an evening, pick up a six-pack, and order an extra pie with all that cash you saved on spirits.
Chinatown
Over the years, this booze-free Mott Street spot has ironically housed -- however briefly -- some of the most interesting wines on the market. More than two decades ago, some of the city's top off-duty sommeliers started a monthly tradition to share delicious duck and bottles of wine from their private collections. The eponymous waterfowl is carved tableside and accoutrement like spare ribs arrive drenched in honey sauce. The somms instituted a $100 per bottle cap, but you can probably find five flavorful selections for that much dough.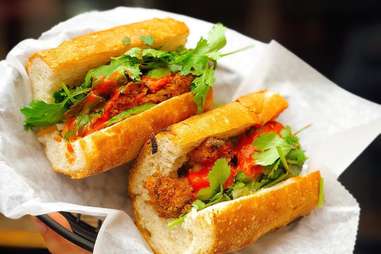 Bed-Stuy
Detox at Toad Style with clean vegan dishes like the BBQ-pulled jackfruit, and the lentil patty burger, and re-tox with a light, floral beer like the Transmitter S9 Noble Saison, which comes in shareable large-format bottles. For something harder, order a cold-pressed juice, and spike it with an airplane bottle of booze.
Cobble Hill
You will never have to wait for a table at Zaytoons. It's easy to miss among Smith Street's newer, shinier, buzzier restaurants, but it's got one thing those other spots don't have: no booze. Because you bring your own! Pita sandwiches are hearty, mezze platters are fresh, and the cooks have mastered the art of seasoning zaatar. Its relative unpopularity makes it great for last-minute group get-togethers, and a tidy little sidewalk patio is ideal for lingering over bottles of rosé you picked up on the way.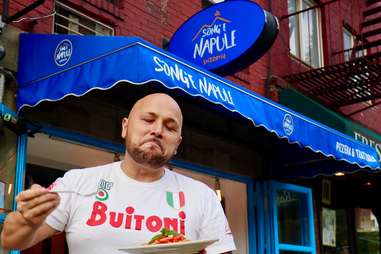 Greenwich Village
It's a good thing this cramped Neapolitan pizza joint is worth a visit even without the sweet BYOB savings -- it has a $20 corkage fee. But grab a $10 bottle from the Best Sellers section at nearby Astor Wines and Spirits, and you'll still be able to enjoy your selection with a wood-fired pie for less than a typical area price tag.
Crown Heights
Just down the road from its previous location, The Islands 2.0 is is a sleeker, more comfortable version of its formerly cramped self, with one key remaining quality: it's still BYOB. The Caribbean eats here skew spicy, so grab a crisp, dry sauvignon blanc to enjoy with your curry goat, jerk lamb, and oxtail.
West Village
You have to jump through a few hoops to dine here. It's tiny, cash-only, and there's always a wait. But it's worth it to BYOB to this quaint little French bistro that feels like a clubhouse. Classic Parisian plates like escargot and bouchee a la reine are reliably tasty and pair perfectly with Champagne -- which is a little more within reach without the requisite restaurant markup.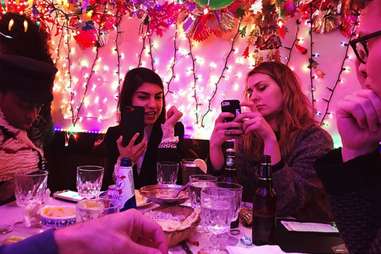 East Village
This place is like a big ol' holiday party, and everyone's invited! The dining room is enveloped in a tangle of string lights in seemingly every shape and color ever manufactured. It's gaudy, it's resplendent, and it's probably a nightmare to dust. Come by to celebrate the liquor laws that make these beautiful BYOB policies possible with a few bottles of spice-cutting riesling to sip over affordable, tasty Indian fare.
Bushwick
As with many Brooklyn favorites, this tortilla factory is hidden away behind an unassuming storefront on an otherwise industrial block. The converted garage space is perfectly unpolished, allowing freshly made tortillas to shine. Tacos are filled with all the expected proteins and none exceed $3. Take a few cans of Tecate (or, if you provide the mezcal, they'll provide the rocks), and soak in the unpretentious authenticity.
Lower East Side
Spicy Village is a cool, classic downtown spot with a cult following of take-out customers. For the best Henan kitchen experience, opt to dine-in, and tackle the house specialty: an enormous platter of mouth-numbingly spicy chicken. The truly brave should bolster the fire with a bottle of red, which will exacerbate that heat.
Sign up here for our daily NYC email and be the first to get all the food/drink/fun New York has to offer.