Danny Meyer, master of Shake Shack, tons of other great restaurants, and now, pretty much all your money, has for some reason never opened a standalone bar. Well, that's all changing with the opening Monday night of his first-ever standalone boozery, Porchlight, a Southern-inspired cocktail joint in the far western reaches of Chelsea.
Located nearly on the Hudson River at 271 Eleventh Ave in the historic Waterfront New York Building, Porchlight boasts a cocktail menu that is basically Southern flavors meets New York state of mind, with drinks like the the Sazerac, the Sherry Cobbler, the Storm's Brewin', and the Whiskey & Cola made more "compelling and complex" by the inclusion of their own cola syrup they make from scratch, corn whiskey, and a bit of Fernet. 
Recommended Video
This Shop Serves Over 10 Types of Bao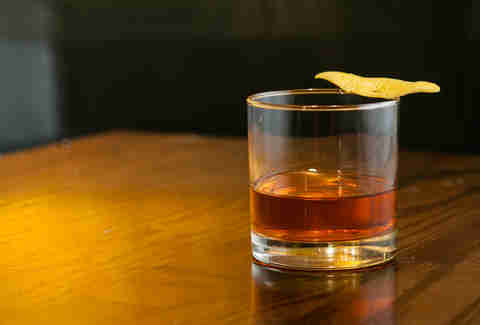 Complementing the cocktails is a big list of American whiskey and rye, eight draft beers, wine on tap, and 10-15 beers in bottles, some of which are from local New York breweries and Southern breweries. As for food, Chef Jean-Paul Bourgeois's menu of bar bites screams Southern soul food with things like a bison burger, fried frog legs, and jalapeno-cheddar cornbread.
And if drinking, eating, and chilling the hell out in a rocking chair is for some reason not enough for you, head to their game room, which can also be rented out for private parties. 
Tony Merevick is Cities News Editor at Thrillist and could really use some bourbon and some sort of fried food. Follow him on Twitter @tonymerevick.