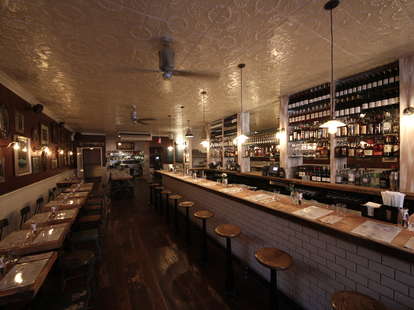 Sure, you can write all over menus/yourself at outposts of The Meatball Shop all over the damn place, but the Chelsea location is the only one in Manhattan with a full-on liquor license (Williamsburg's got one), and the only one in the entire city with a subterranean bar called "Underballs"
Mark up your menu and choose your own meatball adventure: instead of forcing someone to cut a deal with a voodoo master in their uncle's antique shop, this one produced spicy pork & mozz on brioche
Of course there'll be new ball-age rolling in and out as the meatball brain trust convenes, including this "Johnny's Johnson Ball" made from bratwurst and topped in a beer-infused mustard sauce
To infuse yourself with beer, head down the stairwell marked with Downtown News and Underballs signs just to the left of the open kitchen to find a bar with but one rule: "refrain from all douchebaggery"
Here it is: tiled bar, perma-lit-up windows, and just enough space and projection screens (one!) to throw a badass private party. You can also just stake out a seat at the bar and grab drinks, or take down their full menu without the hassle of putting your name in upstairs and waiting
The cocktail menu is focused into just a few categories, starting with Homegrown Classics employing local indie small-batch spirits, like this brass-mugged Moscow Mule loaded with Brooklyn Republic Vodka
They did it. They went and made a Whiskey Grid..
...which will ensure you're off the grid after enough of these beautiful Manhattans
And then there're "Shop Specialties" that include this Whiskey Float with citrus liqueur, root beer, and house-made vanilla ice cream. There'll also be a daily Jelly Shot (they can't call them -O, because of hyper-litigious Jell-O Shot lawyers) like the Tequila Sunrise with gummy worms
And there's purple drank! Here it's actually called Fool Aid Punch, and it's served by the glass, carafe, or quart, which are actually old milk jugs from the '30s that someone literally went and dug up from some upstate forest. This is apparently something that happens
The owner's mom picks a mascot for each location, and this is the one for Chelsea. They say it's Eleanor Roosevelt, not Charlize Theron like our Editorial Assistant thought. Either way, she's a babe.