The basement of the Hotel Americano (which is topped by La Piscine/ Conosur) is being taken over by one of the biggest mind-bang bars you'll ever see. It's thanks to the unique and occasionally vertiginous genius of Tobias Rehberger, a German artist who set out to create a "sculptural artwork" that doubles as a fully functioning bar and a "second edition" of the original Bar Oppenheimer in Frankfurt.

Basically, you need to check this goddamn place out. It's like drinking in a Mad Hatter time warp, mixed with an MC Escher drawing, mixed with that scene in Labyrinth where Jennifer Connelly realizes it's not actually all just one straight line. Perhaps less importantly, it's serving two specialty drinks, the Vodka Stein (essentially lime juice and vodka), and a tequila passion fruit concoction with a dash of tabasco. Now scroll through the photos below, while holding onto a railing if you need to, and go check this place out.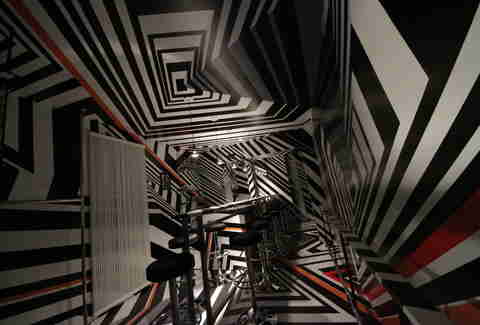 Previous Venue
Next Venue
Venue Description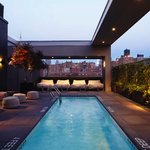 1. Hôtel Americano
518 W 27th St, New York, NY 10001 (Chelsea)
A boutique hotel in Chelsea, Hotel Americano's got an awesome rooftop pool and patio with great views of the city. It also houses two gourmet restaurants and several spots for a good 'tail.