Your two-item summer bucket list: 1) get out of NYC, 2) drink. Check them off at THE SAME TIME with one of these 11 drinking field trips, all of which you can use public transit to get to from Manhattan, then drink all damn day, and still get home at night.
Distance from Manhattan (Distance measured from the Thrillist HQ in SoHo, because we're skipping work and doing all of these, duh): 62 miles
Travel time: Around two hours by train, 1.5 hours by car
How to get there: Routes vary, but your best bet is to start from Penn Station and take the North Jersey Coast Line to the Port Jervis Line to Salisbury Mills-Cornwall, then cab it 3.6 miles to the winery.
Brotherhood is America's oldest winery (established in 1839), and after all these years, it still hosts tours and tastings every day (get a $10 pass for both) along with special events like the Spring Fling and the Wine & Beer Festival. Important if you get hungry while tasting: there's also a restaurant, the Vinum Cafe, inside the original building's main floor.
Recommended Video
Where to Get the Best Waffle Fries You'll Ever Eat
Distance from Manhattan: 16 miles
Travel time: One hour by train
How to get there: Take the 4 or D to Fordham Rd. Head east on 188th St and take a right on Third Ave, left on East 187th St, and right onto Arthur Ave.
Okay, we know, the Bronx is not technically out of New York City, but unless you live there, it's far enough of a trek to make it field trip-able. Nestled inside of the Arthur Avenue Market (like, literally, it's right in the middle of what's essentially an Italian food court), BBH pours a solid selection of New York brews that oftentimes include limited-release craft beer kegs. It's got eight-ish bottled beers, plus five taps, which this month include beers from Braven Brewing Company, The Bronx Brewery, Finback Brewery, Flagship Brewing Company, The Gun Hill Brewing Company, and The Newburgh Brewing Company, which you can order in a 32oz Papa's Pint (definitely do this), as a four-beer flight, or by the pitcher.
Yonkers
Distance from Manhattan: 19 miles
Travel time: One hour by train
How to get there: From Grand Central Station, take the Hudson Line to Yonkers.
Yes there's a totally legit booze scene to be enjoyed here, and you can start enjoying it as soon as you pull into the Yonkers train station, where you'll find yourself overlooking Yonkers Brewing Co. in Getty Square, right beside the Hudson River. It's got a ton of dope food (bocconcini, Bavarian pretzels, crunchy country chicken, churros...), free guided tours every Saturday and Sunday on the hour from noon to 4pm, and the taproom hosts regular events like Movie Mondays, Live Music Thursdays, and Detox & Retox Sundays (do yoga, drink beer).
From there you can Uber over to Yard House -- this California-born chain rocks over 100 local, regional, and international beers (which you can order in massive half-yard glasses, boss-style) and eats like Korean barbecue tacos, loaded mac 'n' cheese, or just a solid club sandwich.
The Empire City Casino at Yonkers Raceway also has a solid booze spot to pour beer in your face, starting with Dan Rooney's Sports Pub, which has its own Yonkers Brew Co. beers (including a "Rooney's Honey Blonde Ale" and "Rooney's IPA"), 12 pump-action taps, 23 whiskeys, 35 TVs, and rotating collectable growlers. Oh right, and it's run by the same family who owns the Pittsburgh Steelers. So, there's that.
Distance from Manhattan: 27 miles
Travel time: One hour by train
How to get there: From Penn Station, take the LIRR Long Beach Line to East Rockaway, then walk one-fifth of a mile.
This Long Island brewery has some serious street cred in the city, and for damn good reason: it was an honorary member of Queen's Beer Week, it recently won the Governor's Cup for best beer in New York State at TAP New York for its SmackDab IPL, and it's constantly taking over taps across the five boroughs. Hit the brewery (which, by the way, was destroyed by Sandy and then rebuilt better than ever), and then, if you're hungry, step up to the one-third-pound lobster roll at Poseidon's Kitchen, a food truck that's pretty much always parked by the door.
 
Distance from Manhattan: 27 miles
Travel time: About an hour by bus/car
How to get there: Take the 167 bus from Port Authority to Schraalenburgh Rd at Cedar Ln, then take a taxi 3.7 miles.
The '76 House is the oldest known bar in New York State. Established in 1755, the institution earned its cred as a national landmark before the word "national" was even a thing here. After 260 years in business, the restaurant and tavern is still renowned for serving quality food and drink to its patrons, currently credited to American cuisine chef, Doug Mulholland. Grab one of its signature cocktails and settle in for live music and alllllllll the history, seven days a week.
Distance from Manhattan: 28 miles
Travel time: One hour by train or car
How to get there: From Grand Central, take the Harlem Line to Valhalla. Then take a taxi three miles west.
You may know Captain Lawrence thanks to the Captain's Kolsch or Liquid Gold, but what you may not know is that the brewery's tasting room pours a myriad of mouthwatering beers that you've probably NEVER heard of. Try the Freshchester Pale Ale, Brown Bird Brown Ale, or something from a Pilot Batch, like the Beam Me Up Scotch Ale (brewed with smoked and peated malts), Kaboodle stout, or Helles Hot Munich lager. Take your samples to the backyard, where there are picnic tables to sit at, barrels to lean on, and cornhole pits. Pro tip: bring cash; beers are sold by the token, and you'll need dough for the tip jar.
 
Peekskill
Distance from Manhattan: 47 miles
Travel time: 1.5 hours by train or car
How to get there: Take Metro-North's Hudson Line toward Poughkeepsie to Peekskill.
Peekskill Brewery is just a few steps from the Metro-North train station, and once you make those few steps, you'll have access to a diverse selection of thoughtful, house-made beers, as well as craft spirits from excellent distilleries both local and distant, all used to fill #important cocktails like the Bacon Bloody Mary. The food menu falls somewhere between pub grub and fancy fare. Note: there is poutine, and there are three versions of it.
Walk off those three plates of poutine for all of 15 minutes and you can find yourself at acclaimed craft beer bar Birdsall House, which slings some of the best suds in Westchester by the bottle and draught. Originally famous for its beer-inspired dinner cuisine from Chef March Walker (the kitchen is now led by Krista Espinal), beer has sort of stolen the show at the craft beer gastropub (which also serves cocktails, wines, and whiskeys).
Distance from Manhattan: 72 miles
Travel time: 2.5 hours by train
How to get there: Take the Hudson Line from Grand Central Station toward Poughkeepsie. Exit at Beacon. Hop on the NY Waterway taxi (Beacon and Newburgh Line) for a one-minute ferry ride, then walk seven minutes south to the brewery.
Up north in a strange little place called Newburgh, a brewery sits on the Hudson River, where it brings a bit of heart to a "tough-minded town" (their words, not ours). In just under three years, the the brewery has churned out more than 30 different beers (it specializes in sessionable beers), most of which you can check out during either weekday and weekend tours, or in the brewery's beer garden, which also features cornhole and board games. If and when you get here, there's a good chance you won't want to leave. Like, ever.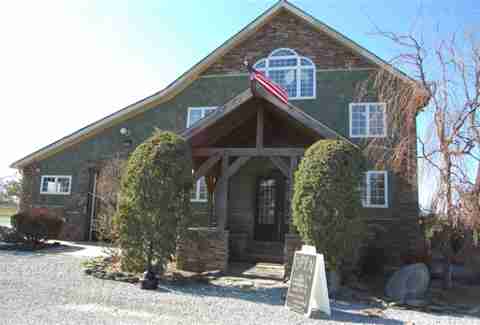 Distance from Manhattan: 74 miles
Travel time: 2.5 to three hours by train
How to get there: From Penn Station, take the LIRR Ronkonkoma Line to Riverhead, then taxi 4.2 miles.
This North Fork farm-to-bottle operation is touted as Long Island's first craft distillery and home of LiV vodka. The small batch distillery is surrounded by 5,000 acres of potato farms and offers handcrafted vodka and barrel-aged tastings every day of the week for those hardcore enough to spend an afternoon sipping ethanol's consumable cousin, plus tours are available on weekdays by appointment.
Distance from Manhattan: 75.5 miles
Travel time: 2.5 hours by train
How to get there: From Penn Station, take the LIRR Ronkonkoma Line to Riverhead, then walk about three-tenths of a mile.
This is pretty much the most fun adults can have in a group activity with strangers. Giving the illusion of productivity while actually requiring minimal effort, Brew Crew Cycles involves a bunch of beer-loving grownups working together to pump a 14-person bike to three breweries in Long Island's East End: Crooked Ladder Brewing Company, Long Ireland Beer Company, and Moustache Brewing Co. There's no better way to give your beer gut the workout it deserves. Except for maybe situps.
Greenport
Distance from Manhattan: 98 miles
Travel time: Three hours by train
How to get there: From Penn Station, take the LIRR Ronkonkoma Line to Greenport.
Greenport is a small seaside village in Suffolk County on the North Fork of Long Island, where you can slow down and cool off with fresh seafood, beers, and wines. Start at the original Greenport Harbor Brewing Co., which offers tours Friday through Sunday, during which you can enjoy a Black Duck Porter -- a favorite for its full body and surprisingly mild hop character packed into a sessionable 4.7% ABV -- or try the seaside brewery's Other Side IPA, which nods to the West Coast IPA style with three types of brightly balanced hops.
For dinner, head over to Claudio's Clam Bar (111 Main St), part of Claudio's Restaurant, the oldest restaurant in Suffolk County specializing in seafood and steaks. Founded in 1870 and still managed by the same family, the restaurant is a destination in and of itself, but its harbor location and surrounding village are what make it prime day trip material. On Saturday afternoons, the wharf is a perfect place to hang out, enjoy a cocktail on the water, and listen to live bands play while you keep trying to refresh Instagram.
Sign up here for our daily NYC email and be the first to get all the food/drink/fun New York has to offer.
Cat Wolinski is freelance writer who only takes trips if beer is involved. Follow her love affair with beer and brewing on Twitter and Instagram @beeraffair.