Alex Day's first drink at the East Village's Death & Co. was an Aviation, the classic gin cocktail made with maraschino, lemon juice, and crème de violette. It was unlike any drink he'd had anywhere else. "My first visit changed my perception of what a drink could be, and made me so excited about learning more," says Day, who was fresh out of college at the time and working at another bar in the city. "Eventually," he says, "I tricked [Death & Co. co-owner David Kaplan] into giving me a job."
Of the bars that have fueled the modern cocktail revival, Death & Co. has had one of the greatest influences on bartenders and drinkers alike since it opened 10 years ago. Though it wasn't the earliest pioneer of the craft cocktail bar revival in NYC, it fueled the public's interest in classic drinks while simultaneously ushering in a new era of creativity, launching all kinds of "modern classics" that are now served at bars from Portland to New Orleans and back to Midtown Manhattan.
Reflecting on the bar's 10-year history via email, Day -- who ultimately became a co-owner at Death & Co, as well as multiple other bars -- is nostalgic: "It may be a bit sappy, but it still blows my mind that I'm an owner of the bar that literally changed my life and inspired every aspect of my profession."
When Ravi DeRossi and David Kaplan opened Death & Co. in January 2007, the cocktail revival was still in its infancy. Most of the country was living in the dark days of vodka sodas and rum & cokes, and cocktail bars were a novelty -- even in Manhattan. There were only a handful of bars dedicated to reviving the craft -- places like Angel's Share, Milk & Honey, Employees Only, Flatiron Lounge, Little Branch, and Pegu Club -- each catering to a tight-knit community of cocktail fanatics. "There was an identifiable community, both of bar professionals and enlightened drinkers," says Robert Simonson, whose book, A Proper Drink, retraces the rise of the cocktail renaissance (including D&C's role in the movement). "Death & Co. was the direct result of that groundswell. Indeed, it couldn't have happened without it, since the bar drew its opening staff from other existing craft cocktail bars."
The cocktail scene in New York was small enough at the time that people in the industry would keep written notes of where they could find their favorite bartenders on any given night, since many worked shifts at multiple bars. "It was a very, very special time," says Joaquín Simó, one of Death & Co.'s original staffers, who would go on to open the acclaimed Pouring Ribbons. "There just weren't that many people. You had a piece of paper in your wallet with everyone's name. One night was this person at Little Branch; one night was that person at Milk and Honey. And you just followed the bartender."
If anyone could expand the reach of this distinct subculture, Kaplan and DeRossi were far from the obvious suspects, neither having real connections to any of the city's existing cocktails spots. In 2006, Kaplan was a 23-year-old transplant from Jackson Hole, Wyoming, who spent his nights hopping around the NYC bar scene, dreaming of opening his own place. DeRossi was the owner of the Bourgeois Pig, a small but popular wine-and-cheese spot in the East Village (that would later move to the west side before closing), which Kaplan also happened to live above.
The two pooled their resources and leased a defunct restaurant space on East Sixth St. Inspired by a piece of pre-Prohibition propaganda, Kaplan proposed the name "Death & Co.," which was also the title of a short story by Dashiell Hammett, a detective-novel writer he liked.
The physical space would set the tone for the experience at Death & Co. The dark interior, gothic accents, and vest- and tie-clad bar staff embodied an air of sophistication early on. It felt like the kind of place you couldn't get into (and often you couldn't). Both Kaplan and DeRossi had spent time creating visual art, which helped when it came to designing the room. "The space is meant to exude a sense of permanence -- like Death & Co. has been there, hiding in plain sight, all along," says Kaplan, who oversaw the design -- from the hardwood floors to the antique chandelier to an unfinished-looking left-side wall. "There's an edginess to the room that comes from the roughly textured and color-washed west wall. I didn't want the room to feel too finished or polished."
When it opened, the bar stood in stark contrast to the neighboring cafes and restaurants with outdoor seating and walls full of windows. Death & Co. had no windows; no natural light. It combined the mystery of a speakeasy with an understated gothic sensibility.
Though the young owners had a strong vision for the place, they also understood their limits. "We were smart enough to hire people that were smarter than us," says DeRossi, who has gone on to open several neighboring cocktail bars, including Amor y Amargo, Mayahuel, and Mother of Pearl. That self-awareness led them to do something completely novel in the industry: give creative control of the bar program to the actual bartenders. "Dave and I managed the bar, but we hired amazing bartenders who knew way more than we did, so it made sense to trust their expertise."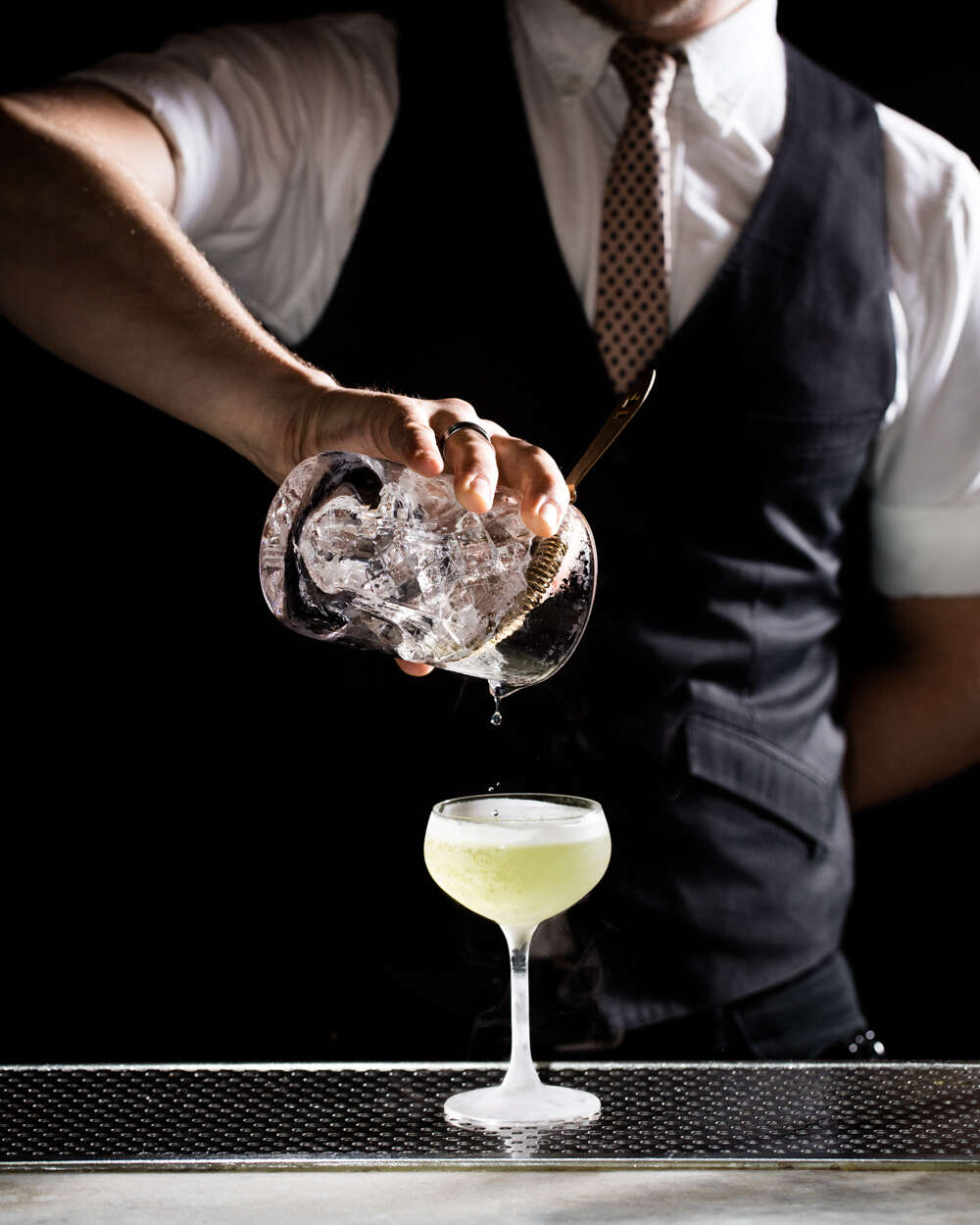 This was a big departure from predecessors like Milk & Honey, Flatiron Lounge, Pegu Club, and the bar at Gramercy Tavern, where bartenders had some influence on the menu, but didn't have the final say in things. That all changed with Death & Co. "It was the final step in mixologists becoming masters of their domain," says Simonson. "They could call all the shots as to how the bar operated and what was on the menu." This shift in power had a direct impact on the drinks -- instead of focusing on classics that customers knew well, Death & Co. bartenders made drinks that guests never knew they wanted, and their newfound autonomy allowed them to come up with different ways of making drinks faster and more efficiently.
To build up a strong team of bartenders, Kaplan and DeRossi went about hiring top talent that had worked at other cocktail bars. Jim Meehan, owner of another influential East Village cocktail bar, PDT, would later compare the bartenders at Death & Co. to the New York Yankees -- essentially, a team of All-Stars, collected through free agency. Initially, these were bartenders from other New York bars, but eventually D&C would hire people from other cities, too.
The first to come aboard was Phil Ward, a seasoned bartender who had previously worked for early ambassadors of the NYC cocktail revival -- like Julie Reiner of Flatiron Lounge and Audrey Saunders of Pegu Club -- and would later go on to open the tequila-and-mezcal-heavy Mayahuel with DeRossi. In the infamously skeptical style that has helped define his legend, he reverse-interviewed Kaplan several times to make sure it was worth the risk. A short time later, Ward recruited a fellow Pegu vet, Brian Miller.
Joining up with two 20-something entrepreneurs with no real cocktail experience was ballsy, but the promise of creative freedom was too good to pass up. "It was pretty amazing to be given that freedom," says Miller. "I think the best thing Dave did was step back and get out of our way. Dave gave us just about everything we could've wanted and we all took advantage."
With their resumes and unrivaled freedom to create, Ward and Miller set an impressively high standard for the bartenders that would come after them. "A lot of the amazing bartenders that opened D&C were trained by the people who started bringing back proper drinks in the early 2000s or before," says former Death & Co. bartender Jillian Vose, who recalls being "terrified" when she joined D&C four years after it opened. "They were one of the first bars to take the classics they learned and use them as templates." In her current role as beverage director at both the Dead Rabbit and BlackTail, Vose still uses what she learned from Miller and Ward. "Brian's flavor combinations are forever engrained in my brain," she says.
Another tool Vose admits to still holding onto is Ward's commonly cited "Mr. Potato Head" theory, wherein the ingredients in classic cocktails are replaced with alternatives that serve a similar role (sweet, bitter, boozy, citrusy, etc.) -- similar to the interchangeable parts of the classic children's toy.
Miller first remembers Ward using the Mr. Potato Head theory at Death & Co. with a variation on the classic Last Word cocktail, replacing gin with rye and lime juice with lemon for a drink he called the Final Ward. But perhaps the most famous example is Ward's Oaxaca Old Fashioned, which appeared on the bar's very first menu and would go on to become one of its signature drinks. To make it, Ward swapped out the traditional Old Fashioned's whiskey base in favor of tequila and mezcal (the smoky agave spirit was still relatively obscure in NYC at that time) and opted for agave syrup instead of real sugar. The "Mr. Potato Head" technique would become an integral part of the Death & Co. menu development process. Though Ward may have picked up on something others were doing at Pegu or Flatiron, he fully championed the method and coined the term, effectively creating a template the D&C bartenders could use while still injecting their own personality and creativity into the drinks.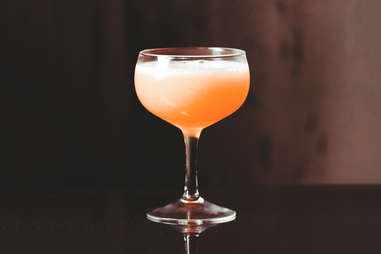 If you want to make Death & Co. bartenders' favorite drinks at home, check out five great recipes here.
While the opening menu included just seven originals, the list would soon balloon to nearly 100 -- a ridiculously excessive sum by New York standards at that time. Given all the flexibility, D&C bartenders would also change the list frequently. Even regulars would have a hard time trying everything before the next iteration. It may not have made a lot of business sense to constantly retrain staff and stock pricey inventory for so many drinks, but it made for a motivated team of bartenders and kept customers coming back to see what they'd do next.
An early protege of Miller and Ward, Joaquín Simó, made his own mark at D&C by incorporating all kinds of freshly juiced vegetables into his cocktails -- a move that seized on a larger juicing craze as well as the growing farm-to-table movement in NYC kitchens. But it also created a lot of extra work, both in terms of physical labor and accounting. "Joaquin juiced just about every vegetable under the sun," says Miller. "When I took over as head bartender, one of my first tasks was to price out the menu. It would've been easier to bend a spoon using my mind than to figure out the price per ounce of juicing a red pepper."
But the owners never said no to these experiments, some of which forced the staff -- out of necessity -- to create extraordinary efficiencies that changed the way cocktail bars operate. Death & Co. bartenders prided themselves on mise en place -- creating elaborate workstations where drinks could be banged out as quickly as possible. And even several years after opening, important innovations were still being made. For instance, the bar was among the first to begin using so-called "cheater bottles": unmarked containers of pre-mixed ingredients for popular cocktails that were kept within easy reach to speed up the drink-making process. But soon after Vose joined the team in 2011, she created "an even bigger mise en place than before," she says -- lining the bar with "tiny, tiny, little bottles to use during service," effectively giving bartenders instant access to dozens more ingredients.
The complexity and breadth of the menu required such attention to detail. "Simple drinks? We didn't do that when I was at D&C," says Miller. "All the people I worked with there oozed passion, creativity, and professionalism. Nearly every shift there was like a workshop. We all were constantly creating. And some of our regular customers became a part of that process."
Generating all sorts of press, including a prominent mention in the New York Times, Death & Co. instantly became one of the city's most notoriously hard-to-get-into bars and created far more demand for cocktails than the city had seen at that point. Though there was a no-reservation policy, a bouncer ensured no one walked in without an available seat. The intent was for D&C to keep a manageable and civilized room where customers could interact with bartenders and learn about the cocktails.
Taking a date to Death & Co. and actually getting in was equally as impressive as scoring a table at the original Momofuku back then. The challenge was arriving in time to get seated without having to leave your cell number and then wait for a call-back. But that was also part of the fun. D&C wasn't quite as strict as Milk & Honey when it came to its rules (a list of no-nos was posted on M&Hs bathroom wall: "no name dropping, no star fucking"), but it did restrict the use of flash photography to allow people to be able to focus on the menu and the experience. These days, you can probably get away with snapping an Instagram -- though the strict bouncer system remains unchanged.
Despite the long waits and pricey drinks, the place really did live up to the hype -- mainly because the staff was so committed to making the effort worthwhile. "We wanted to give people an exceptional experience so they would come back and take the risk to try to get in," says Kaplan.
Despite all the accolades, however, the bar's existence was in constant jeopardy almost from the beginning. Trouble started in early 2007 when D&C applied for a renewal of its liquor license, which it inherited from the previous restaurant tenant. The license was set to expire just two months after the opening -- something that would prove difficult due to ongoing obstacles brought on by a confusing regulatory process and concerned neighbors who thought the new bar would disrupt their standard of living.
The New York State Liquor Authority (SLA) had cited several allegations against the bar: complaints from neighbors; a story in community newspaper The Villager about zoning violations (the charge of operating less than 200ft from a synagogue was later debunked); an unlawful name change that one neighbor said "frightened people in the community"; noise; and misrepresentations of business practices such as actual closing time and the required service of food. But the SLA's own inspectors, as well as officials from the Buildings Department, found no significant zoning or business practice violations. In November 2007, after a year-long investigation by the SLA and regular visits by police, the D&C team thought things were settled with a $10,000 fine and one-week suspension of their liquor license. However, it turned out this only addressed past violations. The pending license renewal -- considered a separate matter -- was denied due to minor application errors. To stay in business, the owners would have to go on the offensive.
Death & Co. sued the SLA for denying a license without claim, and was allowed to continue operations until the case was resolved -- but there was a catch: The bar would have to stick to the 12am closing time of the previous restaurant. This was no small inconvenience for a cocktail bar, but the committed staff didn't flinch during the uncertainty of a nearly three-year legal battle that threatened the bar's future.
"Everyone stuck by us," says Kaplan. "But it was a double-edged moment where we were consistently getting phenomenal press and getting award nominations and meanwhile fighting this never-ending and arbitrary legal battle."
Even with the abbreviated hours, the bar was always full, with the line outside starting before it opened. Some patrons would stay from opening straight through last call. "We had people who would monopolize tables from 6 to midnight," says Kaplan. "People felt like they earned their right to take their time. Reservations made no sense to us whatsoever because we had no idea how long people were staying and we wanted people to feel free to spend as much time as they wanted."
Despite cultivating a loyal group of regulars, there was no preferential treatment. The first-come, first-served policy was strictly enforced. "People were disappointed, sure," says Kaplan, "but business didn't slow."
Then, in July of 2009, a New York State Supreme Court judge ruled in their favor and a full liquor license was at last secured. By the end of October, the bar had extended its weekend hours to 2am.
"The fates smiled upon us," Kaplan writes in the 2014 book, Death & Co: Modern Classic Cocktails, adding that lessons learned in those early days are still with him. "It... taught me how to deal with other people, the community, an unruly customer, or an ego -- be it a bartender's, a business partner's, or one's own. But most of all, Death & Co. has been a lesson in passion."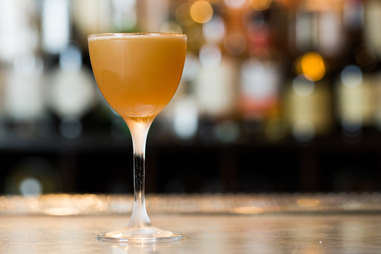 While its direct influence is hard to quantify, there's no denying that Death & Co. helped clear the way for dozens of new cocktail bars in NYC and beyond -- including many operated by its own alums. In addition to Ward, Miller, Vose, and Simó, prominent graduates include Jim Kearns, co-owner and bar manager at the Happiest Hour and Slowly Shirley; Eryn Reece, bar manager at Sons and Daughters; and Thomas Waugh, bar director for the Major Food Group (Carbone, Dirty French, Parm, and ZZ's Clam Bar).
Death & Co. led to a growing demand for quality cocktail bars across the city, particularly in Downtown Manhattan and Brooklyn. On top of that, the success of D&C and its predecessors forced upscale restaurants across town to take their cocktail programs seriously in order to keep up with changing expectations. Because of Death & Co. and its contemporaries, you can now find a great cocktail in just about every neighborhood in Manhattan.
Even a decade later, the bar is still taking the kind of risks that spawned its early success. At its 10 year anniversary party, the bar unveiled an ambitious new menu -- the first major overhaul of its drinks list in many years. The lineup includes 32 choices, organized not by the base spirit but rather by four bold categories: "In the Raw" showcases fermented ingredients in low-alcohol drinks, "Water of Life" drinks feature un-aged spirits, and "Transformation" cocktails focus on aged spirits. On the "Luxury" list, you'll find drinks with rare or "exceptional" ingredients, as well as an updated take on D&C's old Zombie Punch (an homage to the bar's early hand in popularizing punch, and a key influencer in the bar's Tiki selections that would expand over the years).
"It would have been easy to sit back and continue the status quo," says current head bartender Tyson Buhler. "The thing I've learned to love about this bar is that my co-workers and owners never saw that as an option. We wanted to try to reinvent ourselves and show our guests and peers the level of dedication and care that this staff carries out each day."
Buhler's duties will expand when he heads up the bar at Death & Co's new outpost, located inside Denver's Ramble Hotel. (He'll be overseeing the drinks at both locations.) The new endeavor is currently slated to open in February 2018 and will include original cocktails contributed by the new bar team. There will also be a major difference between the two venues: Unlike the New York location, the new spot will have a light and airy decor, high ceilings, and tons of natural light.
Through it all, D&C's core identity has remained the same. "It's been a bar that continues to attract talented and hungry bartenders that have been very successful both while at D&C and in their future endeavors," says Vose. "I, for one, am proud to have spent so many years of my career at that wonderful little bar; they were some of the best of my life."
Sign up here for our daily NYC email and be the first to get all the food/drink/fun New York has to offer.