Dom Venegas never stops filling his brain. Unfortunately for Rosetta Stone, he's focusing his adult education on spirits, not conversational Mandarin. The House of Walker™ bartender recently returned to New York from San Francisco because "it got to the point where I had a younger generation looking up at me and asking, 'What's next?' and I felt like I still had a lot left to learn."
Since he's been back in New York, Dom's helped open a glorious cocktail basement underneath Chelsea Market, as well as Jay Zimmerman's neighborhood masterpiece in Williamsburg. His most mind-expanding experience – one that required a straight month of 8am to 5pm food & drink training – has been joining Jessica Gonzalez's dream team at one of New York's finest hotel bars. "I've been doing this for more than 17 years, since before bartenders were cool, in every kind of bar," says Dom. "Dives, college bars, strip clubs… but I'd never worked in nice hotel bar. All the great bartenders back in the day, they all worked in hotel bars."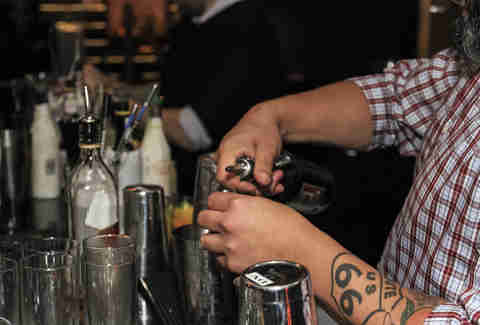 For House of Walker, Dom's cocktails started with a twist on a Rob Roy, employing Johnnie Walker® Red Label®, Angostura bitters, and Giulio Cocchi Barolo Chinato in place of sweet vermouth. This move, inspired by sommeliers at a wine-heavy restaurant he once worked at, brings seasonal baking spices into the equation.

Dom named his second offering "The Quiet Night" because, "I love apple cider as a guilty pleasure on a nice quiet night at home, which is funny, because it's never a quiet night at House of Walker." Even though it was still unseasonably hot-as-hell at the House of Walker's NYC kick-off, the Quiet Night is also tailored for Fall. It features fresh apple juice, cynar and creme de cacao from Petaluma's Tempus Fugit -- who're doing amazing things by taking terrible 1980's cremes back to their tasty 1800's roots.
Dom wanted scotch to provide the backbone without being too aggressive – a whisky drink for people who didn't know they liked whisky. It's one of two directions he sees scotch heading. The other direction is twists on old classics, and new, scotch-forward drinks that follow those same rules. "It's come a long way from the days when bars didn't have any sort of cocktail list and people just ordered Cosmos and Kamikazes."

As far as what's next for himself, the ultimate goal is to open his own place, but Dom doesn't feel he's quite done learning yet. He's definitely not ready to step out from behind the bar. "I'm like a 15-year major leaguer – my arms hurt, my legs hurt, and part of me says I shouldn't be up this late, but the other part of me still loves playing this game."


PLEASE DRINK RESPONSIBLY. JOHNNIE WALKER® RED LABEL® Blended Scotch Whisky. 40% Alc/Vol. ©2013 Imported by Diageo, Norwalk, CT.