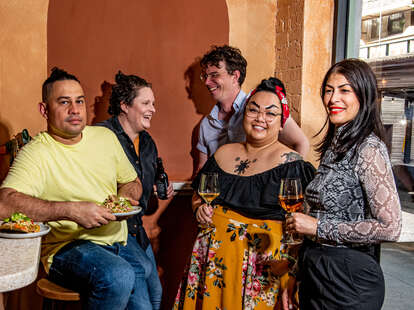 Photo by Nicholas Ruiz, courtesy of Donna
Photo by Nicholas Ruiz, courtesy of Donna
When the pandemic forced Williamsburg's Donna to close in 2020, patrons said goodbye to slushy, fernet-infused piña coladas. But the beloved tropical bar is back, this time as a worker-owned restaurant and cocktail bar in the West Village—Taylor Swift's Cornelia Street to be exact.
The bar, officially opening May 17, joins a number of food and drink establishments that have embraced the cooperative method post-pandemic, such as all-day cafe Banter and sandwich shop Sea & Soil. The West Village iteration will provide all employees a pathway to ownership, while original founder Leif Young Huckman will remain an advisor and supporter.
"Donna's new cooperative structure represents what we hope will be a catalyst for the hospitality industry as a whole—a shift towards a more equitable and sustainable model where the workers are the owners," says worker-owner Lauren Ruiz. "Compared to the vast majority of bars and restaurants, Donna's workers won't be working for a single owner. They'll be building a cooperative, sharing in the profits each year. This helps build a sense of community, fosters trust and equity, and results in less employee turnover—ultimately creating more stability and consistency throughout the business."
Donna offers a pan-Latin menu with Mediterranean influences, boasting dishes like Pork Shoulder & Charred Onion Pupusas and Whole Roasted Fish with harissa and pickled vegetables. The beverage program embraces Filipino ingredients, which show up in cocktails like the Tiny Sparrow Martini, made with Vietnamese gin and Calamansi liqueur. And of course, the aforementioned blended signature drink, The Brancolada, will be making a comeback.
The space, which draws inspiration from 20th century Latin American Concretism, was designed with an eco-conscious approach in mind. Interior designer Michael Groth incorporated geometric lime wash plaster to naturally control humidity and crafted light fixtures out of the ever-so-functional mycelium. If the inventive piña was any indication, Donna is poised to be a far cry from your average tropical bar.
Donna opens Wednesday, May 17th at 7 Cornelia Street. It will be open seven days a week, Sundays through Thursdays from 5 pm to 12 am, and Fridays and Saturdays from 5 pm to 1 am for dinner and cocktails.