Head to the end of Pier 15, right next to Beekman Beer Garden Beach Club and that giant sailboat that is surely owned by pirates, and you'll find this park-topped bar & grill that's definitely a contender for the go-to spot of the Summer for outdoor drinking and boat-watching (the great American pastime -- suck it, sober car-watching). Oh, and burgers, cocktails, and alcoholic sno-cones don't hurt either.
That's right, a rooftop park.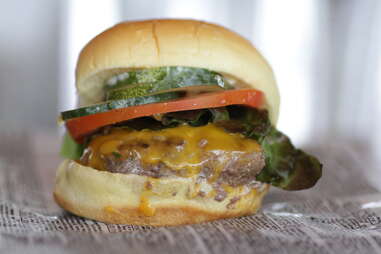 Technically, there's no boozing on the rooftop since it's a public park, but there are no laws against stuffing your face hard with completely delicious burgers.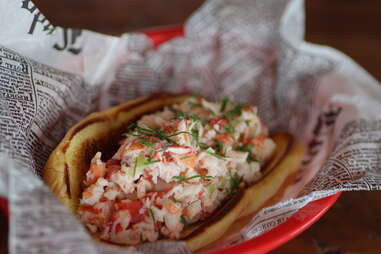 Also legal: their lobster roll on a toasted 'n' buttered bun.
Their specialty Watermark Dog is topped with their special sauce, caramelized onions, and bacon bits.
You CAN, however, drink at the bar (or on those roped-in picnic tables above), and, by "drink", we mean house alcoholic sno-cones...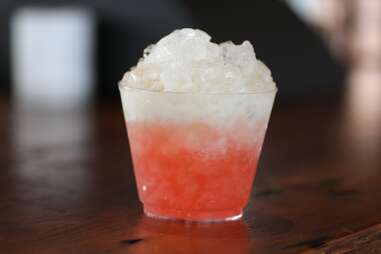 All the cocktails are designed by Jeremy Strawn (formerly of Mulberry Project, currently of Black Hound downtown), and this is the promised sno-cone. No paper cups here, just smoothly chunked ice, flavors like "Blue" or "Red", and "highly concentrated grain spirit", which means "you won't really taste the alcohol, but you'll feel it".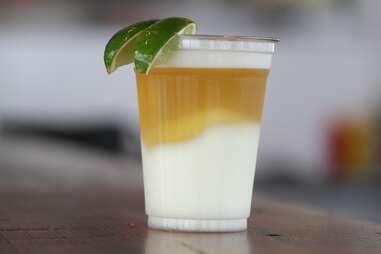 A frozen margarita topped with a pilsner. You'll definitely want to mix up these levels though.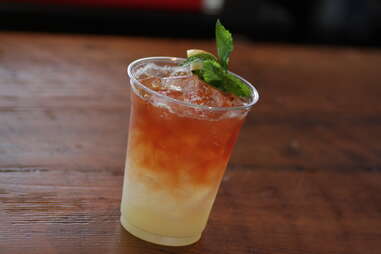 And even though you can't take it up to the green, they've got a version of a John Daly: blood orange and mint tea steeped with bourbon, poured over honey lemonade. If John Daly is actually conscious, he approves.