The guys behind Death & Co know a thing or two (or three or four, if you count Gin Palace and Cienfuegos) about cocktails -- so it's no surprise that their East Village tequila temple is pure, unadulterated Mexi-class. This dark and sexy spirits lounge features a full roster of mezcals, reposados, and sotols, most of which are produced by indie distilleries that one of the owners has visited himself. Sip a Del Maguey straight up, or opt for a concoction from head mixologist Phil Ward's menu, like the Stone Raft (jalapeno tequila, mezcal, sherry, agave & celery bitters) or the Delirium Trigger (mezcal, vermouth, Campari, Aperol, coffee & mole bitters). Food offerings exceed expected bar fare, with a selection of small bites (scallops with chorizo) and full-on man meals (seared hangar steak with chimichurri). If, after a few drinks, you still don't know what "sotol" is, ask the friendly 'tender for a lesson on the 800yr-old spirit -- then return with one of those stupid people who doesn't know what sotol is, and impress the crap out of them.
Recommended Video
You've Been Waiting Your Whole Life to Face San Diego's The Kraken Burger
Previous Venue
Next Venue
Venue Description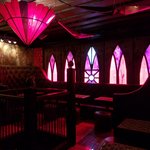 1. Mayahuel
304 E 6th St, New York, NY 10003
Mayahuel elevates tequila beyond the "sloppy taco-happy-hour margarita" status it's too often given in New York. It's not much of a surprise given that this dark and sultry lounge is from the cocktail pros behind Death & Co. Expect a range of spicy and smoky tequilas and mezcals; though cocktails are the main event here, small plates like chorizo croquetas and chihuahua cheese quesadillas balance out the experience.