You hate doing laundry, but you love going to bars, which makes The Wash House kinda the greatest place ever, because it's a bar that'll do your laundry FOR YOU. You drop off your dirties, drink some beer, eat grilled cheese, and just hang out in a totally not-boring and less-sober environment than the Deluxe Launderama on your corner.
At first, it looks like a regular bar/cafe hybrid with lots of stools and bartenders ready with a Wi-Fi password, but beyond that bar and through the alley is...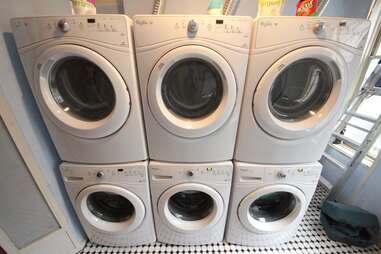 ... their laundry service. Right now, you can approach this one of two ways: drop off your laundry and pick it up the next day, or pay a reasonable price and get in on the first-come-first-serve expedited washing. Either way, you can eat their grilled cheese and drink their brews after you drop off your foldables.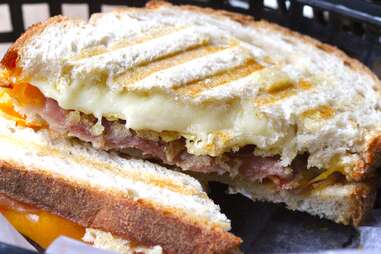 Now about the grilled cheese: they've got a ton of excellent sandos to choose from, including The Deluxe, which is bursting with sharp cheddar, Swiss, tomato, prosciutto, and crushed chips. You can't quite put your finger on it, but for some reason, this reminds you of the sweatpants you just dropped off.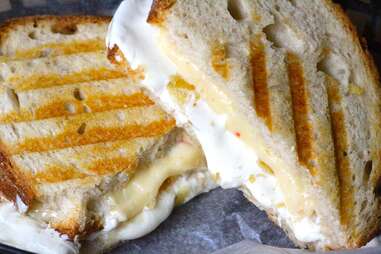 Another crushed-chips joint, this gooey masterwork (The Crunch) is also loaded with mozzarella, pepper jack, and pickles.
If you hate chips in your sandwich (WHAT IS WRONG WITH YOU?!?), you can get other goodness like the Tony P with Havarti dill, muenster, pickles, and Dijon, or a dessert-wich called the Soft Wash (Nutella, mascarpone, honey, bananas, and strawberry on challah).
And of course, the booze is flowing; they've got cold-brewed coffee and a nice selection of local and craft beers on tap like Coney Island, Ithaca Flower Power, and Sly Fox, as well as more celebratory ("NOT DOING MY OWN LAUNDRY WOOOO!!!") choices like Champagne.