The best way to find the cheap places to eat in your hood? Move out of New York City! Or alternatively, ask a bartender.
We opted for the latter, and tagged along with Justin Fairweather from Evelyn Drinkery and Pete Canny from The Wayland, who get together every Tuesday to skateboard between gloriously cheap deals at four choice East Village spots. Everyone knows there's no way to save money quite like eating four dinners.

First up: The Cardinal on 4th St, which doubles as the most filling stop. Whether or not it's wise to make it the first one is debatable. Here, $12 gets you a "perfectly ratio'd bun to meat" burger or pulled pork sando along with a Narragansett tall boy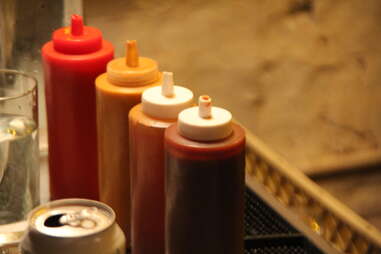 They've got you covered with mustard, vinegar, tomato, and standard BBQ sauces -- they're free! Which is also cheap!
And the Cheapskate crew has their bodies covered with Springsteen jean jackets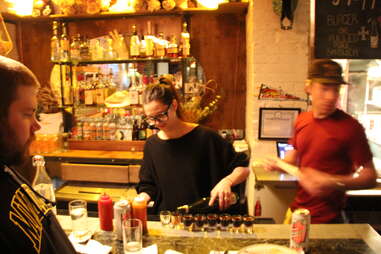 On our way we pass Blue Door, "the perfect place if you're into porn, kung-fu, or porn-fu"
Luckily, that wasn't TOO distracting: you've gotta get to Upstate before 7p to take advantage of their also-$12 deal: a NY craft tap (we went with the Ithaca Ground Break Saison) and six select oysters. While they may basically cost a dollar, these are NOT dollar oysters -- they're the real deal, running from Kumamotos to massive Beavertails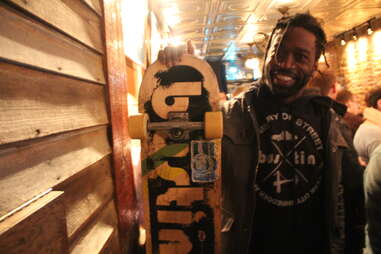 Solomon Lang from Bustin Boards pops in and ups the Awesome Dread Quotient significantly.
"Don't sleep on the whiskey cake".
Despite this sign actually being in front of the wrong bar, it's Taco Tuesday at Hop Devil Grill on St. Mark's, which means you get as many $1 tacos as you want with the purchase of any beer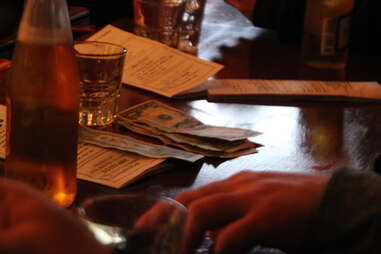 To keep things interesting, the guys always bet on what time time the tacos will come, down to the minute, with Price Is Right-style rules -- closest without going over wins. Because they're cheap, bets top out at $1 a piece. Basically, the winner gets his tacos for free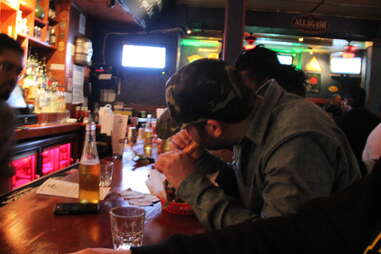 Very important rule: always go hard shell here. The chorizo and chicken are the dual highlights, but they've got beef and a veggie as well.
That's a thing of beauty. Those High Lifes and a whiskey shot are definitely the way to go.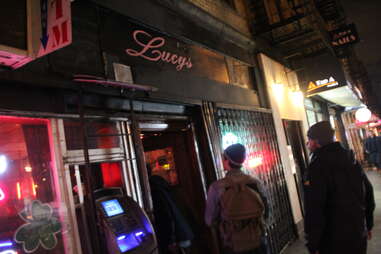 Lucy's wasn't in the original plan but it sure is cheap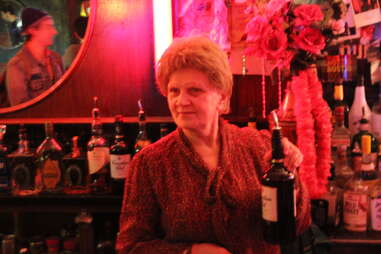 "Canadian Club. You want it?"
We actually go with Powers.
On to BBQ haven Ducks Eatery on 12th St. Come in on Tuesdays and mention you heard about it on Thrillist, and you can get this brisket sandwich with cheese and slaw on Texas toast, plus a can of Genny, for just $12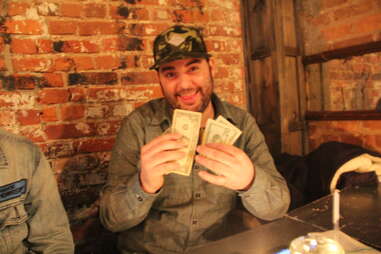 We bet again, and Pete is a very happy man. And a full one.
Sign up here for our daily NYC email and be the first to get all the food/drink/fun New York has to offer.