Meet German beer-giant Paulaner's first-ever stateside brewery and brauhaus, an authentically industrial (but still airy and shiny!) temple of beer, now open on zee Bowery.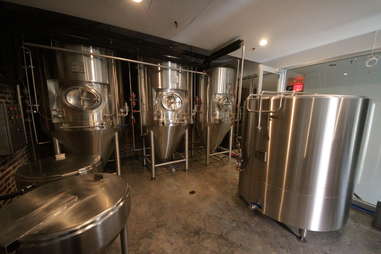 They'll brew all the Paulaner classics here (Hefeweizen, Munich Lager, and Munich Dark), as well as one seasonal that's only for in-brauhaus consumption. Fun fact: when they first looked into opening the brewery-slash-beer-hall, one of the biggest potential problems was whether or not the water quality here was good enough for brewing. After they flew back samples and tested them in their beer lab, though, they discovered that not only was it good enough, but that NYC has "the perfect water" for brewing. Suck that too, Chicago.
The beer travels from the brewery to the beer hall through pipes that run along the ceiling, and into either the pair of Hefeweizen tanks at the back of this big, open dining room...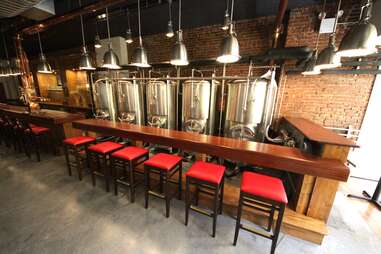 ... or the bar room, where it's stored right here and linked directly to the taps.
German-y eats're served with the prerequisite kraut and mustard, and include this plate of various brats, 'basas, wursts, and the all-important single mouthful of leaves.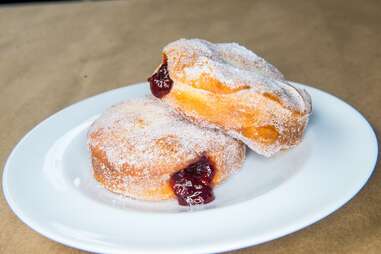 Plus, you can also get this decadent handheld, which isn't a jelly donut (you uncultured dolt), but a Berliner: a traditional German... fried pastry filled with jelly.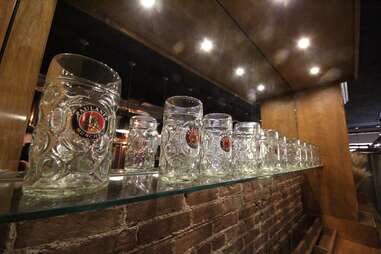 Did we mention they serve beer by the liter? Because they serve beer by the liter.